Wine Cellar Design
3D Drawing
Request
We will create a unique
design just for you!
Click Here


Fast Quote

or
Just a Question?
Have one of
our wine cellar
designers
contact you
Click Here
Splendid and Innovative Wine Cellar Lighting Solution in Houston
HOUSTON'S BEST WINE
CELLARS BUILDERS
It takes an excellently planned wine cellar lighting system to make your wine cellar look exceptional. There have been numerous lighting innovations in the market, specifically for modern wine cellars, and you need the right experts to keep up with them. In this project, let us show you how we installed a splendid wine cellar lighting system and modern cable wine racks.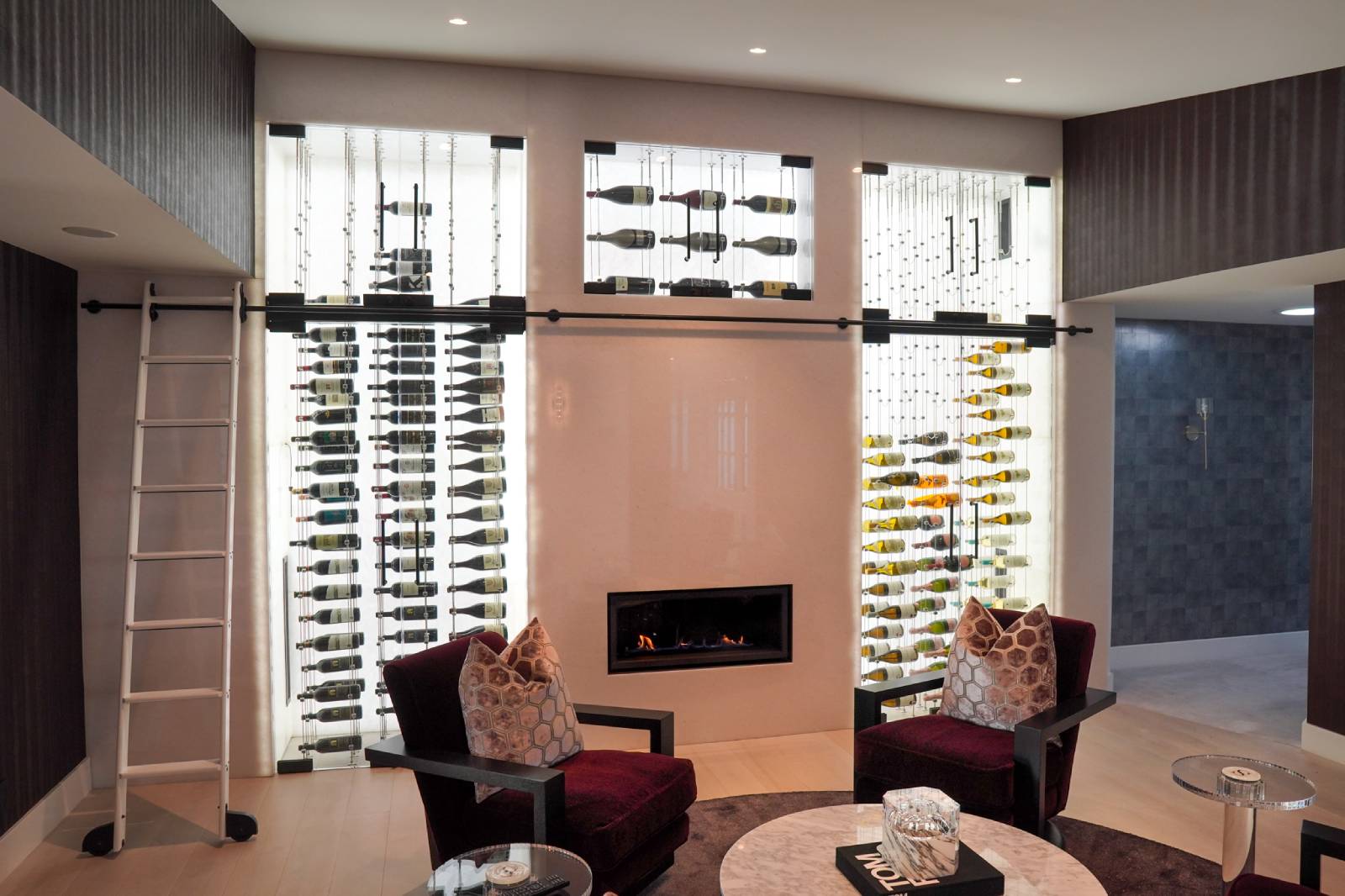 An Advanced Approach to Wine Cellar Lighting
There are plenty of lighting options for your cellar, and there are multiple ways to style it for the lighting to illuminate your cellar properly. Most clients use floor-to-ceiling LED lights to light up their entire wine cellar. Some clients who want a more mysterious and dim appeal opt for ribbon lighting in specific areas of their cellar that they want to emphasize. If you are on a tighter budget, you could choose a more suitable ceiling light that fits the wine room atmosphere without breaking the bank.
For this client, they wanted an upgrade. They already had a wine cellar in place but wanted a more minimalist and unique wine cellar in their home. Before the project, what they had was a simple wine storage wall. In front of the wine wall was a comfortable seating area where the clients entertained their friends with a sip of wine.
They hired our team at Custom Wine Cellars Houston to improve the sight of their wine wall. So the first thing our team worked on was a modern wine cellar lighting design. The best lighting material in the market is currently LED lights. We use LEDs for most projects since they are the most efficient and cost-saving option. However, using LED light strips for the wine cellar gives a stark bright look that doesn't fit the space. We wanted to create a wall of light that wasn't shockingly bright but aimed for a more evenly dispersed brightness throughout the wall.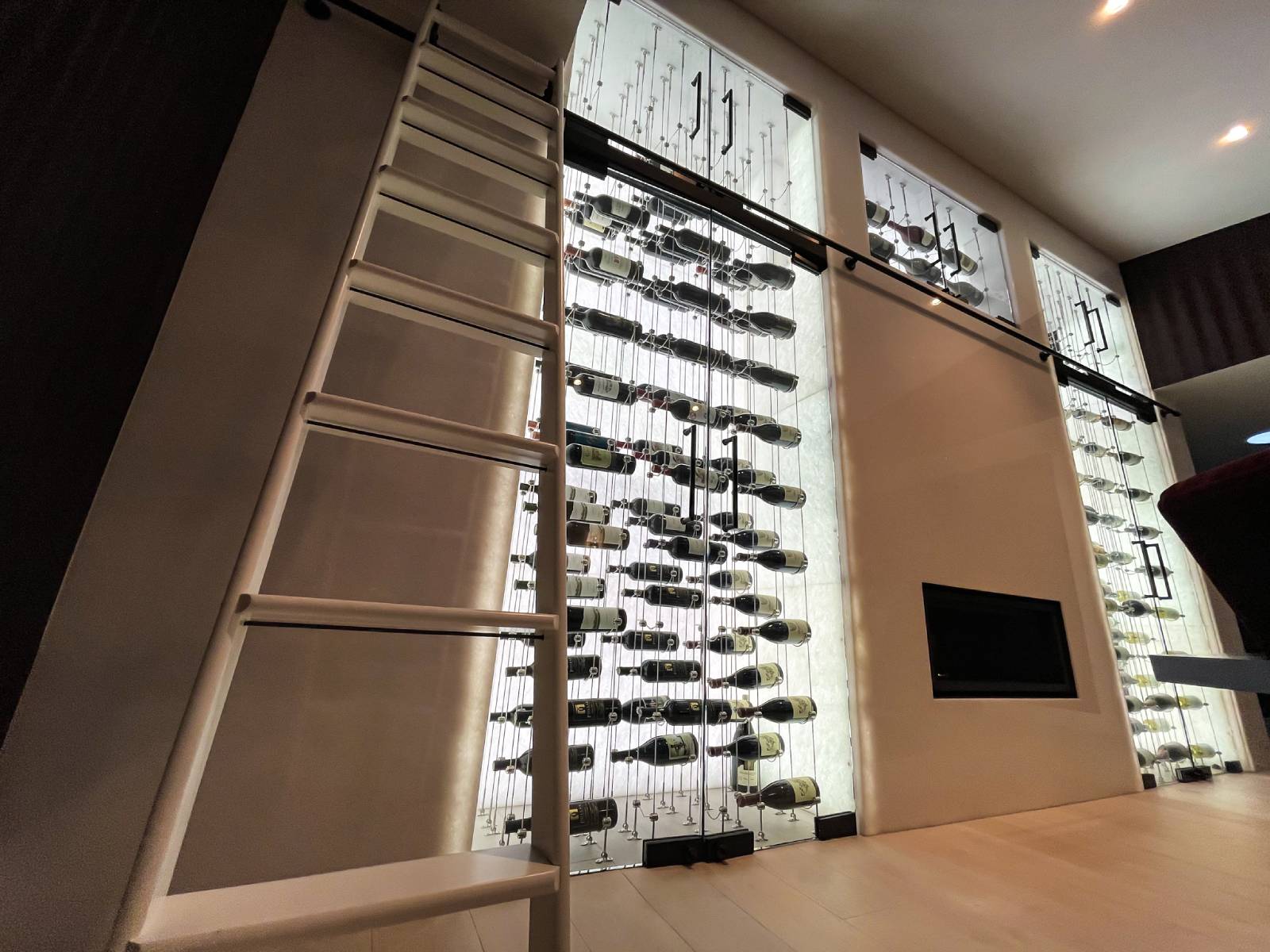 To create this even and soft glow in the wine wall, we used custom LED lighting and covered it with Alabaster panels. Alabaster panels are a translucent material and are a new lighting approach we designed specifically for this wine cellar wall. It added an interesting texture to the lighting. With these alabaster light panels, light passes in a unique way wherein the grainy texture and gaps along the panel create an illusion of marble streaks. In these small details, we can turn a simple lightning system into a fascinating contemporary home wine cellar feature.
If you are looking for a simpler alternative to having a soft glow in your home wine room lighting without the interesting features of an Alabaster panel, we suggest using Acrylic panels. Acrylic panels are more commonly used in achieving a softer illumination for a wine cellar wall. However, if you are opting for a more elevated look, Alabaster panels on your LED lighting system are the way to go.
Wine Cellar Lighting Makes This Wine Rack Float
Having the right wine cellar lighting is crucial in making the wines look like they're floating on air when using cables.
Our team used sturdy tension cables and clamps to build an invisible wine-racking system. With accurate and precise measures from the ceiling down to the floor, we carefully installed these triple-deep cable wine racks. Through the cable material of the rack, the lighting system was able to shine through.
There are a few cable wine-racking manufacturers in the market. One of them is Cable Wine Systems, custom builders of cable wine racks.
If you want to see how wooden wine racking looks like when paired with this kind of wine cellar lighting, click here!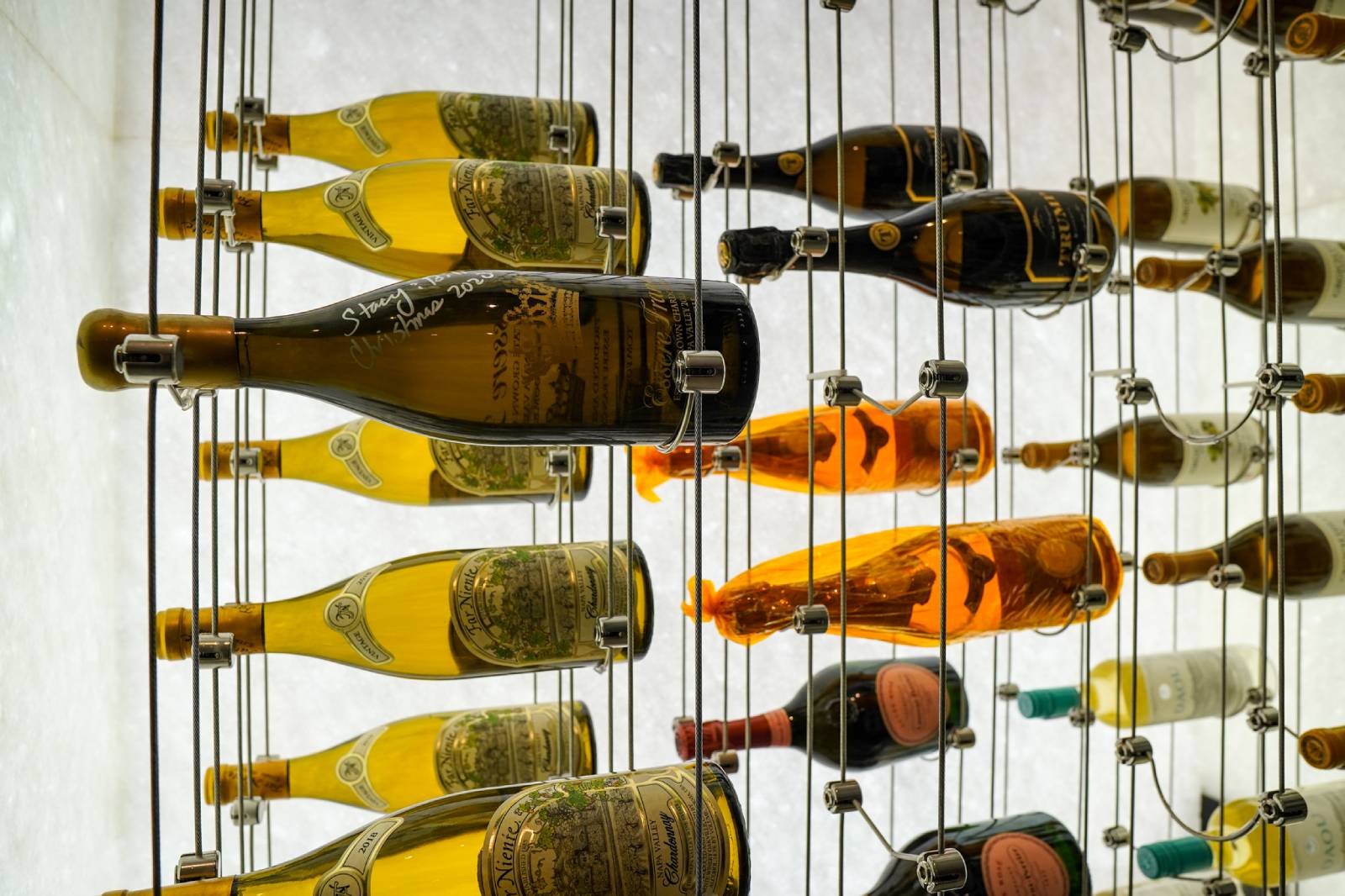 How An Organized Rack and Great Wine Cellar Lighting Come Together
When you have a great lighting system, the things they light on must be orderly. Having a good cellar lighting system with a messy wine cellar is no use. So in organizing the bottles within the cellar, we divided the cable wine racking system into five sections. Each section is equipped with glass doors, and metal pull handles for access to the wine.
For the larger bottles, we had three sections on the topmost part of the wine wall to separate them from the more ordinary-sized bottles. On these top shelves, we ensured the cable could handle the weight of the bigger bottles.
For the two larger sections, they maximize the storage well for ordinary-sized bottles with their triple-deep racking system. Having these sections in place, organizing the bottles becomes easier for the client.
Reaching Ceiling-High Wine Racks
The largest bottles are placed on the topmost part of the cellar wall. Reaching the top section of the cellar wall would be a struggle, so we installed a rolling ladder that beautifully complimented the space. With the minimalist white rolling ladder, the client can reach the topmost bottles and carry their weight steadily. They also didn't have to worry about storage for such a long ladder because it goes well with the design of the wine cellar wall.
Maintaining the Best Environment For Your Wine
The glass doors of this home wine cellar are specifically built to withstand the temperatures of a wine cellar and regulate the best atmosphere for the wine's aging process. So the doors that our team installed are insulated glass doors that prevent condensation inside the wine cellar. When building your home cellar, have the right professionals install the right door that is built for your specific needs.
If you prefer a more traditional and homey wine cellar with wooden wine racking instead of cable racks, we can help with that too.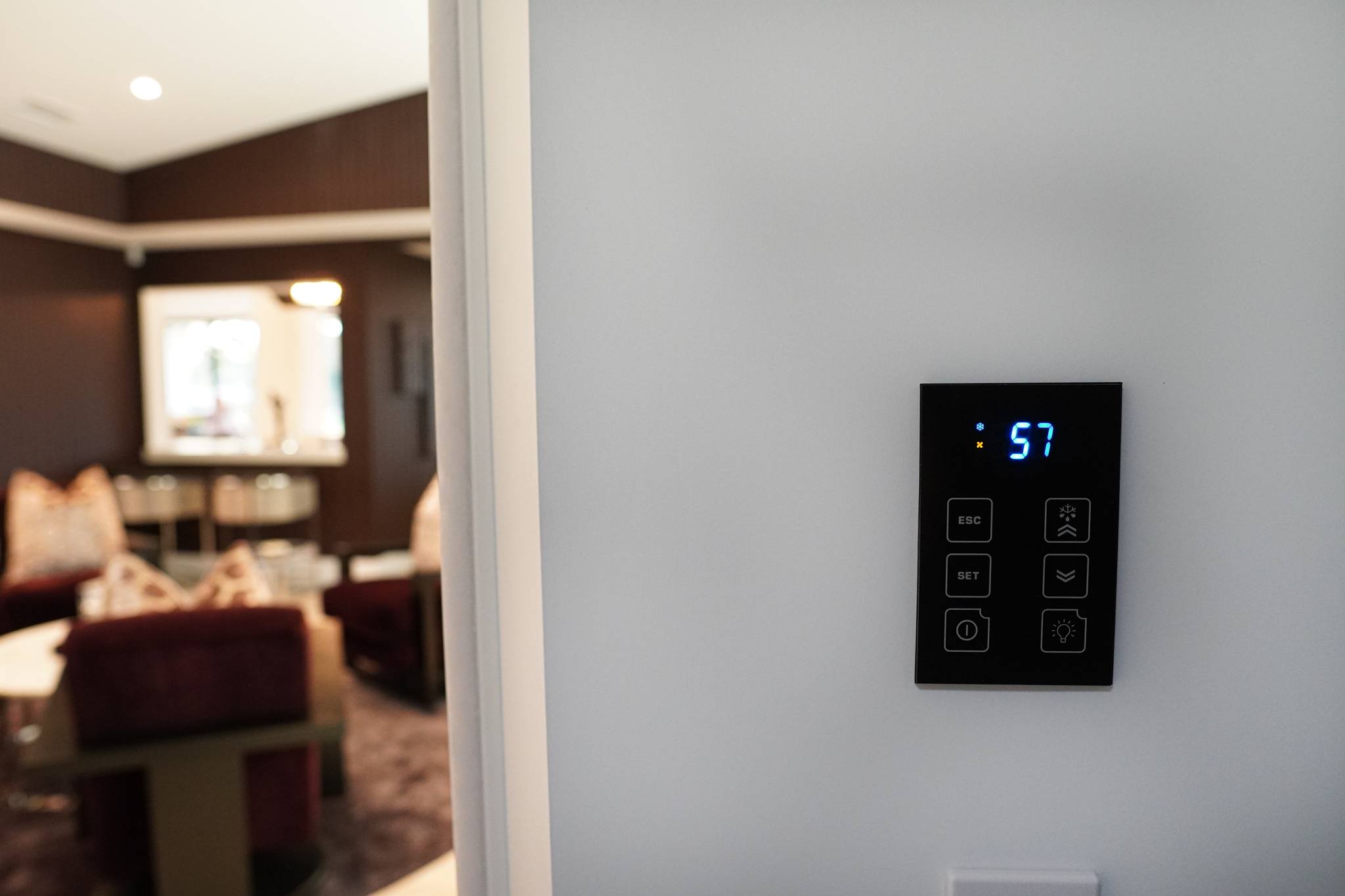 Our Professional Team at Custom Wine Cellars Houston
If you are looking for the right team to give your wine cellar the upgrade it deserves, or you are looking to create an advanced home wine cellar for your Houston estate, we got you covered. Our team at Custom Wine Cellars Houston is the perfect professional to design and build your wine cellar. We can execute any wine cellar lighting idea, from ribbon lights to alabaster panels. Our team is experienced in designing the building process of creating home cellars. So if your residence is anywhere in the Houston area, may it be in Timbergrove, Greater Heights, Montrose, Bellaire Area, Greenway Plaza, River Oaks, or Memorial Garden, we can build your wine cellar for you. Let us know your Houston wine cellar lighting of choice or what type of home cellar you want to build by calling our office at (281)-809-7283.