Wine Cellar Design
3D Drawing
Request
We will create a unique
design just for you!
Click Here


Fast Quote

or
Just a Question?
Have one of
our wine cellar
designers
contact you
Click Here
Designing the Perfect Wooden Wine Racking System for Your Houston Home Wine Cellar
HOUSTON'S BEST WINE
CELLARS BUILDERS
Wooden wine racking in a Hunter's Creek Village home wine room leaves a timeless impression. It's the same with how a medium rare steak with a glass of red wine makes a classic pairing. Your pristine bottles of Cabernet, Sauvignon, and Merlot deserve the perfect home in your Southside Place property. With a marvelous wooden wine-racking design, you can have a gorgeous transitional wine cellar. Let's take a closer look at this custom wine cellar design and see if it's something you want to recreate.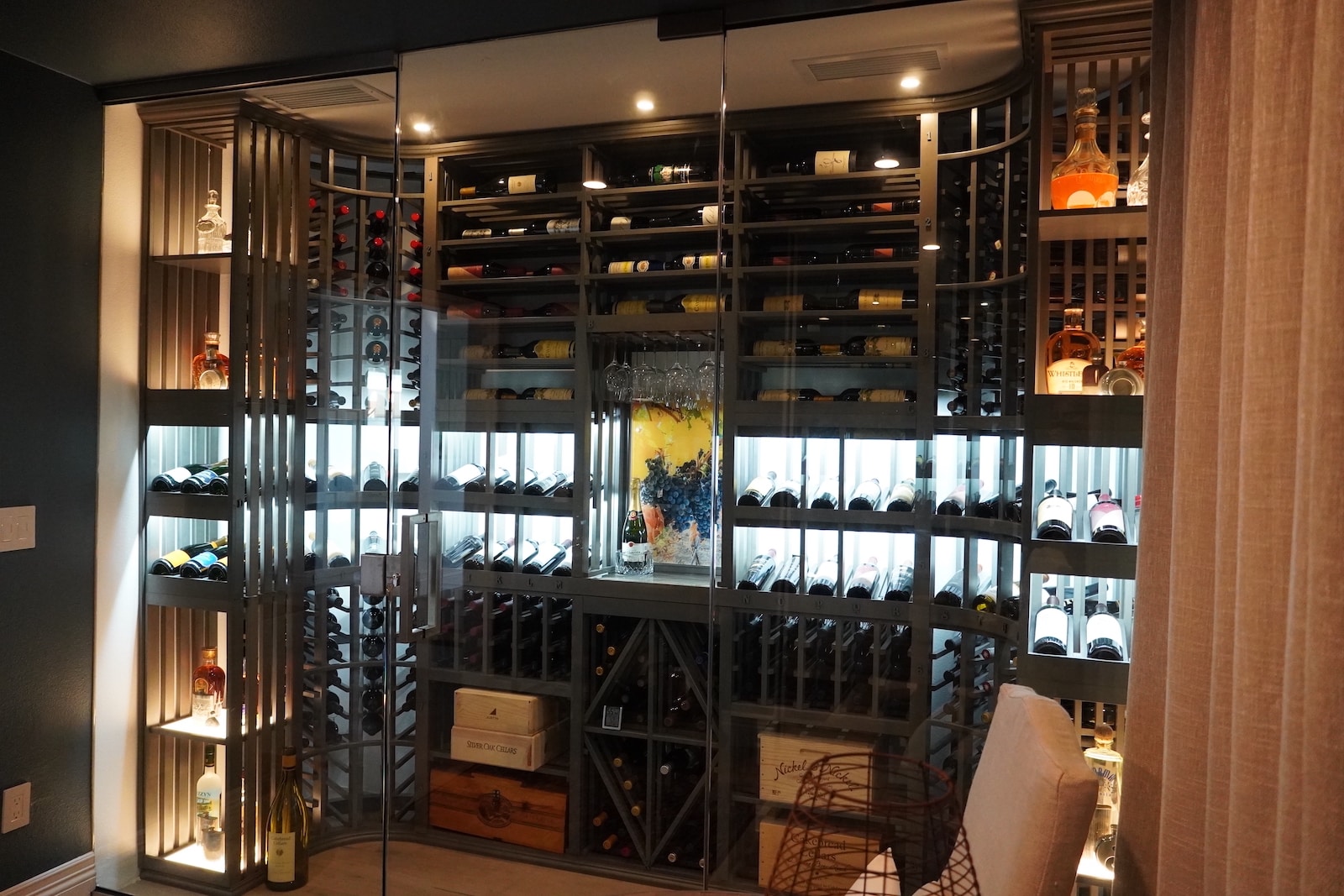 In making the right wooden wine-racking design, we choose the right materials.
Wooden wine racks are timeless because they are a staple in more traditional wine cellars. We can see them in high-end luxury cellars in Piney Point Village and antique wineries on Vintage Park Blvd.
There are different types of wood you can choose from to build your wooden wine racks. Among the common woods used in wine cellars are Mahogany, Pine, Maple, Walnut, Oak, Cedar, Redwood, and Alder. So on deciding which wood to use, there are numerous considerations you could think about before making your choice.
What should we consider before choosing a wooden wine-racking material?
You can consider what you want the thickness of the wood to be. If you opt for a slimmer cut on your wood, you have to make sure the wood is sturdy (for example, Redwood). If one of your biggest concerns is staining, you might consider staying away from Oak and Cedar. If you are visualizing your River Oaks home cellar to have a wooden wine rack that is more uniquely shaped, look into Alderwood.
For this custom wine cellar we built, we had an idea to make it more unique by designing a large, floor-to-ceiling, U-shaped wine shelf. This makes a wine cellar feel less like a snobbish area and more like an inviting and even comforting space. Despite the cool temperature in the cellar, it can still feel cozy and warm. So for this custom wine cellar, we had to prioritize the appropriate wood we would use to make the U-shaped wine rack design possible.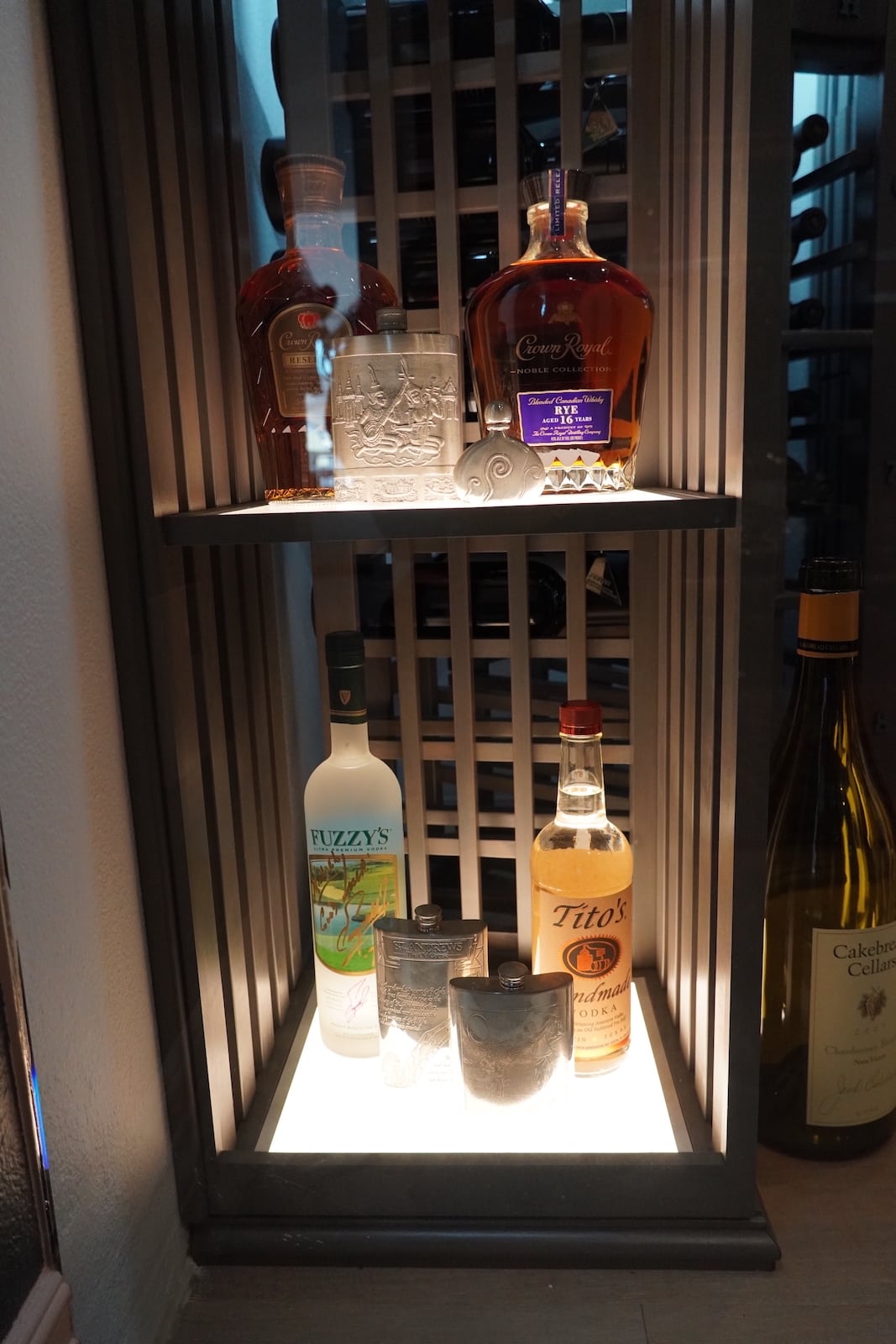 The best material for a U-shaped wooden wine-racking design
In making this curve design, we used Alderwood for the wooden wine racks. Alderwood is a lightweight and soft hardwood. However, it is durable enough to hold your heavy wines. It is great for creating the curved sides of the wooden wine rack while still maintaining a strong surface that can hold your precious bottles. With regards to staining, Alderwood stains really well. Since we wanted to go for a mix of modern shapes but still a classic look in this wine cellar, Alderwood was excellent for the job.
After picking the wood material, let's dive into the details of the design
There are different positions you can display your wine in. It could be cork-forward to maximize space or horizontal, label-forward so you can easily recognize the bottle/wine.
In this wooden wine-racking design, we made it symmetrical for an aesthetically pleasing appearance. We designed columns with four vertical shelves to maximize the storage but still showcase the bottles. These shelves can securely hold your Bordeaux and your gin, vodka, and tequila. For the area near the glass panel, we designed two rows of high-reveal racks. It displays the bottles in a way that even when you see the bottle from a distance, you can easily recognize it. Then to softly illuminate the space, the vertical shelves were built with Acrylic L.E.D boards. It's a full wall of wine cellar lighting and adds a welcoming glow to an otherwise dark area.
For the second column, we have an impressive storage for all your bottles. It has the standard 750ml racks and two rows of high-reveal racks. In the third column, we featured cubbies at the bottom, 750 compartments, and high-reveal racks. For bigger bottles or magnums, we designed triple-deep horizontal racks.
To finish it off, we had a decanting table with a marble countertop and completed it with stemware racks above. They served as a great spot to hang the wine glasses where they can also be a beautiful decor.
Closing off your Houston Wooden Wine Rack
To ensure your liquor survives the fluctuating weather, like what is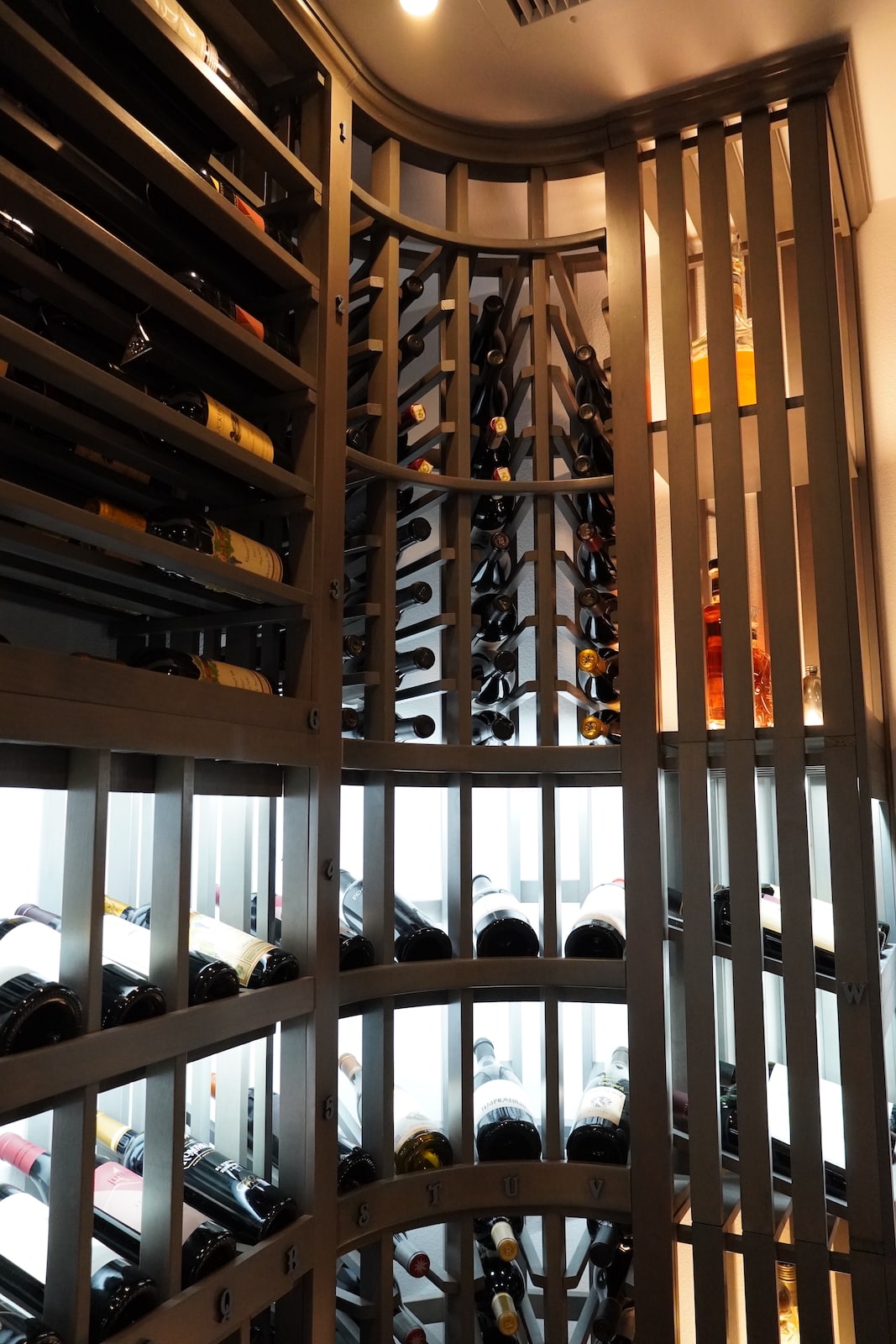 sometimes experienced in the Galleria-Uptown area, see how close your cellar and wine racks are to a heat source. If you want to have your wooden racks in a basement, you would need less insulation and cooling. If you see your wooden wine rack being built closer to your home barbeque area, that would require more insulation and cooling.
For this project, the owner wanted their wine cellar around the sitting area next to an external wall. Our team installed a cooling and insulation system that was perfect for the space. To close it off, we used glass panels. This enclosed the transitional wine cellar sufficiently but still gave a great view of all the finest wines.
Take a look at this other project we did with our partners. The team converted a garage into a fully-functional wine cellar.
Bring your envisioned wooden wine racking system to life with Custom Wine Cellars.
Wooden wine racking is a great system to use for storing your bottles. Whether you take your wine as you picnic down Eleanor Tinsley Park or pair it with your Woodlake homemade barbeque for a more elevated experience, you deserve to enjoy quality wine. The only way to ensure your wine preserves its flavor and scent is to ensure it is stored in the right place at the right temperature.
At Custom Wine Cellars Houston, we can design and build the perfect wine cellar and wooden wine racks for your Houston home. We will take you through the process, from picking the best type of wood to choosing the best wine display position. You can talk with our designers at +1 (949) 200-8134.
We look forward to making a wooden wine rack with you.