Contemporary Glass Wine Closet Built in a High-Rise Condo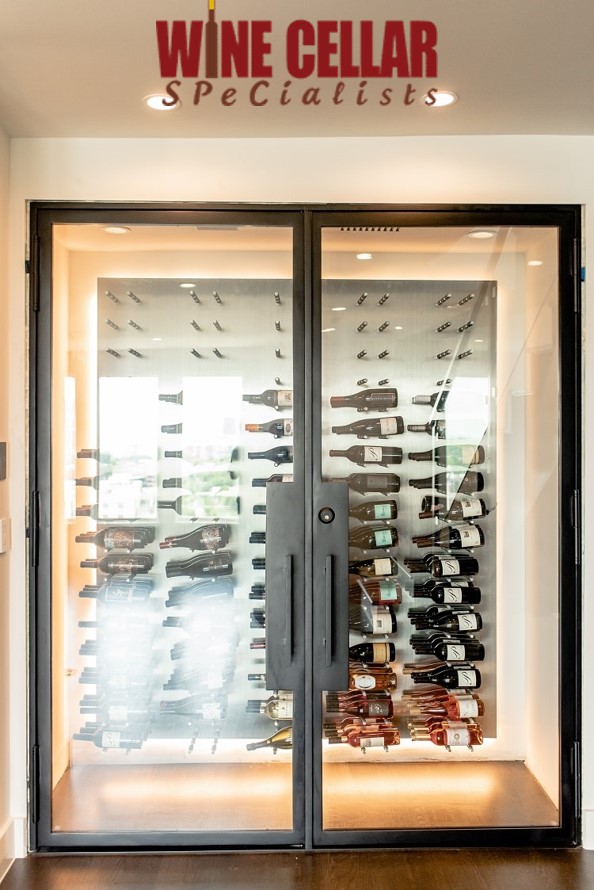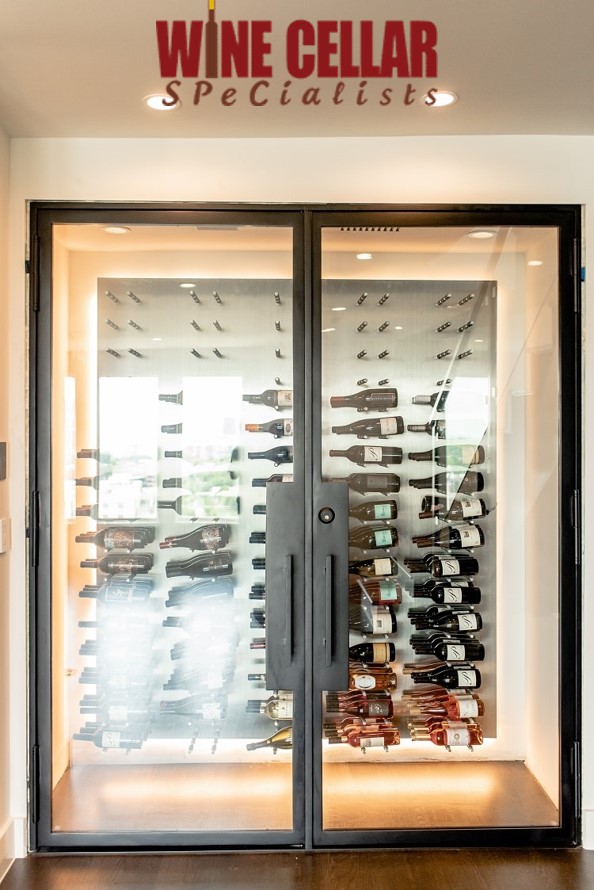 If you are a wine collector who intends to store wines for years, we recommend investing in a refrigerated custom wine cellar in your home. At Custom Wine Cellars Houston, we have been working with Wine Cellar Specialists for many years. This team is composed of master builders who have extensive knowledge in designing and installing safe and beautiful wine storage structures. In one of their projects, they installed a glass wine closet beside the stairs. The contemporary features are impressive!
Glass Wine Closet Built by Houston Experts in a High-Rise Condo
Custom wine cellars are continuously increasing in demand in Texas, including Houston, as more homeowners are collecting wines. Having your own wine storage room in your home will provide easy access to your favorite wines while adding a stylish feature to your property.
Wine Cellar Specialists, one of our top-notch partners in wine cellar construction, is known for their expertise in building wine rooms equipped with elegant features. Minimalist design is gaining popularity among homeowners, designers, builders, and architects. The concept eliminates the use of lavish and curved lines and leans toward a clutter-free look using clean lines. It creates a more relaxed and calm environment.
With many years of experience building wine cellars in Houston, Wine Cellar Specialists has gained skills and knowledge and continues to provide innovative wine storage solutions to wine collectors who want a contemporary wine display and storage area. They may have encountered challenges on the way, but these would not hinder them from doing an excellent job of exceeding their client's expectations.
In one of their projects, they converted a space near the stairs of a high-rise-condo into a contemporary glass wine closet using metal wine racks and glass doors. With passion, creativity, and expertise in the construction industry, they created an impressive design for a wine closet using metal and glass elements.
Metal Wine Racks Designed by Houston Builders: Ideal for Building a Contemporary Glass Wine Closet in a Small Space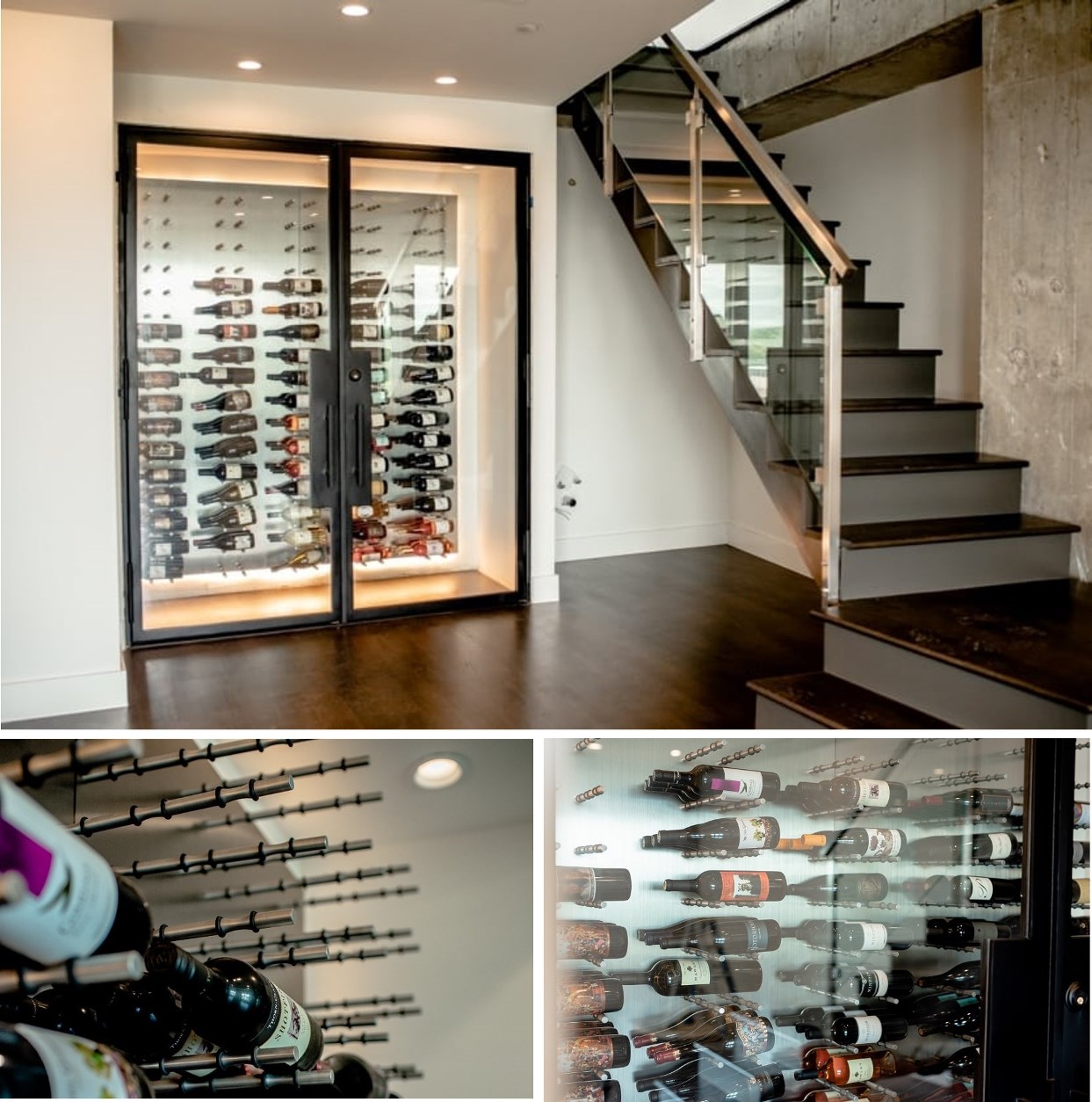 The homeowners of the condominium unit wanted to maximize the limited space, so Wine Cellar Specialists decided to install a metal wine storage system. Metal wine racks are widely used in high-end homes and commercial establishments because of the following benefits:
Design and installation flexibility

Space efficiency

Contemporary and luxurious appeal

Easy to expand for higher bottle capacity
With many options available, you can achieve the look you want for your wine room with metal wine racks. You must work with a reliable builder like Custom Wine Cellars Houston and Wine Cellar Specialists. Metal wine racks are also easy to install and space-savvy. You can place them in the tiny corners of a room or mount them on the wall, making them ideal for limited spaces under the stairs and living room or kitchen in small apartments.
Wine Cellar Specialists utilized a peg wine rack system, which complemented the minimalist design of the condominium. They attached the Aluma steel panel and attached the pegs made of Aluminum. The pegs can hold one bottle and can be arranged according to the design preferences of the client. The bottles seem like they are floating in mid-air.
They are engineered for maximum durability and stability and have a security feature to prevent the bottles from slipping and falling. In this project, the team used 3-bottles deep pegs for maximum storage capacity. Two pegs could hold three bottles horizontally. With the labels facing out, it is easier to read the wine description.
Wine Cellar Lighting System
Choosing the proper lighting will have a positive impact on the overall appeal and functionality of a wine cellar. This glass wine closet is illuminated using LED lights, a safe and beautiful option for modern wine rooms. LED lighting systems offer many benefits. They will protect your wines from damage because they emit low heat and do not produce UV light. Too much heat will accelerate wine aging and result in unpleasant tastes and smells.
Wine Cellar Specialists created a wash effect behind the panel of the racking system by installing a backlight. They also placed recessed lighting on the ceiling to provide an ample amount of light for moving inside the wine storage area and reading the wine labels.
Insulated Glass Doors: Perfect for the Contemporary Wine Closet
The door is another essential component of a wine cellar. It should be chosen to meet the aesthetic needs of the client and installed by a knowledgeable builder. For contemporary wine rooms, we recommend glass entryways.
The Houston experts installed framed custom glass wine cellar doors to complement the metal wine racks and help achieve a luxurious appeal in this wine closet. Another advantage of glass wine cellar doors is that they provide a clear view of the wine display from the outside.
Wine Cellar Specialists used thermally insulated dual-paned glass panels with 5/8" thickness to create better insulation inside the wine closet. Proper sealing of the door will prevent condensation build-up because it helps regulate humidity levels. Very high humidity levels will cause mold growth in the walls and ceiling, on the cork, and on wine labels.
They also equipped the doors with weather stripping to seal in the gaps around the doors. Another advantage of creating an airtight seal in the wine closet is helping the wine cooling system work with maximum efficiency. Failure to do so will cause air leakage and temperature fluctuations, which will force the wine refrigeration system to work harder to achieve the ideal wine storage conditions. It can also lead to higher energy bills.
The Right Choice of Wine Cooling Unit
Wine Cellar Specialists installed a split-type wine cooling system from WhisperKOOL. It was the best option considering the limited space of the glass wine closet built by Houston experts. Since it is a split-type refrigeration unit, no equipment occupies the racking or the wall. In this project, the evaporator was mounted on the ceiling, and the condenser was placed outdoors.
Let Us Build an Impressive and Contemporary Glass Wine Closet in Your Houston Home
Wine Cellar Specialists has proven its expertise and reliability in transforming spaces into beautiful wine displays. In this glass wine closet project, the team built a contemporary glass wine closet in a small space near the stairs of a high-rise condominium. If you are looking for a professional Houston builder, please call us at (281)-809-7283.