Wine Cellar Design
3D Drawing
Request
We will create a unique
design just for you!
Click Here


Fast Quote

or
Just a Question?
Have one of
our wine cellar
designers
contact you
Click Here
Stunning Contemporary Wine Cellar in Dallas Designed by Master Wine Storage Builders
HOUSTON'S BEST WINE
CELLARS BUILDERS
Deciding on a style for your wine cellar? Why choose between a traditional or modern design when you can go for both? Contemporary wine cellars are a great style for those who want a fusion of current and classic designs. Our team did a contemporary design for a wine cellar in Dallas, and it is one of the best projects we've ever completed. If you're dreaming of a contemporary style for your own residential wine room, this project could give inspire you on how you want yours. Get awesome design ideas by reading more about this project!
Get Inspiration from this One-of-a-Kind Contemporary Wine Cellar Design in Dallas, Texas
We, at Custom Wine Cellars Houston, take pride in our years of experience in the wine cellar storage industry. We have built countless commercial and residential wine cellars. The wine rooms we've designed range from traditional to modern, depending on the needs of our clients. With all these experiences on hand, we are able to take on the most challenging projects, such as this recently completed one in Dallas, Texas.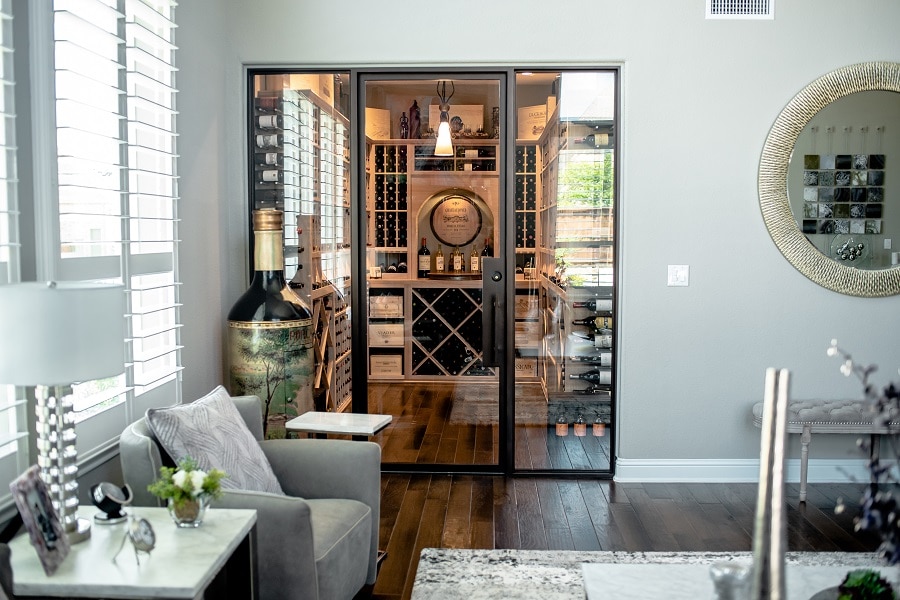 In this project, our team collaborated with the client to thoroughly plan the construction of the wine room. We took into consideration all the client's specifications, including their budget. The client wanted a contemporary wine cellar design that matched with the existing decor and style of their living room. Our specialists created a series of 3D drawing of the proposed design and presented it to the client. As soon as the client approved a final sketch, we began construction.
Contemporary Wine Cellar Design in Dallas: A Fluid Transition Between Classic and Modern Elements
We've had many clients asking for advice on whether they should go for a modern or a traditional style wine cellar. There's no need to be torn between these two designs. We often recommend two have both worlds meet. A contemporary wine room is one that has the best of traditional details placed in perfect harmony with modern elements. This is exactly what we did in the contemporary wine cellar project in Dallas.
Wooden Wine Racks and Other Wood Features for a Classic and Rustic Ambiance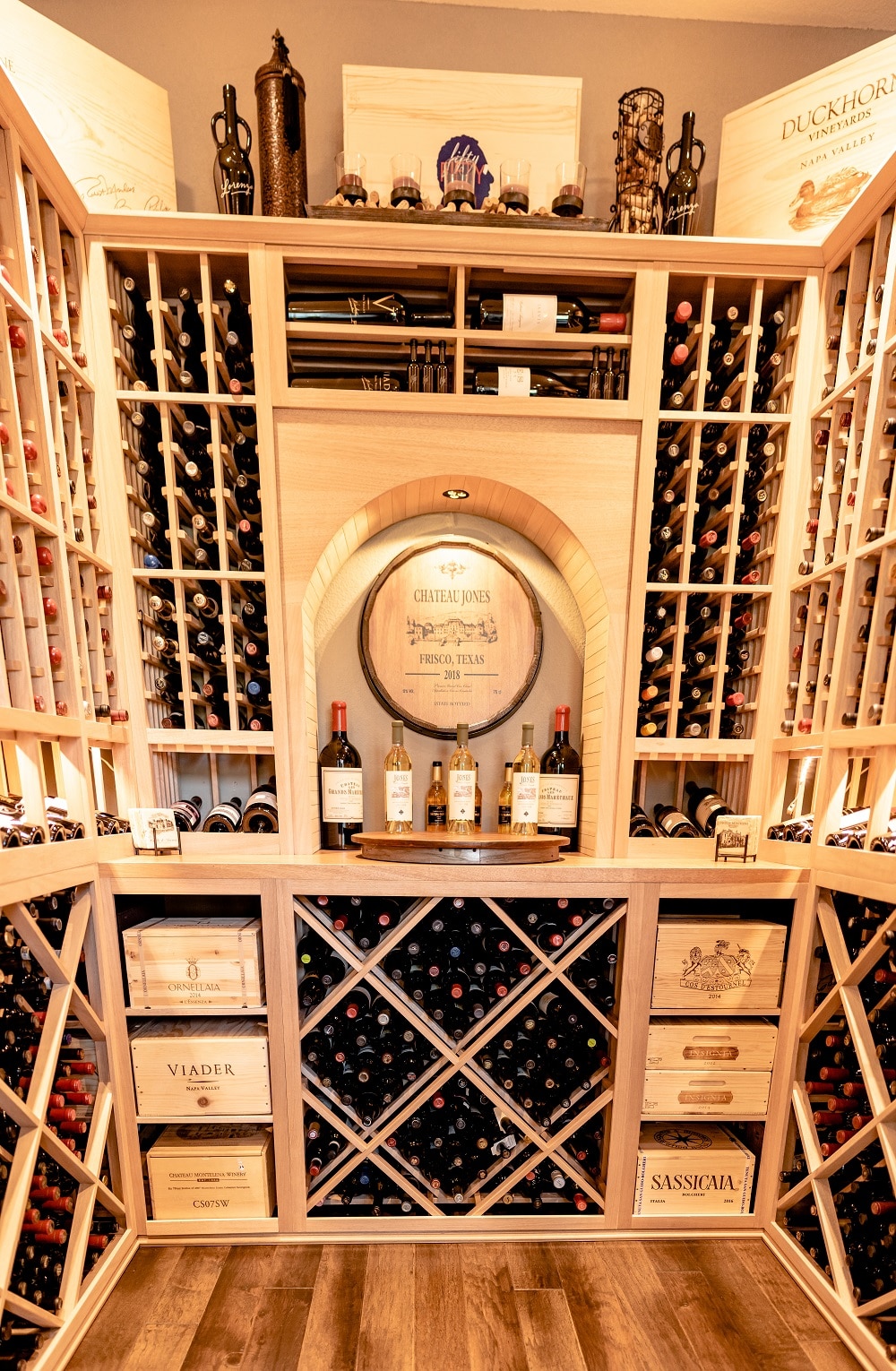 Since the wine cellar was to be built in the living room, we wanted to make sure the colors we used complemented the existing colors of the house. The client's living room had darker colors in its design, from the walls to the furniture. We decided that it would be best to contrast these dark tones with warm hues, in order to make the contemporary wine cellar warm and inviting.
We achieved the warm and welcoming ambiance by used wooden wine racks. The wood used was unfinished Mahogany. We also installed a wooden flooring that was the same as the floor used in the living room, so that there is continuity and cohesiveness in the design.
The wooden elements that we installed in this contemporary wine cellar in Dallas included standard-sized wine racks, diamond bins, storage cases, and a wooden solid arch. All of these provided a traditional atmosphere within the wine room.
Transitional Design Elements to Create a Contemporary Wine Cellar in Dallas
To achieve the contemporary look that the client wanted, we needed to incorporate modern components that would work harmoniously with the traditional details. Here are the two modern highlights that we included:
1. VintageView Metal Racks
Our team installed a few metal racking systems in this wine cellar. At the edges of the wooden racks, we mounted VintageView ultra pegs. These steel racks had a label-forward orientation, which means that the client's wine bottles could have their labels facing forward.
2. Glass Elements for this Contemporary Wine Cellar in Dallas
The client told our team that they are fond of holding tasting parties at home. With that in mind, we wanted to make sure that the client could showcase their wine collection to their guests, even without having to open the cellar.
The solution was a glass door and enclosure. Not only did these glass components make the contemporary wine cellar look sleek, they also provided the client and their guests a clear view of the client's most prized liquid babies from the living room.
If you have a spare room you want to convert into a wine cellar like a kitchen pantry wine cellar, we can do that too!
You Too Can Own a Residential Contemporary Wine Cellar in Dallas! Consult Our Team!
Do you have an extra space in your house that could potentially be your future wine Shangri-La? It doesn't matter if you your area is small or big, because we can make whatever space you have work. Our team specializes in maximizing spaces efficiently. Your wine cellar dreams are within your reach! Give us a call today, so that we can help you design your own contemporary wine cellar in Dallas! Talk to our wine cellar design specialists now through (281)-809-7283.