Wine Cellar Design
3D Drawing
Request
We will create a unique
design just for you!
Click Here


Fast Quote

or
Just a Question?
Have one of
our wine cellar
designers
contact you
Click Here
Build a Wine Room of Exquisite Taste and Astonishing Aesthetics
HOUSTON'S BEST WINE
CELLARS BUILDERS
Ever wanted to invite some of your relatives and friends and have them enjoy some leisure time by some wine tasting but you are not sure if your wine cellar has that x-factor to take their breath away? Hype up your personal wine room by installing distinct features and let your family and guests be struck in awe as you let them walk into a masterpiece of art. All wine cellar owners, especially in Houston, only want what is best for their wine collection. Like awards and achievements, they would want for their prized wine bottles to be displayed in such a way that exudes both luxury and grandeur. We at Custom Wine Cellars Houston can offer you the help and guidance you will need to build that amazing and breathtaking wine room. A team of highly knowledgeable and well experienced specialists, we are at your service.
Astound Your Family and Guests with Your Personal Wine Cellar in Houston, TX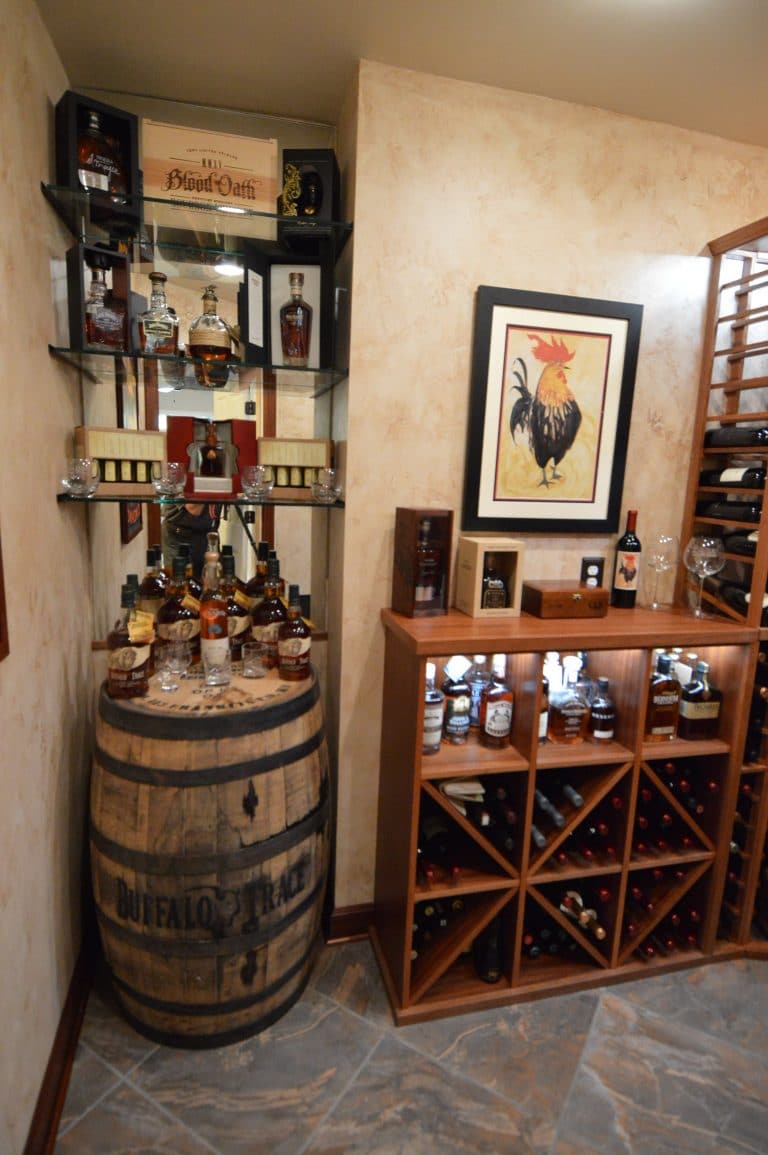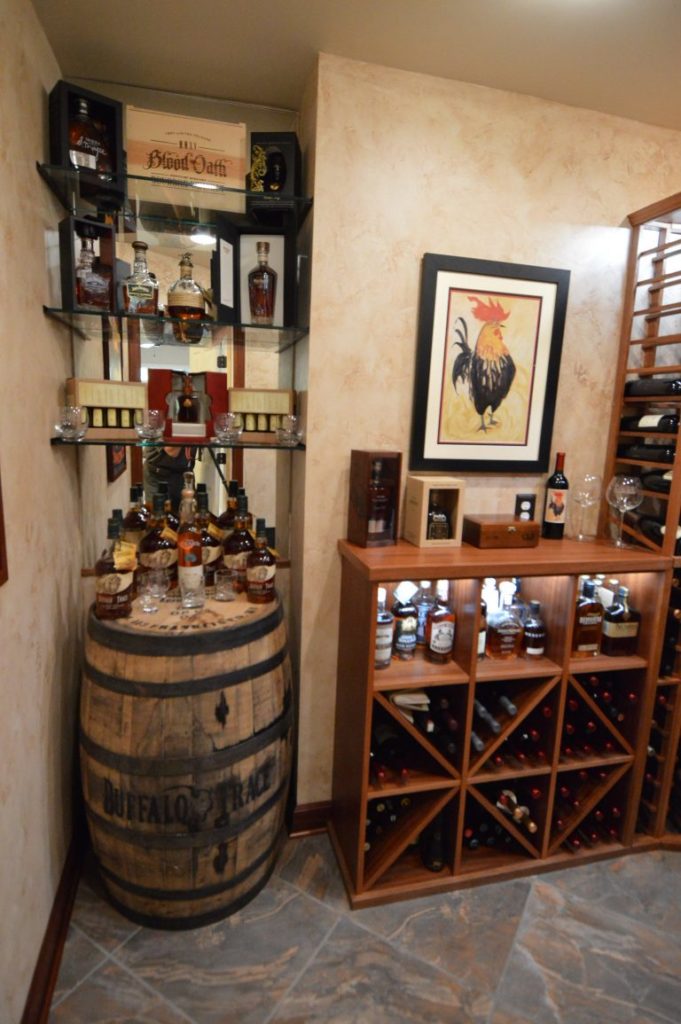 Nowadays, it has already become a trend for collectors to host wine tasting parties within their wine cellar, to share the experience of having great and splendid wines with their family and friends. We understand that you want to have them lost for words as you take them around for a tour of your wine storage room. Show them your high functioning cooling system that appropriately controls and preserves the good and vigor condition of your wines, your lighting fixtures that highlight the entire room and bring their attentions to your creme de la creme of wine bottles, or your chrome plated wine racks that display your prized collection in the most breath taking and astonishing way. These are just few of the numerous details you can astound your guests with every time they walk in in your personal residential wine cellar.
Of course, building your own personal wine room must come with proper planning and designing. A lot could go wrong in creating your cellar if your hired contractor is not well versed with their job. The functionality and effectivity of your built wine cellar depend on the proper foundation and groundwork your wine cellar builder has done for you. This functionality must work flawlessly with your desired aesthetic and visual scheme for your wine room. We have specialists who know their crafts by heart and are willing to offer you proper guidance and help you all throughout the building of your wine room. We can provide you tips and suggestions as to what distinct features and accents go well with your personal design. You not only get professional advice, but you also get to keep your personal and unique. Among the things we can discuss are:
Choose the Right Door for Your Wine Cellar
The entrance to your storage space automatically sets the mood and ambiance of your wine cellar. It could give off a traditional and vintage vibe or a more modern and contemporary feel. Your chosen door will give your guests an idea what to expect when they walk in in your collection. Design your own and we will help you materialize it. From carving personal designs on wood to engraving your family's crest on metal, you can be freely creative in designing your wine cellar door. Also, the entryway to your wine cellar should functionally keep the temperature and humidity your space under control and on ideal levels. They should be made of high-quality materials and installed properly.
Here are a few materials you can choose from for your wine cellar door:
a. Wood
When choosing wood for your wine door's material, a collector must keep in mind the wood's natural potential to be subjected with mildew and moisture. These can tamper your room's insulation and can cause detrimental effects to your collection. Custom Wine Cellars Houston only uses the best available types of wood in the market for our door. Commonly used are Mahogany, Redwood, and Pine. These species of wood are non-aromatic and durable, making them good choices for your wine cellar door.
b. Glass
Choosing a glass door for wine storage space will give it a more modern and voguish feel but glass doors also go well with traditional inspired wine cellars. Custom Wine Cellars only use high quality and durable ½ inch thick dual pane glass on our glass doors. This feature ensures proper insulation to your wine room if ever you opt for our glass door.
c. Wrought Iron
Our wrought iron doors are a combination of 16 and 18 gauge wrought iron. Custom Wine Cellar hand forges the material to meet your needs and to get the design you want. This will give your wine room a more personal and unique taste.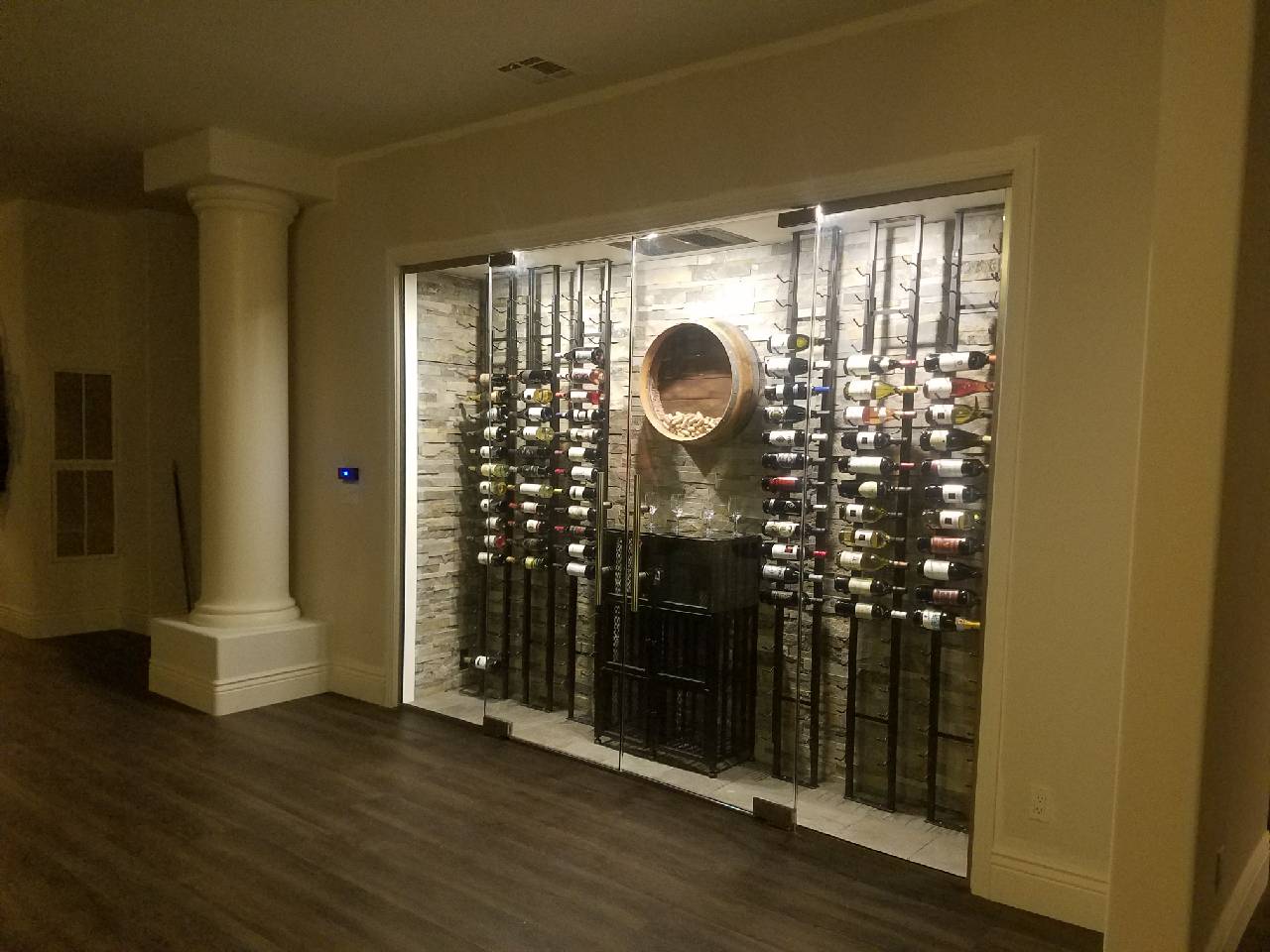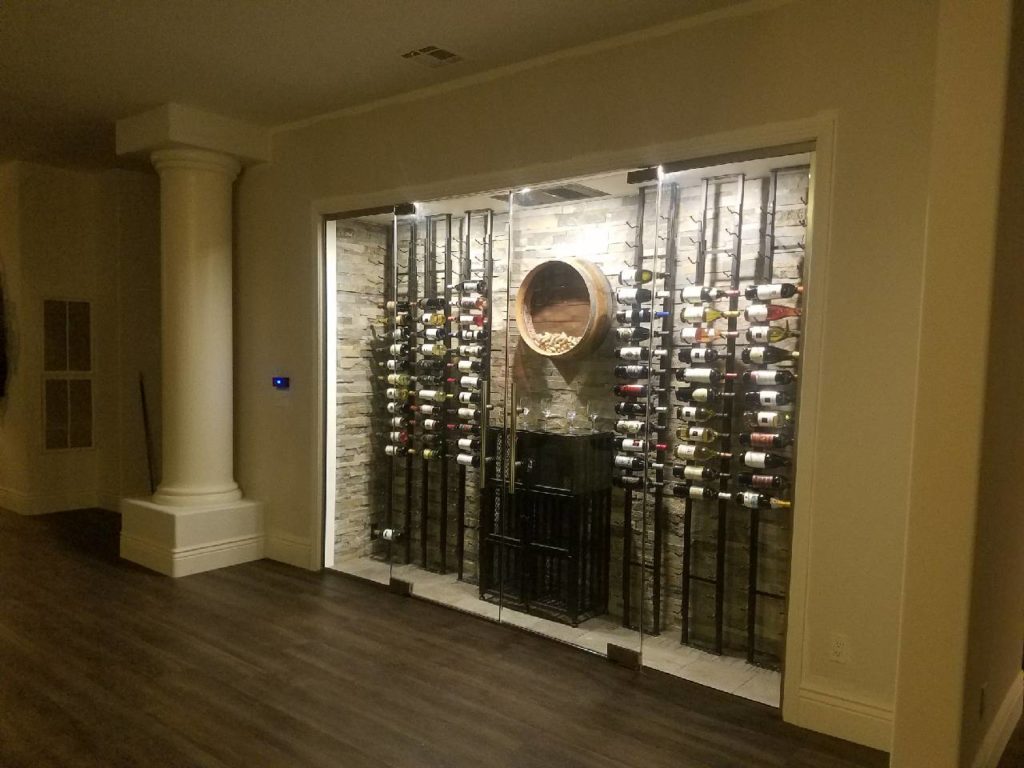 Pick Accentuating and Distinct Lighting Fixtures
Adding distinct lighting fixtures will bring more character and create a vibrant ambiance to your wine room. Different lighting systems are available in the market and our specialists can help you decide on which to add to your cellar. You can choose to install tracking and ribbon lights that go with your wine racks to direct your guests' attention to certain parts of the room or opt to hang a grandiose chandelier to illuminate the whole room. You will not only put your artistic touch in your own creation but also display your wines to your guest in an exquisitely moving way.
Add Details to Further Hype Up Your Wine Cellar
Why settle for a mediocre wine room when you can add a whole lot of distinct details and accents to your storage space. We can help you sort through the vast available options in the market that you can add to your cellar. Accent tables or hanging wall decorations, make your wine room more personal by making it just how you like it.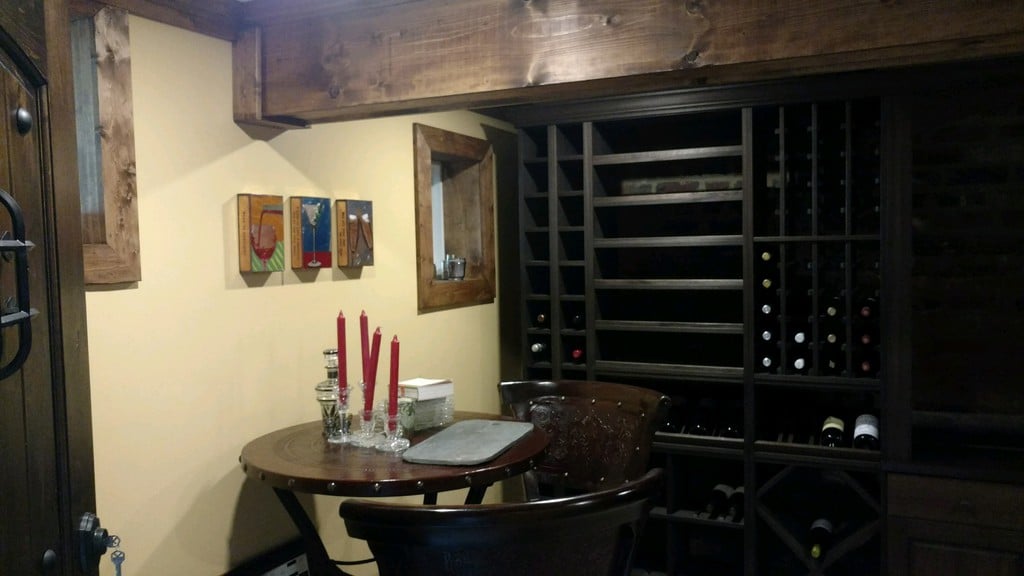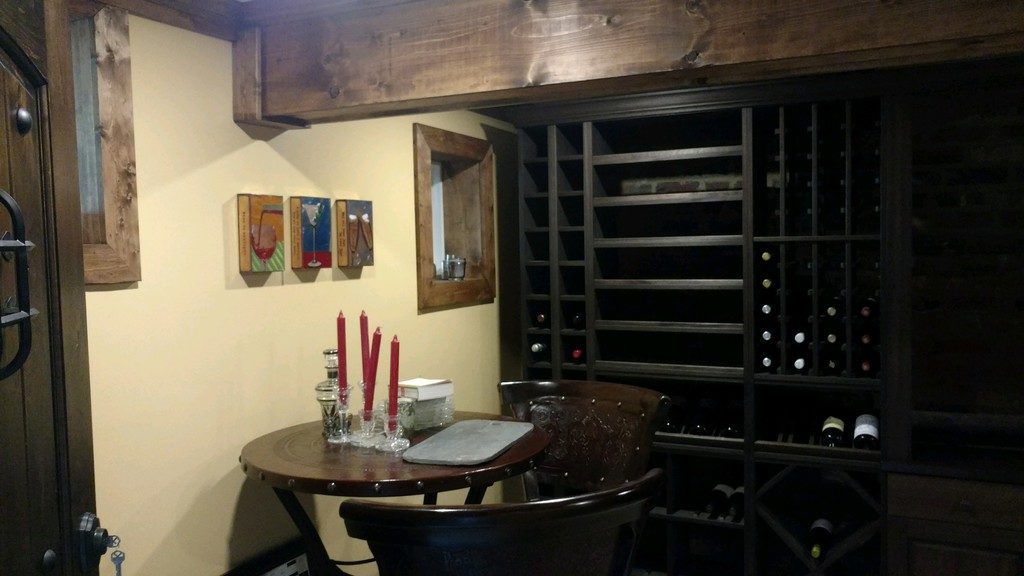 Let Us Start Building Your Dream Wine Cellar
Team up with a group of experts and specialists and build your own personal residential wine room. Do you have a design in mind and looking for the right people to work with? We at Custom Wine Cellars can help you create a masterpiece in Houston all with your own personal taste and uniqueness. Our team is backed with years of experience and have mastered our different craft. Give us a call at (281)-809-7283 and together let us build your very own wine room.