Wine Cellar Design
3D Drawing
Request
We will create a unique
design just for you!
Click Here


Fast Quote

or
Just a Question?
Have one of
our wine cellar
designers
contact you
Click Here
High-End Modern Wine Cellar Designed by Award-Winning Builders in Dallas, Texas
HOUSTON'S BEST WINE
CELLARS BUILDERS
A wine collector who is worth his salt knows that you can't keep wines in just any refrigerator or storage box. A true wine lover understands the need to store wine in a climate-controlled facility specially made for vinos. In Dallas, Texas, we had a client who hired our team of builders to transform a small space in their living room into a functional custom wine cellar with a modern design. Learn more about this award-winning modern wine cellar design in Dallas!
Expert Wine Storage Builders Create a Modern Design Cellar for a Posh Home in Dallas
Custom Wine Cellars Houston is a reputable designer and builder of both residential and commercial wine storage facilities in Texas. Recently, we built a wine cellar with a modern design for a client in Dallas. They had a small space in their living room that they wanted to convert into a wine display.
This project is one of our favorites because this is the wine cellar that got us our 5th award from the ARC Awards by Dallas Builders Association. This modern wine cellar design was awarded the "2018 Best Wine Room Modern Masterpiece."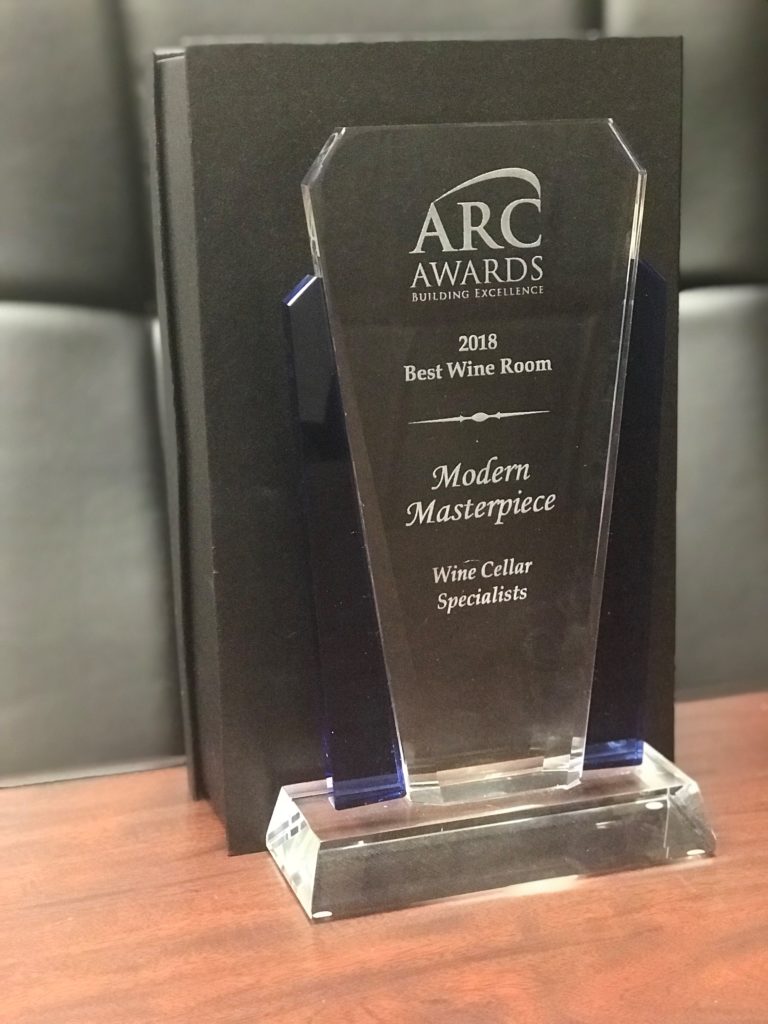 A Collaborative Effort: Working with the Client to Achieve a Modern Wine Cellar Design that Meets their Expectations
As with all our projects, we always make sure we know what the client needs before we create a design. Our team took a full assessment of their goals for this project. The space where we were to convert into a wine cellar was a small area in the client's living room. They wanted a cellar that would allow them to showcase their wine collection with elegance, while maximizing the space available.
Our team gathered all the necessary information about the area for construction, including the room's size and dimensions. We also gave special consideration the client's budget. Doing all of this plays a huge part in the success of the project because it gives our team a better visualization of the completed modern wine cellar in Dallas. When we had everything we needed, our designers created CAD sketches and sent them to the client for approval. As soon as we got the green light, the construction commenced.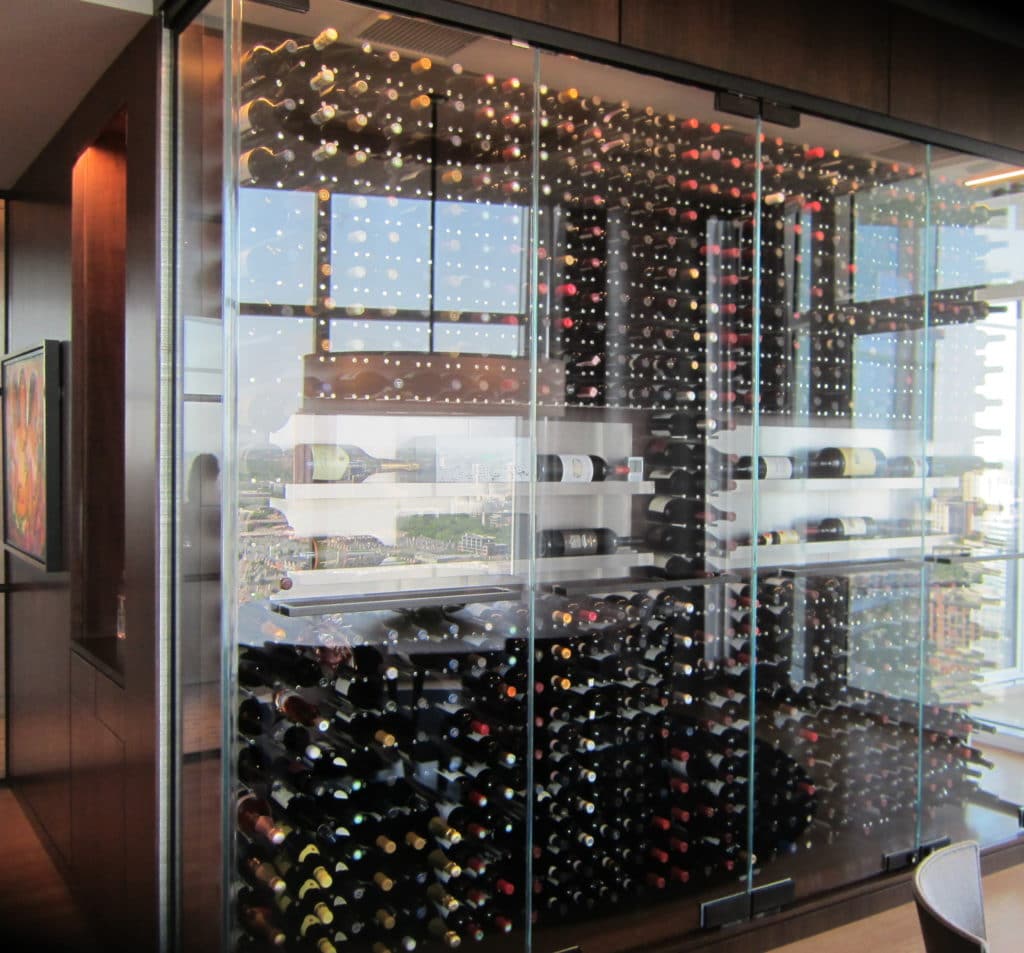 Stylish Components that Create a Uniquely Modern Wine Cellar Design in Dallas
Our team of expert design specialists made sure that all the components of this wine cellar, including the nitty-gritty details, were purposefully selected to make a fully cohesive modern design. From the types of racks to the kinds of lighting fixtures, we made sure that this modern wine cellar was going to be perfect. Here are a few of the design details we included:
1. A Modern Minimalist Color Palette
Choosing a color palette for any construction project is essential in keeping the wine cellar cohesive with the existing design of the living room. When showing as Pinterest ideas of their ideal wine cellars, we understood that the client had a taste for minimalist designs. This is why we chose to use monochromatic colors for their living room wine display. The neutral colors we used complemented well with the colors of the client's living room.
2. Sleek Metal Wine Racking Systems from VintageView
In line with the modern wine cellar that we wanted to achieve for the client, we used metal wine racks from VintageView. More specifically, we used the Ultra Wine PEG system, which is a set of designer-made stainless-steel rods that are installed on a backboard.
This particular metal wine racking kit is best for wine collectors who have a continually growing collection, just like our client in this project. The Ultra PEG wine racking system allows the easy installation of additional kits when the need for more storage rises.
3. A Unique Middle Section Display Custom-Made for this Modern Wine Cellar in Dallas
The Ultra Wine PEG system was installed above and below a custom-made middle section. This middle section was made of larger cradles that we built for the client's large-format bottles.
Generally, wine cellar owners have their large bottles stored on X-bins or crates on the lower sections of their storage room. However, with the limited space available in this project, we decided to have the client's larger wine bottles displayed horizontally on the middle section with their labels facing forward.
During the planning phase, we really hoped that this particular customization of design would not make the cellar look awkward. We knew it wasn't common at to have large bottles displayed horizontally in the middle of everything. Since the client approved it, we were set to make it work!
When the construction was complete, it was clear that this innovation of design made the middle section of the display a stunning focal point of the client's cellar. More importantly, the unique feature made this modern wine cellar in Dallas a standout among all others in the area and garnered it the award it truly deserves.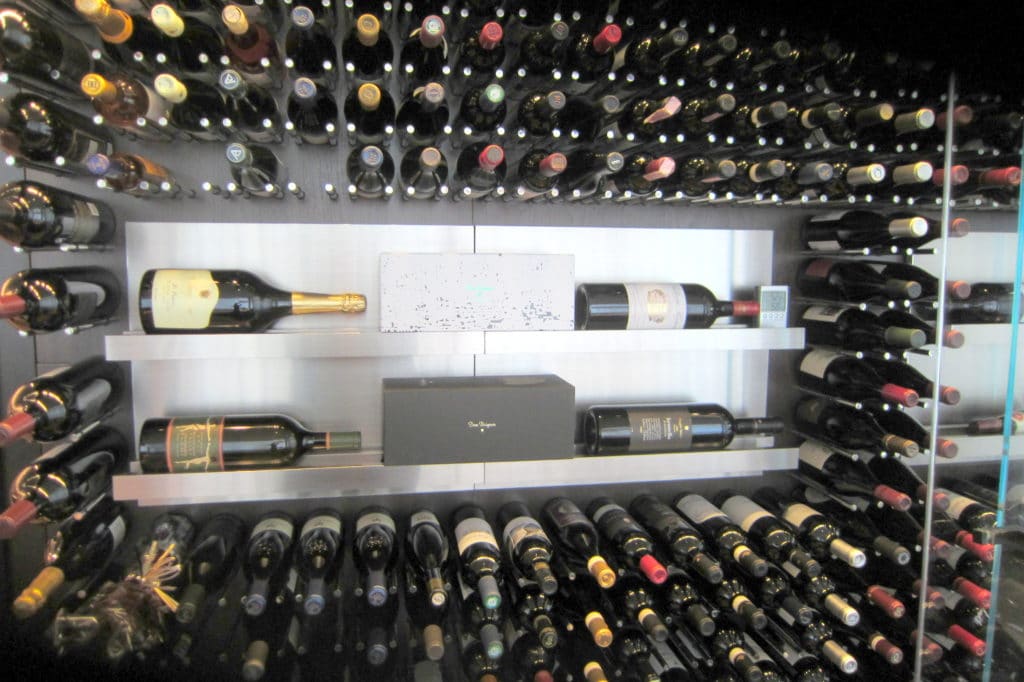 Elegant Glass Wine Cellar Doors
As cherry on top of this modern wine cellar design in Dallas, we enclosed the display with two thermal insulated glass doors. We thought it would be such a waste to have all of the client's expensive wines displayed but not be showcased unless the cellar was opened. A glass enclosure made sure that all of their prized bottles are seen from the living room.
Own an Award-Winning Modern Wine Cellar in Your Dallas Home!
You too can own a gorgeous modern wine cellar in your home in Dallas. And even if you had limited area available, we can create a design for your that will maximize the space you have. Give us a call today, and we'll give you a quote. Contact Custom Wine Cellars Houston at (281)-809-7283