Wine Cellar Design
3D Drawing
Request
We will create a unique
design just for you!
Click Here


Fast Quote

or
Just a Question?
Have one of
our wine cellar
designers
contact you
Click Here
Newly-Renovated Kitchen Wine Cellars in Houston
HOUSTON'S BEST WINE
CELLARS BUILDERS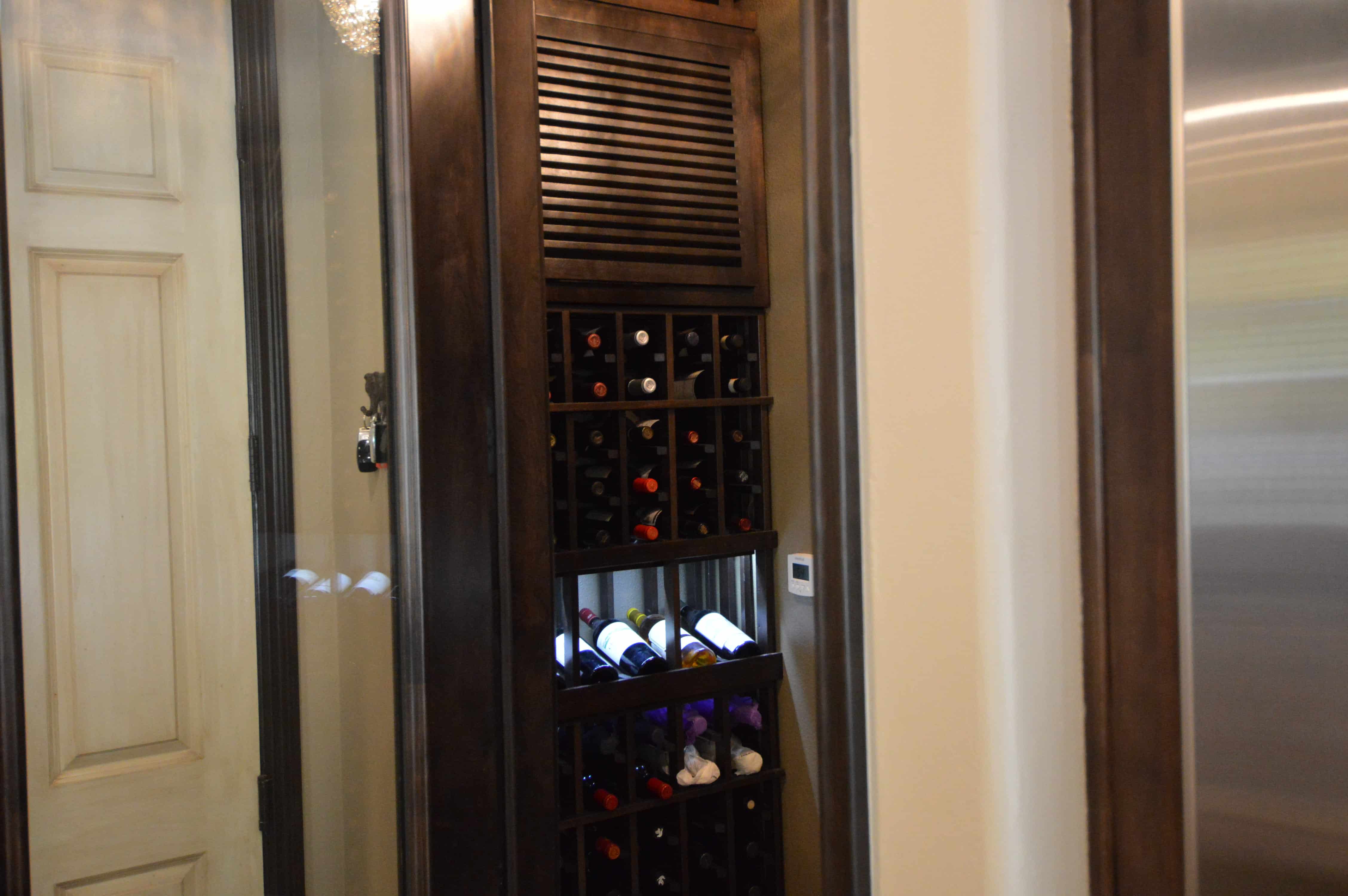 Custom Wine Cellars Houston is a leading kitchen wine cellar builder and designer in Texas. We've helped many homeowners achieve their dream wine cellars — stylish and fully functional storage facilities for their wines and other liquors. We always ensure every wine cellar can maintain the ideal wine storage environment by installing the correct insulation and bringing in in-case-of-emergency wine cooling systems. Know more about what we're talking about by looking into one of the projects we did with our partners at Arctic Metalworks!
The Renovation Plan of an Existing Kitchen Wine Cellar
Wine cellars should be done by a professional with the technical knowledge and experience of how wine storage systems work. Unfortunately, the homeowner of this kitchen wine cellar didn't know that wine cellars require specialists and not general contractors only.
The homeowner of our story converted his kitchen pantry into a small, walk-in wine cellar with wooden wine racking and a split-system cooling unit. The problem was there wasn't enough insulation on the walls, and the cooling unit wasn't cleaned as scheduled because the owner was out on a trip. So, when he came back, the wine cellar was already warm — not a very friendly environment for his priceless wine collection.
[See another project we did here — conversion of a garage to a custom wine cellar!]
To renovate it, here's what we did:
Conducted a heat load calculation of the room

Find a place for which the condenser is more accessible for cleaning

Pen down the design the owner wanted

Added proper insulation to the walls

Installed a secondary wine cooling system

Installed a door with an automatic guillotine

Installed new rustic wooden wine racks and simple wine cellar lighting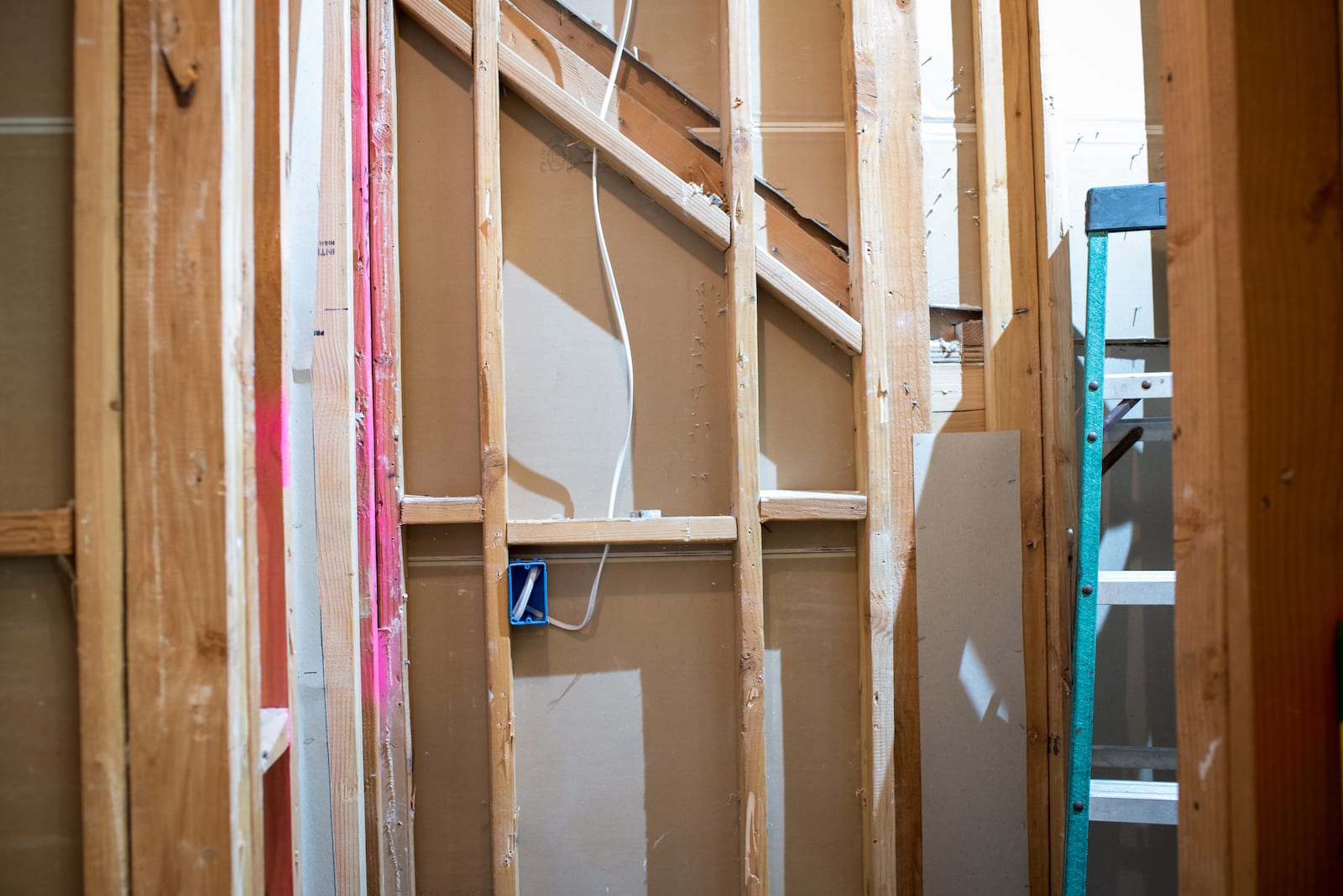 Heat Load Calculation and Insulation
Vapor intrusion is one of the top things we don't want happening in our wine cellar. It happens when the water molecules from outside diffuse through the walls and into the cellar. That's why additional insulation is needed. Since there are plenty of insulation options, we first performed a heat load calculation to determine how much insulation should be added.
We opted to use closed-cell spray foam insulation, one of the best types of insulation available today. Unlike sheets, spray foam can cover narrow crevices and holes that are difficult to reach by hand. Plus, it acts as both an insulator and vapor barrier at the same time. In other cases where insulating sheets are used, a separate vapor barrier sheet is still needed — not very cost-savvy.
To install the insulation, we first tore down the inner drywall, then sprayed in the insulation and put the wall back on.
Wine Cellar Cooling System
There are different types of cooling systems for wine cellars, and what you choose should depend on the cooling requirements of the room (based on the results of the heat load calculation). In addition, the structure of your home will also influence the type of cooling system you can install. For example, homes with narrow ceiling spaces can go with a ductless split-system cooling unit. On the other hand, homes that have more ceiling or wall space can go with a self-contained cooling unit.
However, no matter what cooling unit you get, we always emphasize that periodic maintenance is important since it has to run 24/7, 365 days of the year. When the filter is blocked with dirt, the system won't be able to suck the warm air from the room anymore and exhaust it out — ergo, the heat remains inside the cellar, which isn't ideal.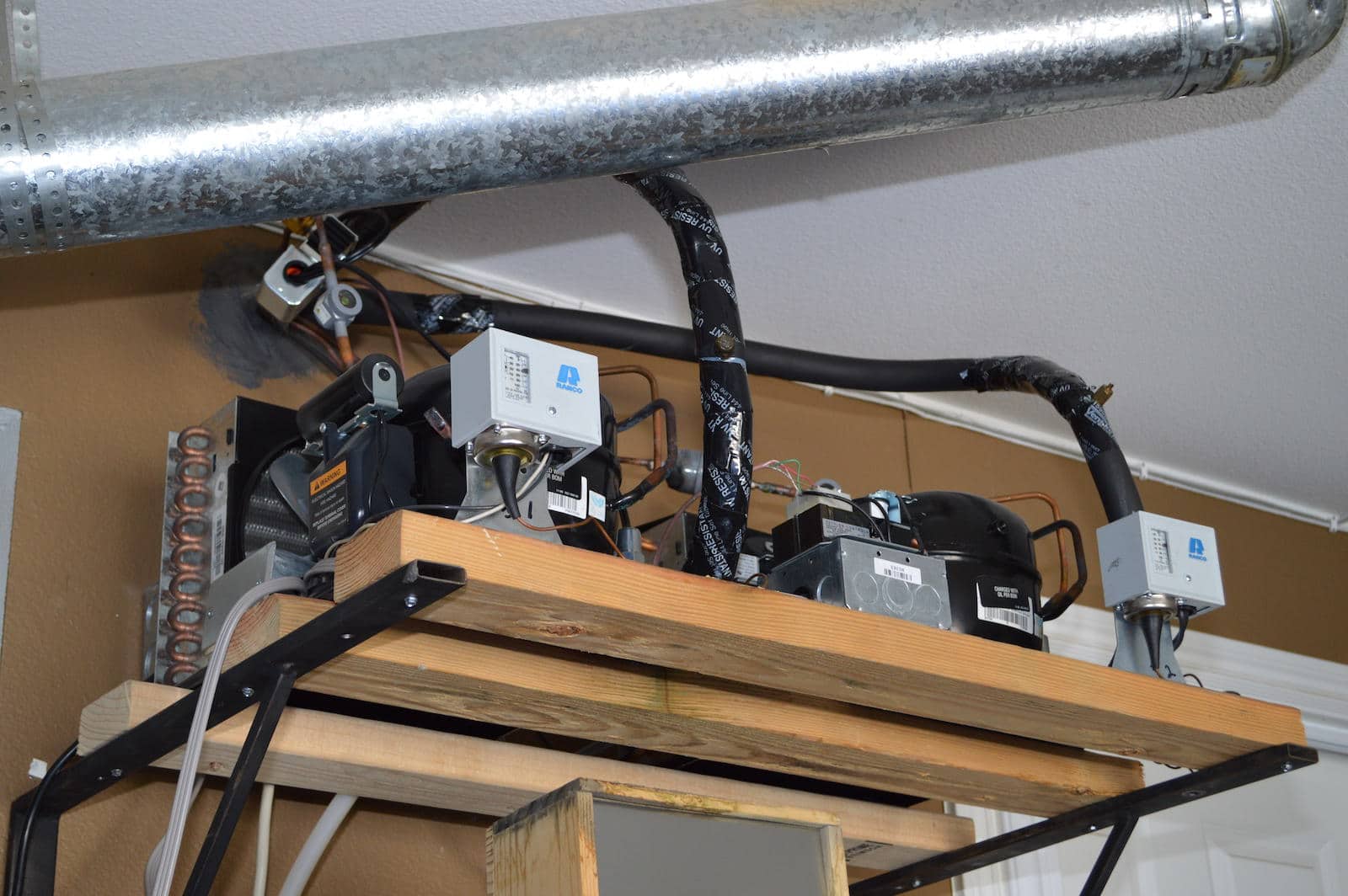 For this particular homeowner who was always traveling, we brought two separate wine cooling systems: one primary plus a backup. Both split-type cooling systems had a 1/3 horsepower, which was enough for the size of the kitchen wine cellar. Both systems also had two independent thermostats set a few degrees apart. If the first thermostat does not reach the preset temperature (55 degrees), the backup system will automatically turn on. This ensures the wine bottles are kept cool even if the primary AC fails.
When the bottles are exposed to warmth or heat for a long time, the corks may expand and slide out of the bottles, affecting the natural oxidation process of the wines. With the backup wine cellar cooling system, this kitchen wine cellar will stay cool throughout, and the owners will have peace of mind knowing their valuable wine collection is safe even if they are not home for a long time.
Once we've set the insulation, cooling system, lights, and electrical lines, we then added our custom wooden wine racks which we painted with a dark stain. A portion of the racks had a louvered grills to hide the primary evaporator.
Wine Cellar Door with Automatic Guillotine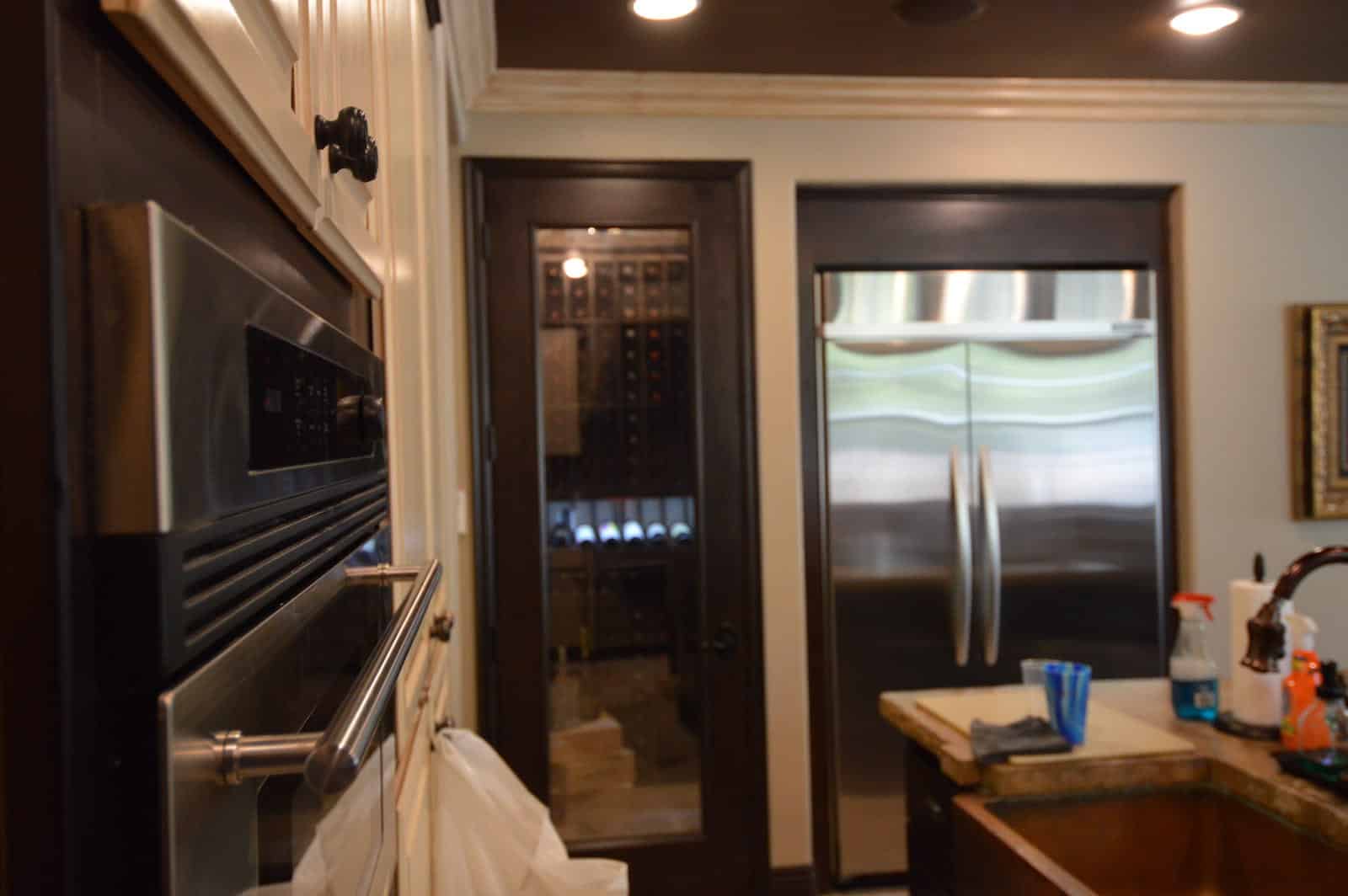 At Custom Wine Cellars Houston, we always ensure every component is made from high-quality materials and designed with functionality in mind. In this pantry wine cellar, we replaced the original door with a specially-built wine cellar door containing an automatic guillotine at the bottom. We call it a guillotine because it slides down really fast when you close the door, sealing the bottom tightly. It's important to have an additional seal at the bottom of the door since cool air is pushed down, so most of it is concentrated on the floor. To keep the cool air from escaping through the door gaps, a guillotine is necessary.
Work With a Professional Wine Cellar Builder Who Likes A Challenge – Custom Wine Cellars Houston!
Custom Wine Cellars Houston is one of the leading wine cellar builders in the state. We offer complete design and construction packages and always customize our wine cellars because we believe every home and wine collection is unique! We don't dilly-dally and always bring the best of the best according to your budget and preferences.
If you're located in Houston or its neighboring towns and cities, give us a call, and we'll be happy to drive to your home, assess your place, and give you your options, whether it's a kitchen wine cellar, under the stairs wine cellar, walk-in wine closet, or others.
Call us at +1 (281) 809 – 7283 today!