Wine Cellar Design
3D Drawing
Request
We will create a unique
design just for you!
Click Here


Fast Quote

or
Just a Question?
Have one of
our wine cellar
designers
contact you
Click Here
Popular Restaurant in Downtown, Dallas Gets an Upgrade with a Commercial Wine Cellar
HOUSTON'S BEST WINE
CELLARS BUILDERS
In a restaurant business, it's not just the menu and the services that bring the customers in, but also the ambiance. Restaurateurs invest a reasonable budget to make their commercial establishments inviting. In line with improving ambiance, a luxurious dining place in Downtown, Dallas hires our team to build a commercial wine room next to their wine bar area. Read more about this construction project!
Interior Design Upgrade: Building a Commercial Wine Cellar in a Restaurant in Downtown, Dallas
Custom Wine Cellars Houston is a reputable wine storage construction company in Texas. We have provided many innovative wine storage solutions for both homeowners and business. Our team has created designs that range from traditional to modern, all to meet our clients' requirements.
In a recent project we did in Downtown, Dallas, the client was the owner of a famous dining establishment. He hired our team to build a commercial wine cellar right next to the restaurant's wine bar.
Following our standard operating procedure, we made a thorough assessment of the client's space and gathered needed information, such as the size and dimensions of the room. We also took into consideration the number of bottles that the client wanted to store and display in this cellar. Once we had all the details, our design specialists created 3D drawings for the client, so that they could visualize the planned construction. As soon as the client approved the drawings, we began building the commercial wine cellar in Dallas.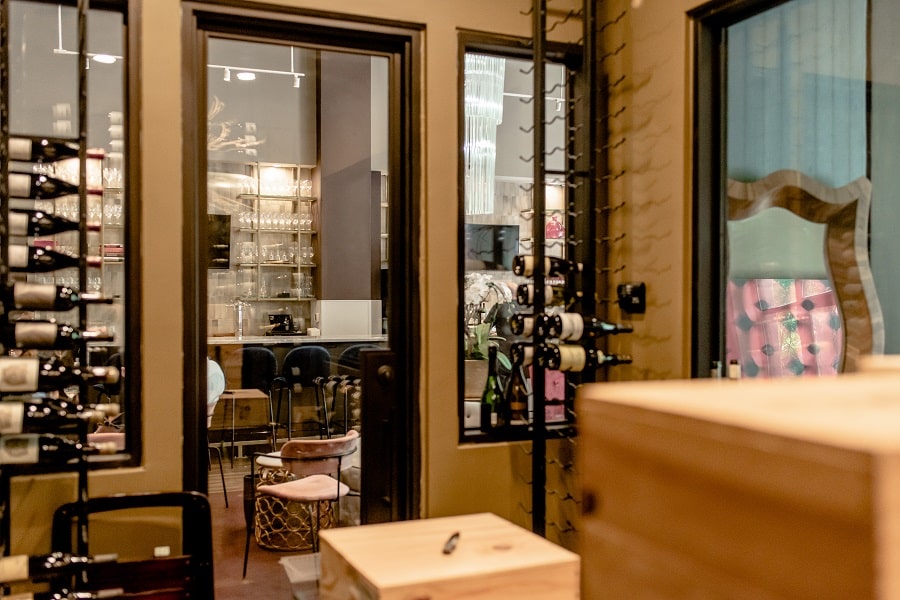 Creating a Distinctive Contemporary Design for the Commercial Wine Cellar in Dallas
The commercial wine cellar was an additional feature to the existing design of the restaurant. With this in mind, we made sure that design we created for the wine room would match the restaurant. Using a combination of modern and traditional elements, we created a unique contemporary commercial wine cellar design.
1. Metal Wine Rack Modules from VintageView
On the back and side walls of the commercial wine cellar in Dallas, we installed floor-to-ceiling metal racks. These were 3-deep racks efficiently maximize the storage capacity of the wine room. Also, our team mounted 2-deep metal racking systems on both sides of the cellar door. We made sure no wall space went to waste!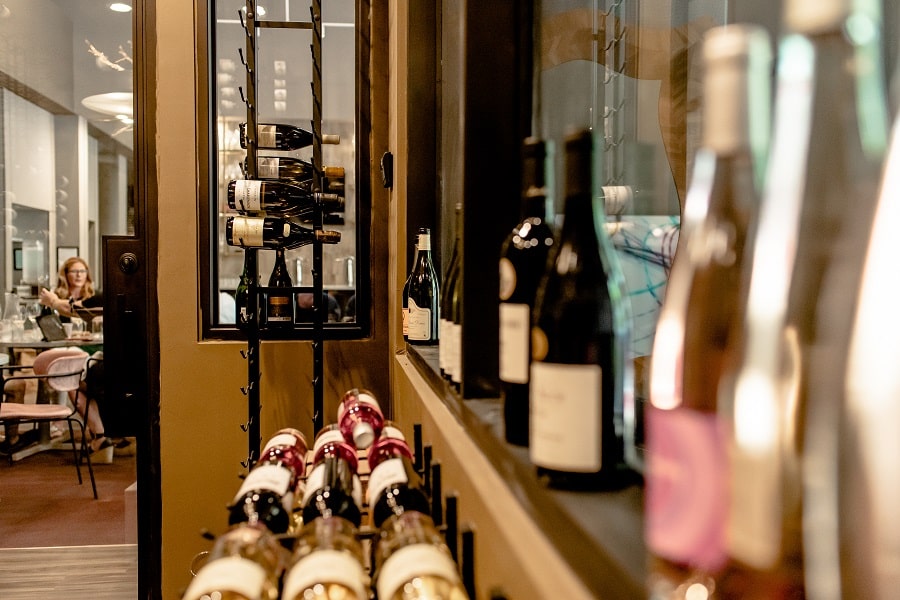 2. Commercial Wine Cellar in Dallas with Glass Door and Windows
Our team installed a dual-paned rectangular glass door as an entryway. We also mounted two glass windows on both sides of this door. These glass installations were framed in wood, which created a truly chic contemporary style to this wine room.
The installation of glass components to this commercial wine cellar serves two purposes: add to the contemporary feels of the wine room and provide visualization of the wine displays for customers at the wine bar and at the private dining area. The latter is important because constant opening of a wine cellar could cause adverse fluctuations in the temperature and humidity inside. Fluctuations can alter quality of the wines in the cellar.
3. Gorgeous Wine Cellar Lighting Fixtures
Good lighting makes a whole lot of difference to any room. The right amount of light can create a dramatic ambiance inside a wine cellar. Our team installed LED lighting systems, so that there is minimal heat produced by the lights. Regular lighting systems emit too much warmth, which could drastically alter the climate-conditions inside the cellar and consequently ruin the wines.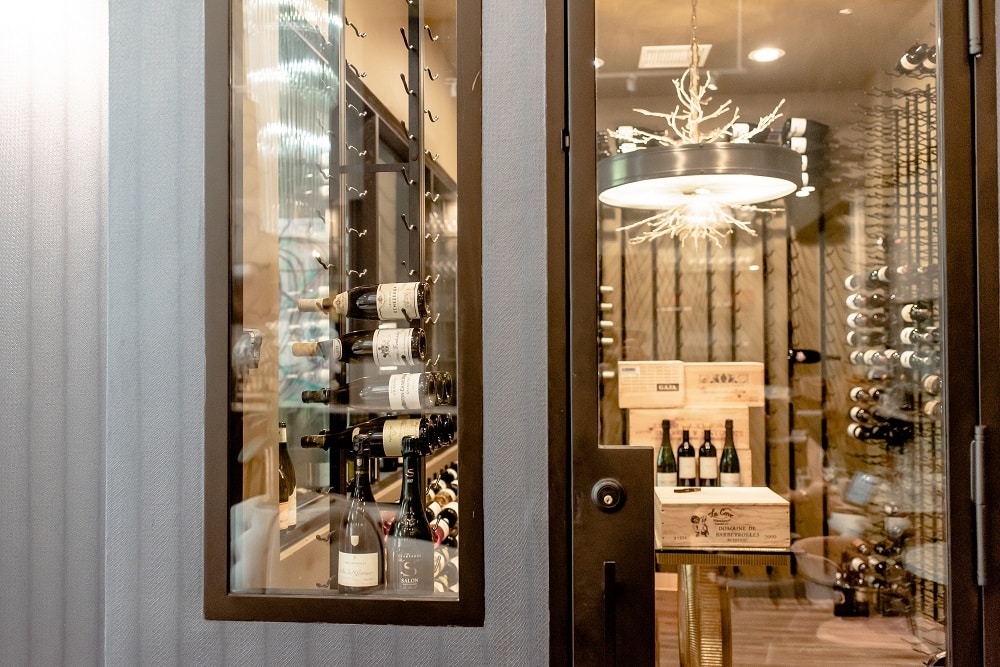 The right lighting fixtures also add to the overall aesthetic value of a wine cellar. In this commercial wine cellar in Dallas, we hung a unique chandelier in the middle the ceiling. This chandelier had details that looked like wooden branches. This fixture was another step towards the contemporary style that we wanted to achieve for this wine room.
4. Other Unique Wine Cellar Decorative Accents
As icing on top of the cake, we placed a gold, rectangular table near the back wall of this commercial wine cellar in Dallas. Under this table is a mosaic-like art piece. Besides being a decorative accent to this wine storage facility, it also serves as a space for decanting, serving, and tasting wines.
Boost Your Sales by Investing a Commercial Wine Cellar in Your Business in Dallas!
The commercial wine cellar was one of the restaurant owner's best investments for their business. Not only did it improved the aesthetic value of their establishment, but also helped boost their income. Draw more customers in by having a wine cellar built in your commercial establishment in Dallas. Our team of specialists can provide you with ideas on various wine storage designs, so that you could find inspiration on how you want your wine cellar. Talk to us today! Call (281)-809-7283.