Wine Cellar Design
3D Drawing
Request
We will create a unique
design just for you!
Click Here


Fast Quote

or
Just a Question?
Have one of
our wine cellar
designers
contact you
Click Here
The Rewards of Working with Experts in Your Custom Wine Cellar Construction Project in Houston
HOUSTON'S BEST WINE
CELLARS BUILDERS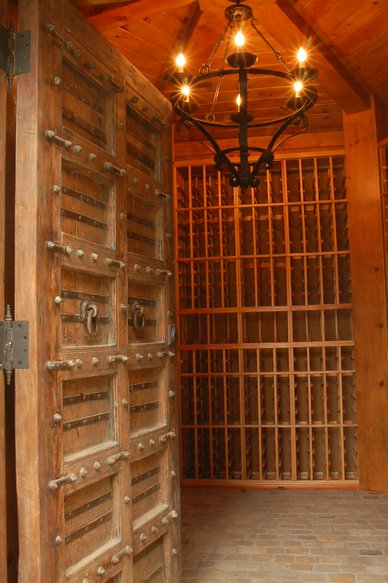 Working with the wrong builder will put your wine investment to waste. To prevent regrets in the future, you must be careful when choosing a designer and installer for your wine cellar project. Custom Wine Cellars Houston will protect your prized wines by installing commercial-grade components in your cellar. We use our passion and expertise in completing wine cellar construction projects for homes in Houston.
The Important Elements in Wine Cellar Construction of Homes in Houston
Poor storage conditions cause off flavors in the wine. You do not want this to happen to your prized vintages. To prevent wine defects, you must have a dedicated room installed with an efficient climate-controlled system, proper lighting fixtures, and commercial-grade door. There must also be correct insulation to prevent wine damage.
How to Prevent Wine Storage Problems
People who lack knowledge in wine cellar construction think that storing wines in any room will not ruin their favorite vintages. They end up having spoiled wines in their collection because of one or more of the following reasons:
Incorrect type and size of wine cooling system

No or lack of room insulation on the walls, ceiling, door, and flooring

Wrong type of wine cellar lighting system

Low-grade and improper installation of wine cellar door
Keep in mind that you can prevent any of these storage problems when you work with the right wine cellar builder. At Custom Wine Cellars Houston, we help clients connect to an experienced company in their area. Our common goal is to promote standards essential for construction of custom residential and commercial wine cellars in Houston and many regions in the United States.
Why Do Wines Need Optimum Conditions to Age Gracefully?
The primary key to the graceful aging of your collection is getting your wine cellar constructed by a professional to ensure that every component of your wine room is made of high-grade materials and designed by someone who has technical expertise in building refrigerated wine rooms. Wine is sensitive to light, heat, vibration, and odor.
Our contractors in Houston always consider these environmental factors when building custom wine cellars. We always make a careful assessment of the client's needs before starting the design phase. This process helps us ensure that all of the requirements are met. We care for your wines. We want every wine cellar we build to preserve your collection for many years to come.
The Benefits of Keeping Your Wine Cellar Temperature at an Ideal Range
Since heat is wine's number-one enemy, storing your wines in a climate-controlled wine cellar will protect your collection. Extreme fluctuations in temperature will ruin your wines, resulting in a significant expense in the future.
An unstable environment can alter the chemical composition of the wine and give it an unpleasant taste and aroma. You do not want your wines to go down the drain, do you?
Do not store your wine collection in a place with there is no wine refrigeration system installed in it. At Custom Wine Cellars Houston, we provide commercial grade wine cooling systems to safeguard your precious vintages. Our refrigeration units are designed by top-notch specialists in the industry to keep the temperature between 55 to 65 degrees Fahrenheit.
Importance of Correct Humidity Levels in the Proper Preservation of Wines
The relative humidity level in a wine room must be between 60 to 70 percent. If the humidity level drops below the minimum range, the cork will shrink and lose its elasticity. When this happens, there will be space for air to enter the bottle, causing wine oxidation. If the humidity level goes above 70 percent, there is no significant impact on the wine.
Correct wine cellar construction will ensure that it stays within the ideal range. At Custom Wine Cellars Houston, we install a vapor barrier and insulation to achieve the perfect environment for wine aging.
Efficient Wine Cellar Refrigeration System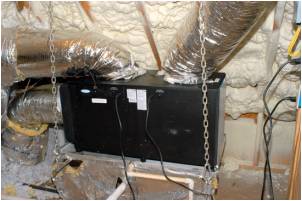 One of the most vital elements in wine cellar construction is the cooling system. It plays a significant role in preserving the overall bouquet of the wine. When you work with an expert in Houston, you can be sure that your wine cellar is the safest place for your wines. You can enjoy worry-free wine collecting!
A poorly installed wine cooling system will trigger mold growth in your cellar, putting your collection at risk. At Custom Wine Cellars Houston, we use climate-control systems from trusted manufacturers like WhisperKOOL, Wine Guardian, US Cellar Systems, and CellarPro. Their innovative wine cooling solutions help us build residential and commercial wine cellars effectively. Our expert team is well trained to ensure that our client's climate-control system is installed correctly.
To help us determine the right size and capacity of the wine cooling unit for your wine room, we perform a heat load calculation. This process will determine the correct BTU (British Thermal Unit) required to cool your wine cellar efficiently.
Keep in mind that sizing your refrigeration unit by cubic footage of the wine room is a no-no. When calculating the heat load, the factors to consider are:
location of the wine cellar

size of the wine room

style of door

amount of insulation

glass components

interior and exterior walls
Proper Insulation of the Walls, Ceiling, and Door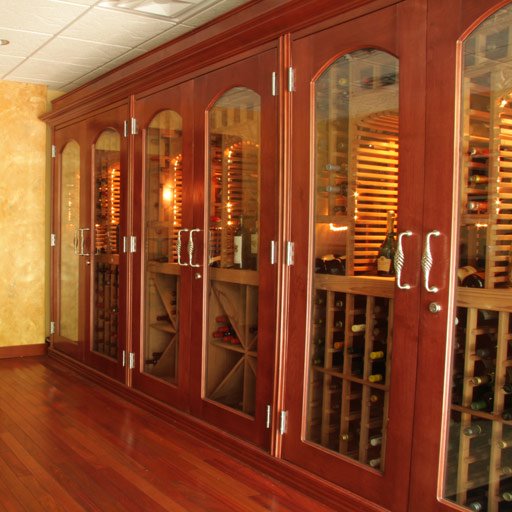 Insulation plays a significant role in keeping the conditions stable in your refrigerated wine cellar. Thus, your chosen builder must be knowledgeable about this and makes that process a standard procedure in wine cellar construction.
At Custom Wine Cellars Houston, we insulate the walls, ceiling, door, and flooring before installing the wine racks, cooling unit, flooring, and lighting.
Sealing the Wine Room: Why is it Important?
Keep in mind that without correct insulation, the temperature and humidity in your wine room will not be stable. It will force your wine cellar cooling system to work harder than its normal operation, causing it to break down and resulting in high-energy consumption.
Custom Wine Cellars Houston uses closed-spray foam insulation for the walls and ceiling. This type of insulation can act as both an insulator and a vapor barrier. It is also energy efficient.
For every custom wine cellar construction, we make sure that every door is made of an exterior grade material and is equipped with sealing components (weather stripping and automatic door bottom). If we have to deal with flooring that is above ground, we install the correct insulation and vapor barrier.
Take a look at this kitchen wine cellar we did in one of our homes. There was an existing, refrigerated wine cellar already, but it wasn't built properly. We had to redo it, install spray foam insulation, bring in a backup cooling system, and seal the door so the cellar is fully-functional and served its purpose.
Tastefully Designed Custom Wine Racks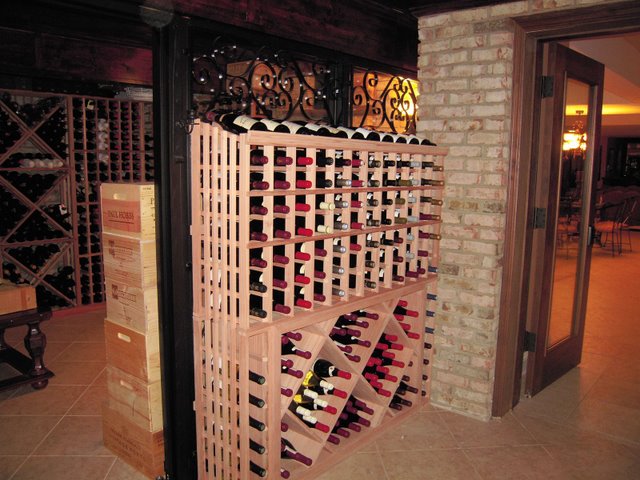 We recommend custom wine racks for wine collectors who want a stylish wine cellar in their home in Houston. Before starting each wine cellar construction, we create 3-dimensional drawings for our clients to provide them a better visualization of their dream wine cellar. We offer the free design package for those who want to work with us on their project.
A custom wine rack system allows you to incorporate your own style into the design. You can add unique features to make your wine room stand out from the rest. You can also choose to add a bar area and cigar humidors to add functionality to your residential wine cellar.
Dramatic Wine Cellar Lighting
Another essential element in custom wine cellar construction is the lighting system. At Custom Wine Cellars Houston, we use LED lights because they will keep your wines safe. Unlike other types of lighting systems, LED lights emit a minimal amount of heat. They also have a longer lifespan compared to regular bulbs. Moreover, using an LED lighting system will illuminate your wine cellar dramatically while providing an ample amount of light for moving around the wine room.
Start Your Project with a Top-Notch Custom Wine Cellar Construction Company in Houston
Building a custom home wine cellar requires technical skills, expertise, passion and creativity to ensure that all of your requirements are met. Custom Wine Cellars Houston is one of the most trusted companies in wine cellar construction. We are a member of the Wine Cellar Designers Group, a third party accredited company with members located nationwide. This group of custom wine cellar construction builders and designers have years of experience in the industry and they can help create the home wine cellar of your dreams.
Do you need help with your next project? Contact us today at (281)-809-7283!