This Custom Wine Cellar Built in a "Man Cave" is a Masterpiece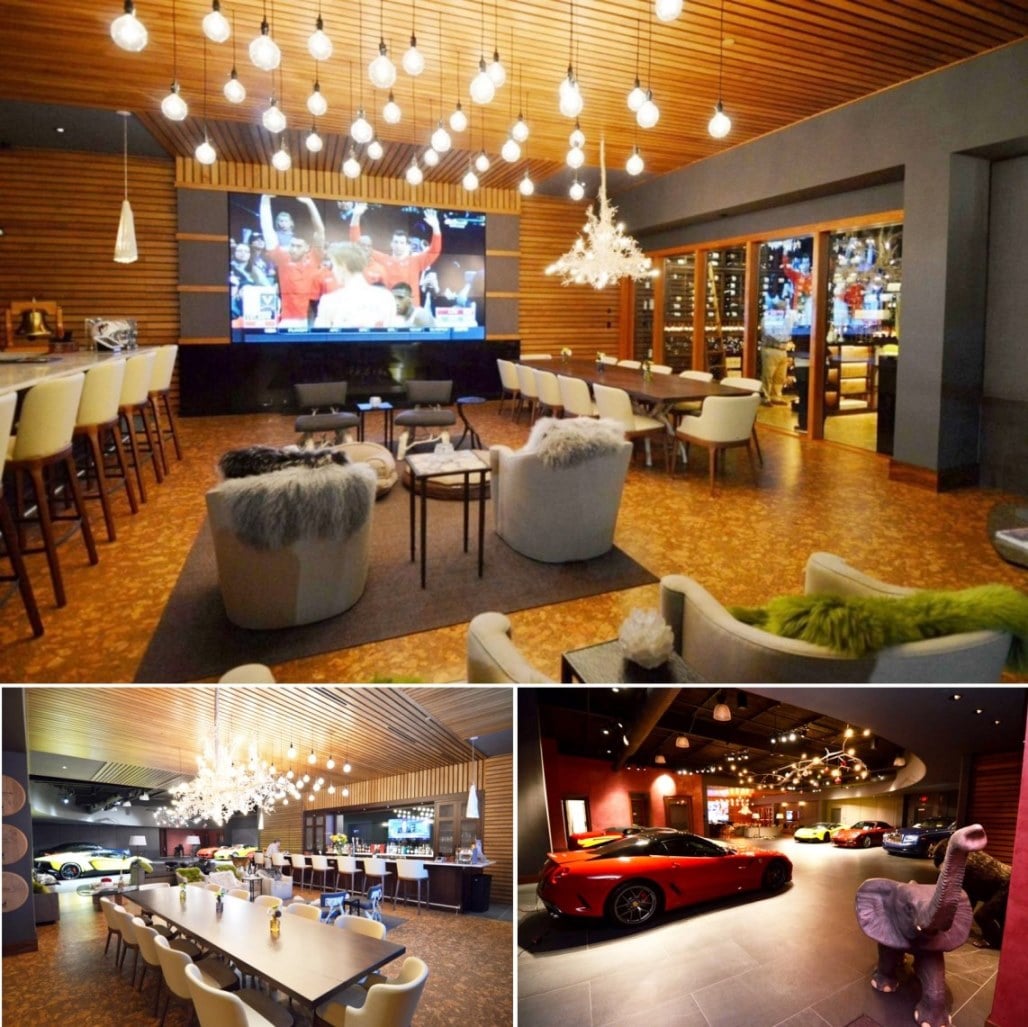 Wine Cellar Specialists is proud to be part of a wine room installation project in Naples, Florida. The wine cellar was built in the "man cave" of the homeowners. They created an impressive design using stylish wood wine racks. They also offer services for those who live in Texas and Illinois. Like Custom Wine Cellars Houston, they always aim for excellence in wine cellar design and construction.
Custom Wine Cellar Design: Adding Impressive Features to the Man Cave
Wine Cellar Specialists is known for their expertise in designing and building custom wine cellars. They have helped wine collectors in Texas, Florida, and Chicago build their dream wine rooms.
The homeowners of a high-end home in Naples, Florida, contacted them because they wanted to start their construction project.
The couple's collection consists of more than 14,000 bottles, so they decided to invest in a beautiful wine display area, utilizing the space next to their entertainment room and wine tasting area. They love to entertain guests, so adding a custom wine cellar to their man cave was a perfect idea.
Wine Cellar Specialists had to create a stellar design intended to store the client's massive collection of wine. They also had to complement the contemporary theme of the man cave, which is located inside an industrial building.
The wine cellar would have to be built next to the wine tasting and entertainment area, which was a smart decision. A wine room is an advantage for those who love to host wine-tasting parties because it will provide easy access to the wines.
Another advantage of this new feature in the man cave is the enhanced beauty, especially when the elements were carefully chosen to bring the wine room to a higher level. The owner's lavish car collection is located adjacent to the wine tasting area. You will be amazed by the expensive cars and luxurious chandeliers in the man cave.
Custom Wine Cellar Racks Made from Wood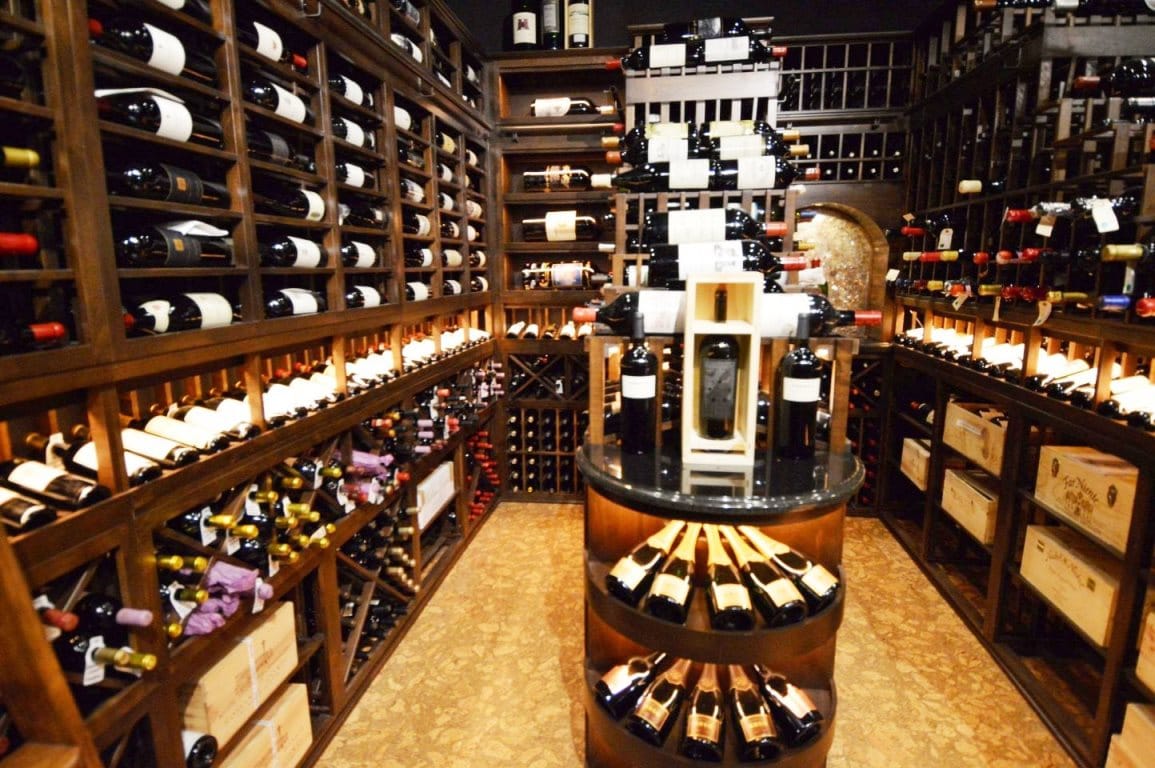 Every project varies in requirements, making the task of designing wine racks a challenging task. However, for an expert like Wine Cellar Specialists, challenges are fun, and they always make sure that the product is impressive.
In this project, they had to design a wine storage system capable of housing a large number of bottles. They created 3-dimensional drawings based on the information gathered during the assessment stage. The CAD images consist of various racking styles, elevations, bottle capacities, and dimensions.
Back Wall: the Focal Point of the Wine Room
Three waterfall wine display racks were installed on the back wall, located across the wine cellar entryway. Two of them have the same length, while the one located at the center is the longest. These wine racks are recommended for creating a focal point in the wine room, with the bottles displayed in a cascading manner. The racking goes down from the wall to the center of the wine cellar.
These waterfall display racks are not common because Wine Cellar Specialists added a tabletop to provide a space for serving wines and storing a few bottles that are ready for consumption. The team of master builders also added tier half-round wine racks with three shelves that look really appealing.
On both sides of the waterfall wine racks are case storage bins for wooden cases. These are ideal for wines stored in bulk. You can also see high-reveal display rows that pitch the bottles at an angle.
An arch with a tabletop was added in between the waterfall display racks. The rest of the wine racks are diamond bins, single-storage racks, display rows, and horizontal display racks for larger bottles.
Left and Right Walls
The wine racks on the left and right walls are the same, except for the right wall, which has wooden case storage. There is a high-revel display row that runs the middle section of the racking on both sides of the custom wine cellar. There are also diamond bins and a quarter–round display wine rack at the end to provide a storage space for the client's accessories.
Other Features of this Custom Wine Cellar
Wine Cellar Specialists always wants their client's wine cellar to be not only visually appealing but also equipped with features for added functionality and enhanced aesthetic quality.
Wine Cellar Ladder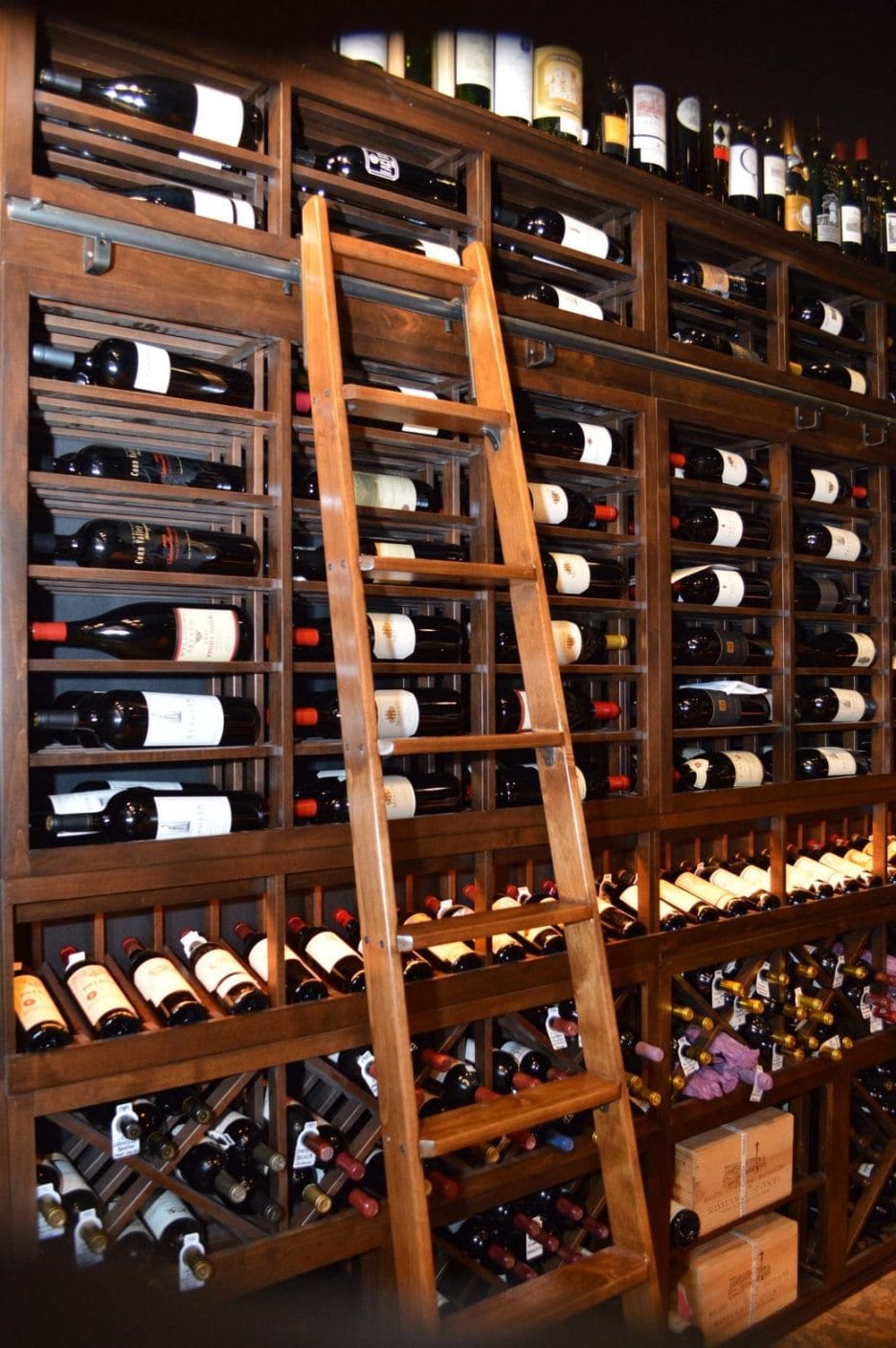 The wine racks installed by Wine Cellar Specialists are tall, and reaching the bottles beyond reach would be easier if there is a ladder. The team installed a hook ladder to provide ease of access to these bottles. The ladder can be removed and transferred from one wall to another.
Wine Cellar Door
The wine cellar door is another crucial component of a refrigerated wine cellar. It should be constructed with technical considerations because it plays a crucial role in wine storage. The wine cellar door was made from glass framed in wood. The prized collection of the homeowners can be seen from the entertainment and dining area.
Wine Cellar Door Insulation and its Benefits
The glass panels were thermally insulated to prevent condensation build-up around the doors, in the ceiling, and walls. The wooden frame is made from exterior grade material to withstand humid conditions in refrigerated wine cellars.
Wine Cellar Specialists equipped the door with sealing components to create an airtight seal inside the custom wine cellar. Door insulation will help create the ideal wine storage conditions needed by wines to age gracefully.
Additionally, it will also prevent the wine cooling system from working too hard. Keep in mind that fluctuating temperatures or varying humidity levels can cause the wine refrigeration unit to break down. When the system is working too hard, your energy consumption will soar high, resulting in higher energy bills.
Let Us Help Build Your Dream Custom Wine Cellar
Like Wine Cellar Specialists, Custom Wine Cellars Houston can build your dream wine cellar. We are composed of designers and installers who have extensive experience in wine room construction.
If you want to talk to a specialist, please call us at (281)-809-7283.