Wine Cellar Design
3D Drawing
Request
We will create a unique
design just for you!
Click Here


Fast Quote

or
Just a Question?
Have one of
our wine cellar
designers
contact you
Click Here
Looking for an Effective and Attractive Wine Storage Solution? Opt for Wooden Wine Racks Manufactured by a Houston Wine Cellar Expert.
HOUSTON'S BEST WINE
CELLARS BUILDERS
Choosing the right type of racking for your Texas wine cellar can be a challenging task without the help of an expert. Your wine racks should fit your functional, aesthetic, and financial requirements. Custom Wine Cellars Houston offers different types of quality wooden wine racks for residential and commercial applications. 
Why Wooden Wine Racks are a Favorite Choice in Wine Cellar Construction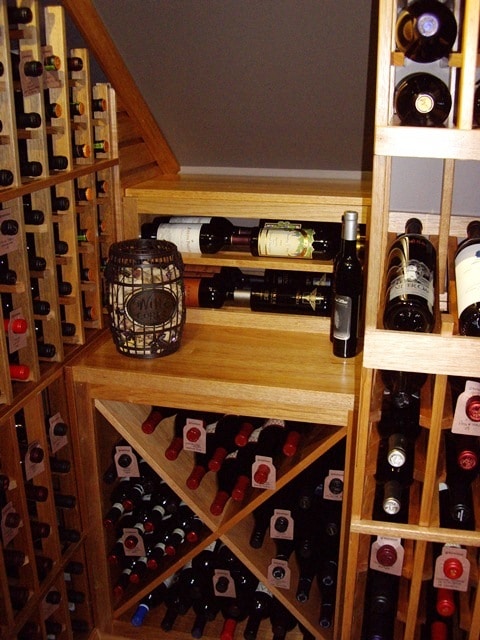 One of the most important components of building a wine cellar is the racking system. The material and design of your wine racks is a major factor that contributes to the overall appeal of your wine room. The key to achieving a long-lasting and visually appealing wine display is by hiring a wine cellar specialist with extensive experience in wine rack design and installation.
At Custom Wine Cellars Houston, we offer stylish and high quality wooden wine racks for both residential and commercial storage facilities. Well-designed wine racks can enhance the beauty of one's own home. They can also increase sales revenue because attractive wine displays can easily draw the customer's attention and may result in sales.
Wood is a top material in Houston wine cellar installations. It is naturally beautiful, durable, and has the ability to blend well with any décor.
It is also conducive to changes in temperature and humidity, making wooden wine racks ideal for climate-controlled wine cellars.
We have partnered with Wine Cellar Specialists, a reliable designer and manufacturer of custom wine racks. We have installed wooden racking systems in many of our custom wine cellar projects.
Top Wood Materials
We use only wood species that are resistant to shrinking, warping, and molds. Redwood and mahogany are the most sought-after wood in wine cellar construction. Each of these has its own contribution to the beauty of your wine storage space. Make sure that you consult with a professional before purchasing material for your storage racks.
Redwood
Redwood has been an in demand material in many residential and commercial installation projects. The natural reddish color of redwood wine racks creates an elegant display of the owner's collection. As the wood ages, its color becomes darker and richer.
Redwood is also known for its longevity. It contains natural wood preservatives that give it the ability to last for many years. This property of redwood makes it ideal for climate-controlled wine cellars since it can remain strong and sturdy in cool and humid conditions.
Mahogany
Another type of wood that can display your fine wines attractively is Mahogany. It is naturally attractive even when unstained. For those who want their mahogany wine racks to look more sophisticated, applying stain and lacquer is recommended.
Prime mahogany and amber blaze are two varieties of the mahogany wood. If you want beautiful grain patterns to appear on your wine racks, choose prime mahogany. To achieve a dark reddish brown racking, go for amber blaze.
Opting for mahogany wine racks will make your Houston wine cellar, not only a stunning display of your collections, but also a great place for entertaining guests.
Styles of Wooden Wine Racks
After you have chosen the type of wood, we will help you determine the ideal style of wine racks for your cellar. Simply tell us your functional and aesthetic requirements so we can decide on the configurations that we should include in the wine rack design.
Ready Built Wooden Wine Racks – an Economical Racking Solution that Can Achieve Custom Appeal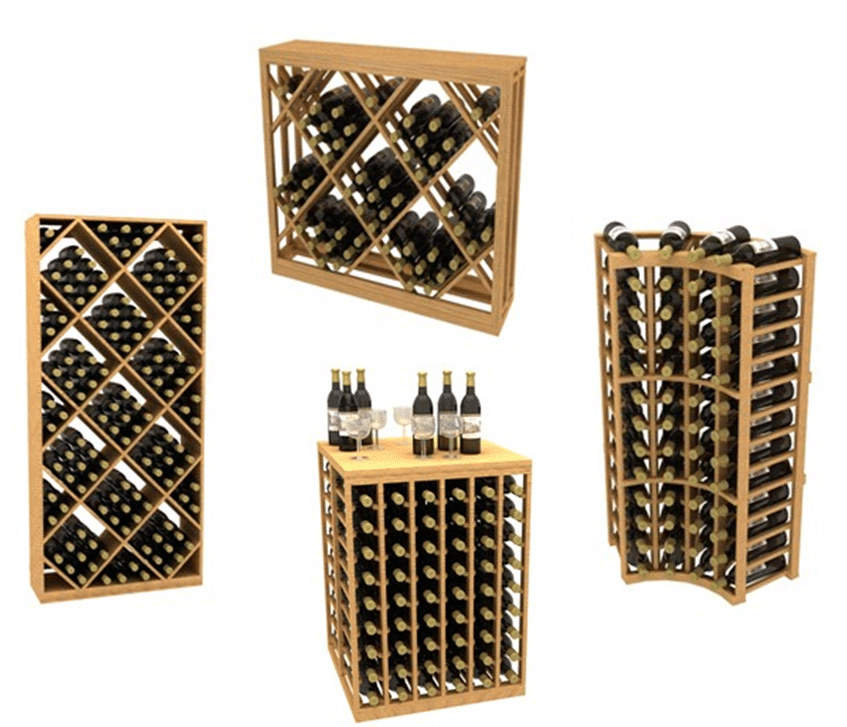 Ready built wine racks are also called wine rack kits. They are pre-designed and are available in specific styles and sizes. They can be purchased in 6′, 7′, or 8′ height.
At Custom Wine Cellars Houston, all our wine rack kits consist of horizontal spacer bars and a 1.5' toe kick base. They are available in rectangular bins, X bins, solid arches, single deep, double deep, solid lattice, half-height racks, and quarter round units.
We hand-sand all the edges of our wine storage racks to ensure that the wine labels are not ruined.
If you purchased stackable wine racks, you can stack one unit on top of the other, or you can use them as standalone units. We offer extenders and fillers for those who want to add a custom look to their wine racks.
Pre-built wine racks are an ideal choice if you want to achieve a wine storage display that looks customized, without spending more. They are also easy to assemble.
Custom Wine Racks – Best Storage Option for Creating Unique Houston Wine Cellars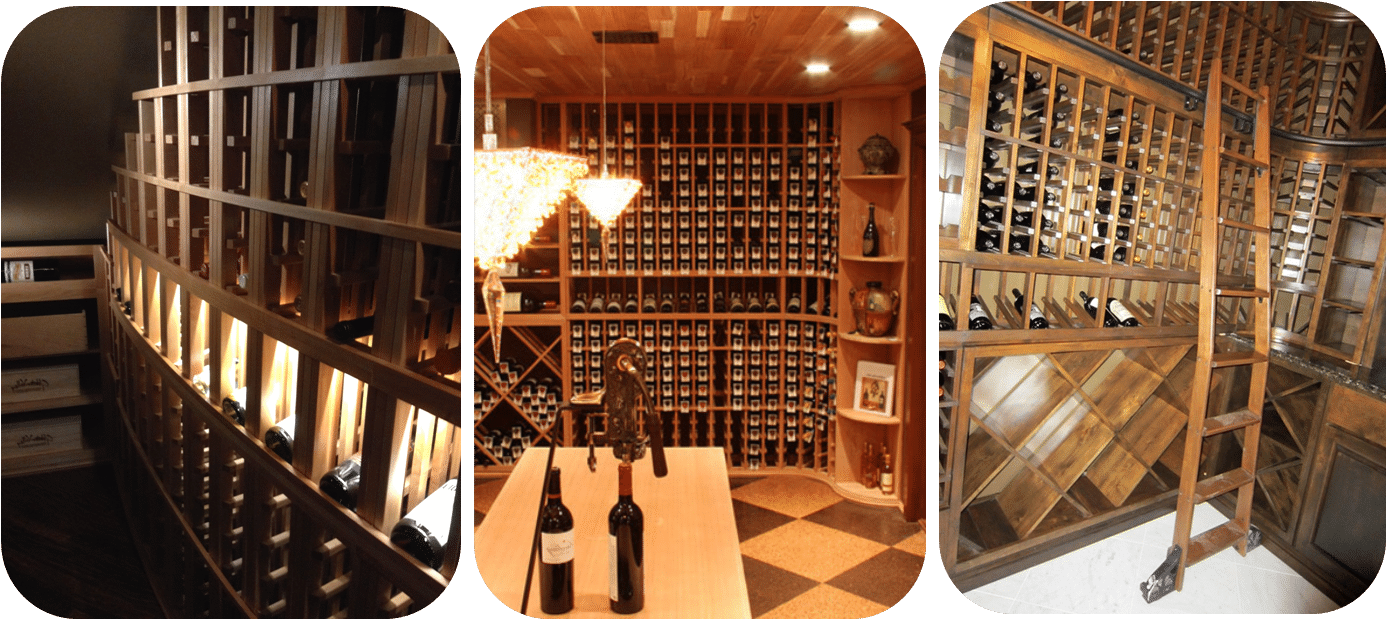 Every wine room differs in size, shape, and location. Custom Wine Cellars Houston offers custom wine racks that will fit perfectly into your room.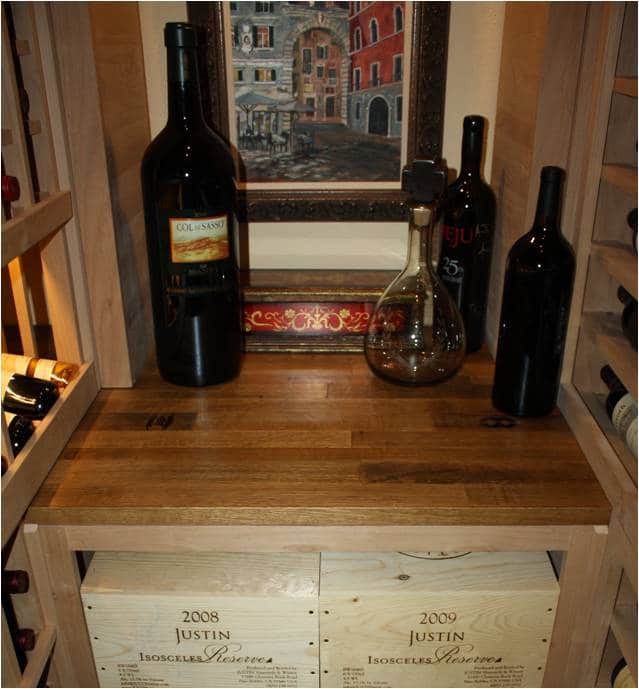 Investing in a custom wine cellar allows the owner to incorporate his or her own design into the racking. More and more wine enthusiasts are going for a personalized wine room to enhance the beauty of their home or commercial establishment. Maximum storage space is another benefit of custom racking.
The waterfall display is one of the most favorite styles of racking that we use in building custom wine rooms. It creates a cascading display of wines. It is commonly used in wine cellars under the stairs where the ceilings are slanted. For larger wine rooms, the waterfall wine rack can be placed at the center to create a focal point.
An eco-friendly tabletop is also a trend in custom wine cellar construction. We have incorporated reclaimed wine barrel table tops in many of our projects. They can add a unique touch to your storage space. They can be created using planks from different sections of the used wine barrel.
Build Your Dream Wine Room with Wooden Wine Racks
Wooden wine racks are no doubt an effective and beautiful storage solution for both residential and commercial applications. Custom Wine Cellars Houston manufactures stylish racking made from quality woods. We can transform any size room into a stellar display of your fine wines.
Contact us today at +1 (866) 646-7089. If you don't have a wine cellar yet, request a 3D design package for FREE!