Wine Cellar Design
3D Drawing
Request
We will create a unique
design just for you!
Click Here


Fast Quote

or
Just a Question?
Have one of
our wine cellar
designers
contact you
Click Here
Turn Your Houston Basement into an Exciting Home Wine Cellar
HOUSTON'S BEST WINE
CELLARS BUILDERS
This Chicago wine cellar built by Wine Cellar Specialists, a Houston builder, shows how you can convert a stale basement in your home into a place of excitement and romance. Learn more about this All Heart Redwood wine room, with peninsula tasting table, and gorgeous stained glass chandelier. 
Stunning Design Created by a Houston Wine Cellar Expert for a Basement in a Chicago Home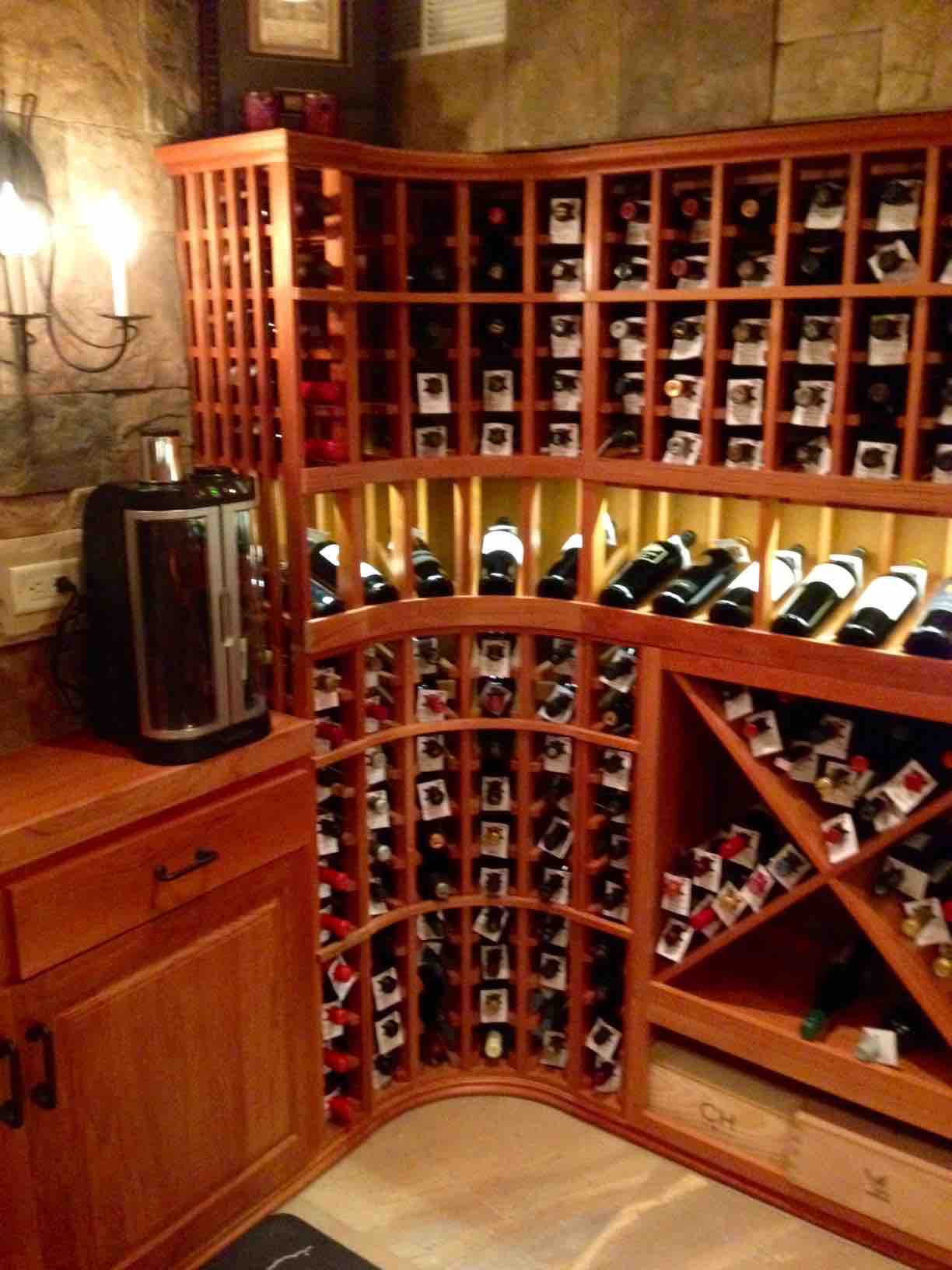 The main reason many wine collectors decide to build a refrigerated residential wine room is to protect their fine wines from being damaged by poor storage conditions.
You cannot enjoy wine if it has been stored in a place where the environment is not climate-controlled. Constant temperature and humidity levels are essential in preserving wine's flavor and aroma, regardless of the wine room's location.
If you are planning to start your own wine cellar project, you have to make sure that you hire a trusted company that can create a design which will display your collection beautifully and safely.
Wine Cellar Specialists, a Houston builder,has recently installed a luxurious basement wine cellar in a Chicago home.
With extensive experience in the construction industry, they always make sure that every wine rack design that they create is visually appealing and that the components are of a high quality.
In this wine room project, they installed the racking, cooling system, lighting, and flooring. The basement was originally constructed by Reliable
Elegant Wine Rack Design
Before Wine Cellar Specialists Houston created 3-dimensional drawings for this basement wine cellar, they assessed all of the client's functional needs and requirements. With the creativity of their design team, they were able to come up with a perfect wine cellar design for the basement of a Chicago home.
All Heart Redwood Wine Cellar Racks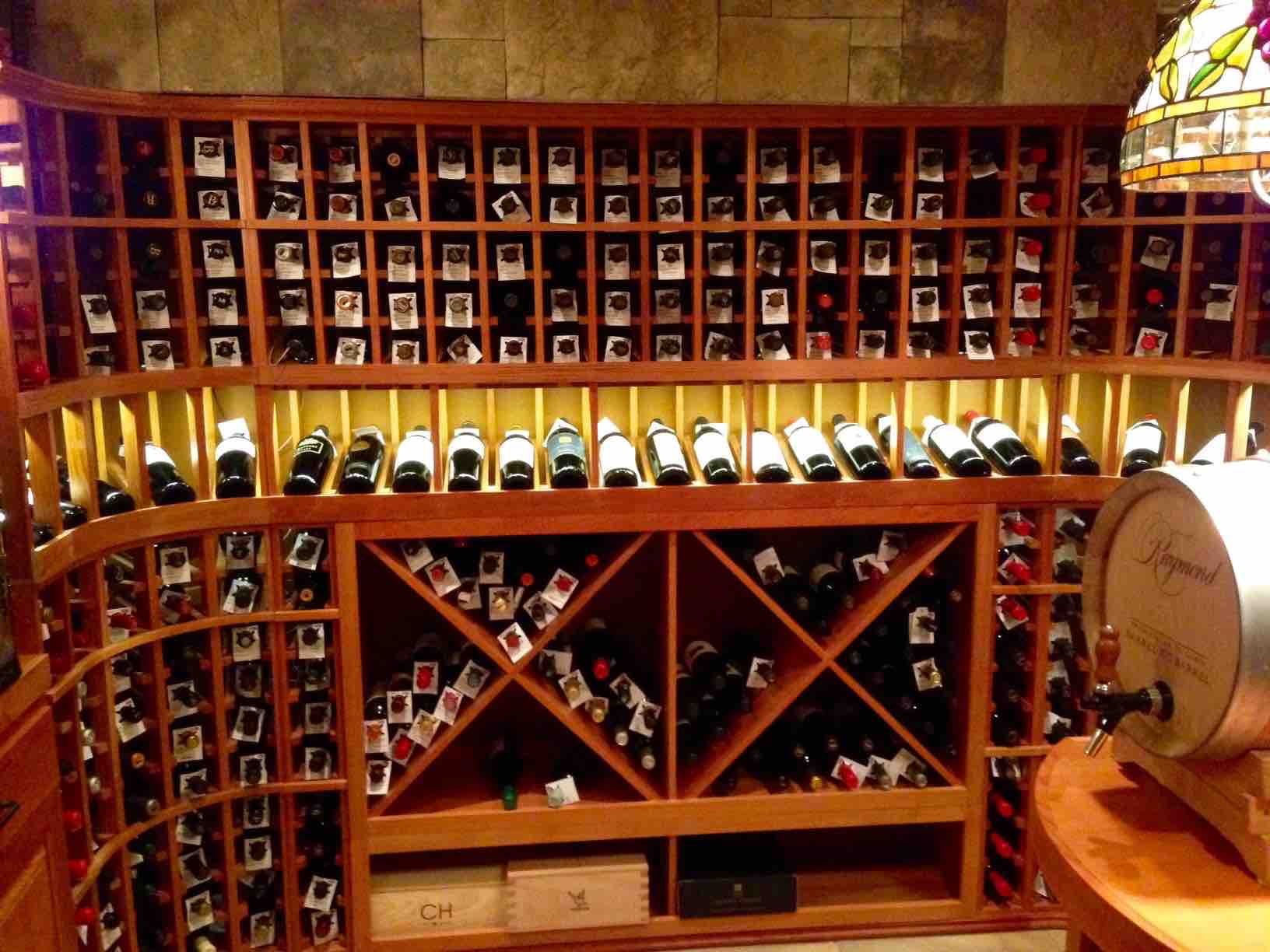 With the right design and material, your wine racks can be the envy of others. Most homeowners prefer wooden wine racks because of their warmth, classic appeal, sturdiness, and durability.
In this project, the wine racks were constructed from All Heart Redwood. This wood species is one of the favorite materials of master wine cellar builders because of its aesthetic appeal. Additionally, All Heart Redwood is also highly resistant to mold and mildew, making it a suitable material for humid conditions in Chicago basement wine cellars.
Awe-Inspiring Features of the Racking System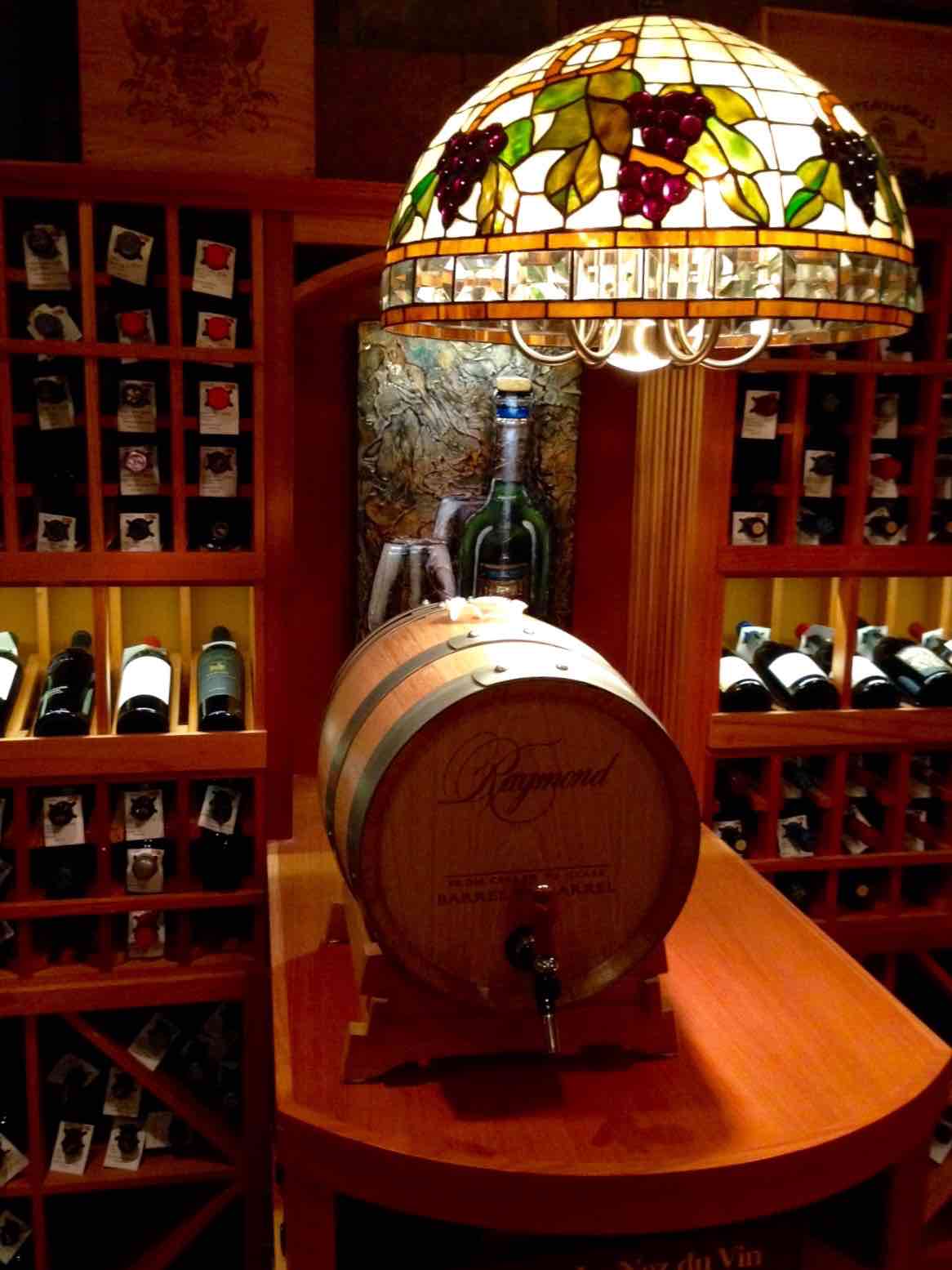 As you enter the gorgeous wine room, the racking to the left of the door consists of a tabletop, which provides a space for decanting and tasting wines. This corking station has two drawers and two cabinets below the tabletop, which are intended for storing wine cellar accessories like bottle openers and stemware.
Column wine racks were added to both sides of the tabletop. From this wall, Wine Cellar Specialists created a smooth transition to the left wall by using curved corner wine racks with a true radius curve.
The middle section of the left wall consists of a high reveal display row. For single bottle storage, they added individual wine racks at the top section. The center bottom of the left wall has X bins, which are great for grouping bottles according to type, region, or size. At the bottom are two case storage bins.
The back wall is the focal point of this Chicago basement wine cellar. The peninsula table is located at the center of the racking. This area is ideal for serving wine.
For additional storage space, Wine Cellar Specialists added individual storage slots on both sides of the table and three wood case storage bins. This functional table is recommended for wine rooms with limited space.
There is an arch at the center top of the back wall. An eye-catching piece of art serves as the backdrop of the arch. Another true radius curved rack was used to connect the back wall to the right wall.
The bottom half section of the right wall racking has three levels of case storage bins. More individual storage openings are placed at the top of the display row. The racking ends with a quarter round storage rack, providing additional storage space for a few bottles and other accessories.
To maximize the space of the room, they added solid tops to the entire racking, so the owner can place more cases there.
Attractive and Well-Sealed Door – an Important Component in Houston Wine Cellar Construction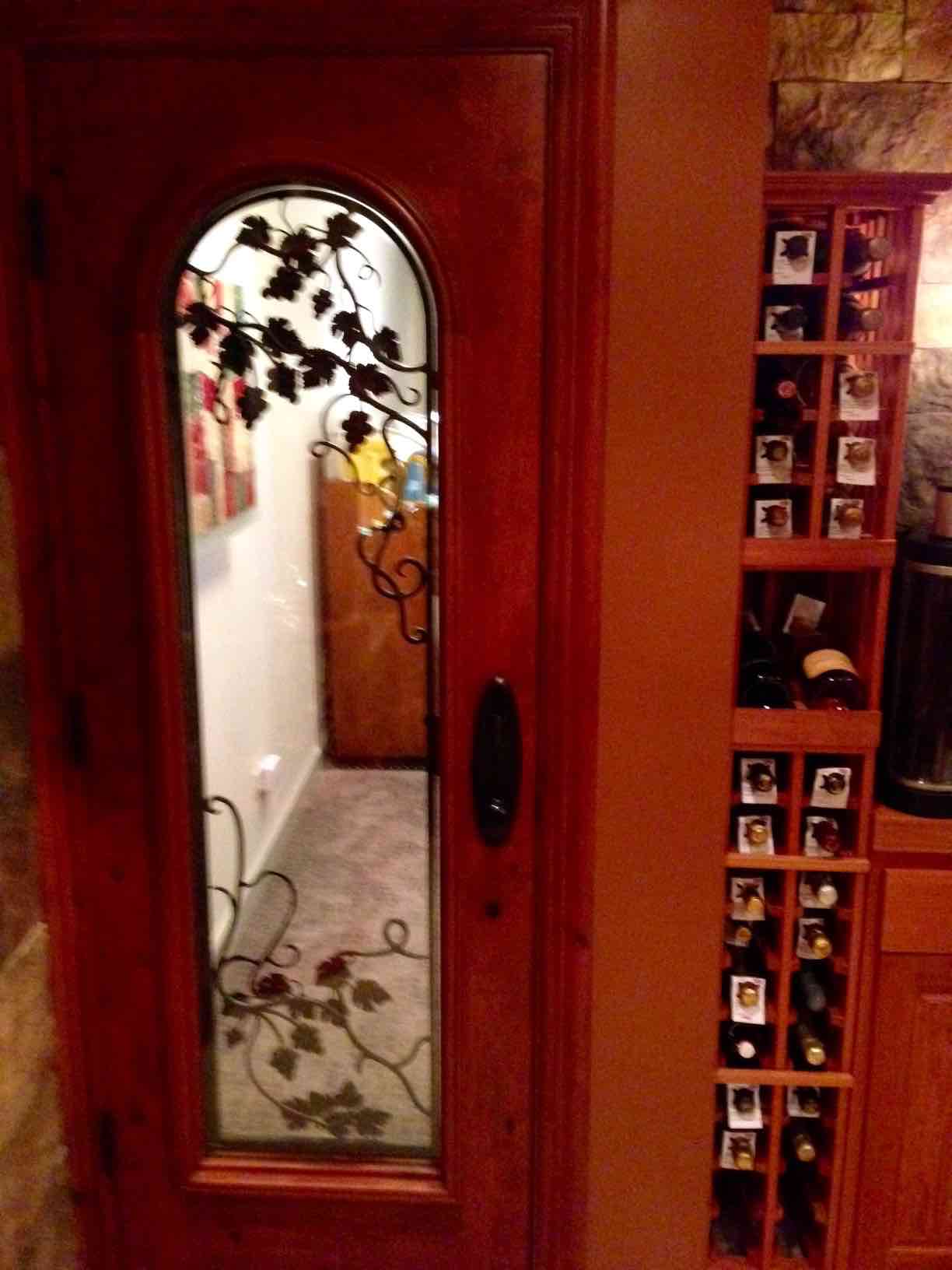 With many door styles available, it is best to seek the help of your chosen Chicago builder in determining the right one for your home wine cellar. The rectangular wine cellar door has a wooden frame and arched glass at the center.
The entryway has dual paned glass and comes with an automatic door bottom. These features help create a tight seal in the room by preventing air leakage.
The wrought iron (grapevine design) was placed on the top and bottom of the glass. This design adds character to the entryway without compromising the view from outside the cellar.
A door will not be complete without a handle set. A Quincy style handle set finished in oil rubbed bronze was used to complement the vine-embellished door.
Efficient Cooling Equipment
The optimum conditions needed by wine for proper maturation can only be achieved if the wine cellar is equipped with the cooling system recommended by a Houston expert.
Wine Cellar Specialists always makes sure that the right size, type, and capacity of the refrigeration unit is installed in every client's wine room to prevent wine damage.
This basement wine cellar is cooled by a 3200VSi self-contained wine cooling unit by CellarPro. Features of this refrigeration unit include the digital display, electronic thermostat, and alarms. Regardless of the location of your wine room, Wine Cellar Specialists can provide the most suitable cooling equipment for your needs.
Lighting System – Safe, Beautiful, and Energy-Saving
Excessive heat exposure can ruin wine. Wine Cellar Specialists Houston builder recommends the LED lighting system because it emits a minimal amount of heat. It can also save you a lot of money because it has a longer lifespan than regular bulbs and consumes less energy.
In this basement wine cellar built by an expert in a Chicago home, LED puck lights were placed above the display row. The brightness can be easily controlled using a dimmable switch.
Build Your Dream Wine Cellar. Talk to a Specialist.
An extra space in your home can be a stylish storage place for your wine collection. Contact Wine Cellar Specialists today at +1 (773) 234-0112
! They have built basement wine cellars in Houston, Chicago, Dallas, and Florida.