Wine Cellar Design
3D Drawing
Request
We will create a unique
design just for you!
Click Here


Fast Quote

or
Just a Question?
Have one of
our wine cellar
designers
contact you
Click Here
Prevent Breakdown of Your Wine Cooling System and Avoid High Energy Bills. Choose the Right Wine Cellar Door.
HOUSTON'S BEST WINE
CELLARS BUILDERS
The wrong choice of wine cellar door will result in wine storage problems and more expenses in the future. This is why wine rooms must have a quality door installed by a professional. Learn more about the importance and different styles of entryways for wine storage spaces.
Importance of Quality Door in Sealing Your Wine Cellar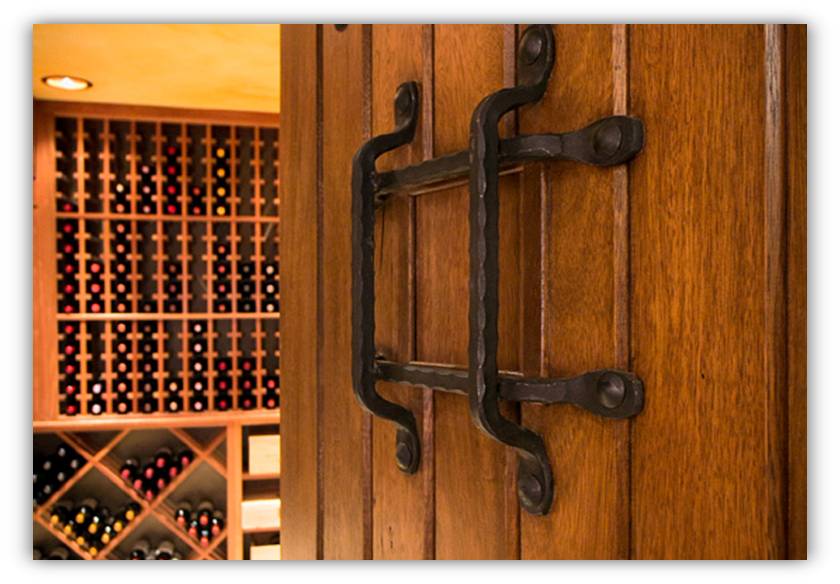 You won't get your money's worth from precious vintages if you don't eliminate all possible factors that can harm wine in any way. Temperature fluctuations and wrong humidity levels are two factors that must be prevented to keep wine at its best quality.
Proper room insulation and installing the right wine cooling system is the key to achieving the ideal environment needed by wine to age properly.
One of the most important elements of an effective wine cellar, and something that a lot of consumers and builders forget about, is a correctly sealing wine cellar door. Without it, the cool air from your refrigeration system will leave the wine cellar, and the warm air will get in.
When this happens, the room won't be able to provide the cool temperature needed for wine to mature. Not only that; your cooling unit will be forced to work harder, and eventually breakdown. This will also result in high energy bills.
In order to prevent these issues and safeguard your collection, you must have a wine cellar entryway constructed by a professional, such as Wine Cellar Houston. In addition to functionality, every door we manufacture is designed beautifully to add character to our client's space.
Ideal Doors for Houston Wine Cellars
Since your door needs to create a tight seal, it should not be constructed from an ordinary material. At Wine Cellar Houston, we ensure that every wine room we build has an entryway that is exterior grade and resistant to warping. Our hand-carved wooden doors go through a traditional (mortise & tennon) and a modern (LVL) technology, to withstand the conditions in a refrigerated wine room.

The mortise & tennon joints are used for the corners of each door, resulting in excellent quality and strength. An entryway with the core constructed using the LVL or Laminated Veneer Lumber technology will be less prone to shrinking and warping. Additionally, this process gives the door higher insulating properties.
There are also vital elements in your door that must be considered carefully. These are the jambs, weather stripping, hinges and sweep. At Wine Cellar Houston, we make sure that these come with correct specifications. The door jambs should fit exactly to avoid an inch or more space in the weather stripping and hinges, fastened on all sides.
A sweep at the bottom of the door is another sealing component that shuts it automatically.  This will not only keep the cool air inside, but also eliminates the need to close the door every time you go in or out of your wine storage room.
Different Styles of Wine Cellar Doors
Your door should not only be sturdy, but attractive as well. It should complement the design of your Houston wine cellar, and suit your personal style.
Handcrafted by skillful hands, you can't go wrong with a solid wood custom door from Wine Cellar Houston. You can choose between different exotic wood species – clear alder, knotty alder, African mahogany, walnut, knotty walnut, cherry, maple and Douglas fir.
Below are some examples of solid wine room doors.

Glass Entryways
Having a door made from glass allows your collection to be seen from outside the wine room. Wine Cellar Houston uses dual-glazed tempered glass with a solid core for glass doors. The glass' thickness is 5/8". Customization allows you to choose an etched or stained glass. You can use your own unique design to be incorporated in the glass.
Here are some examples of glass doors:
Hand-Forged Wrought Iron Doors
A door made from wrought iron creates a stunning entrance to your wine cellar. The skilled craftsmen of Wine Cellar Houston forge the door by hand, resulting in a sophisticated entryway. Pre-hung in a custom-built steel frame, the standard thickness of the door is 1 ½". It is insulated with high quality polyurethane foam.
View examples of hand-forged wrought iron entrance: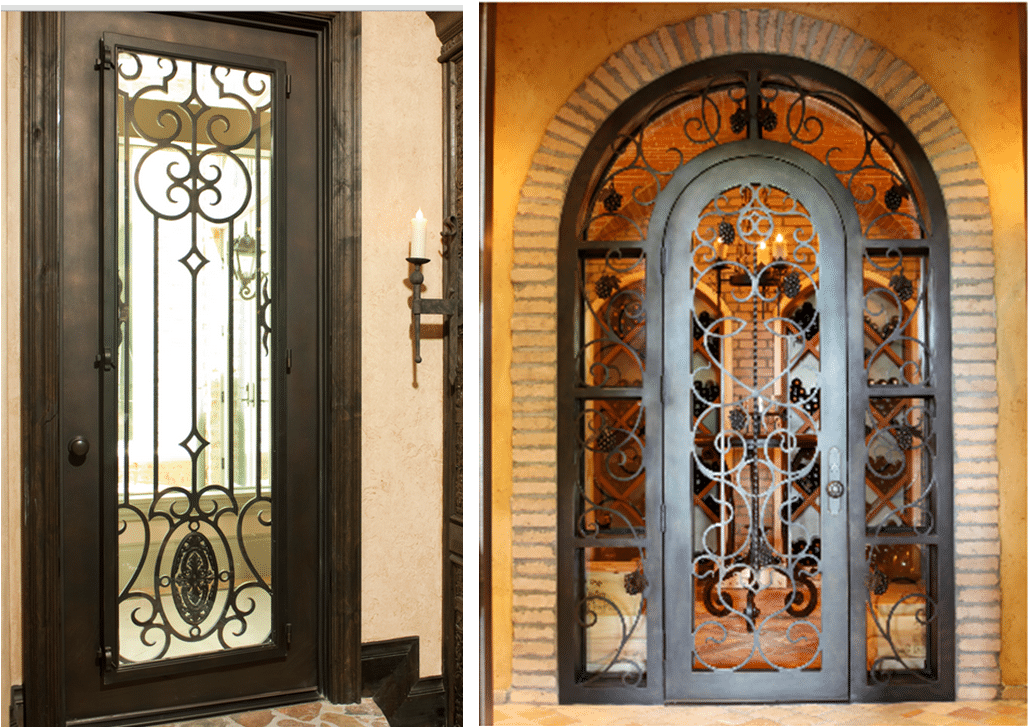 Steel wine cellar doors offer many benefits. They are stunning and practical, allowing them to become popular in many parts of the world. They are constructed with dual pane tempered glass, and are available pre-hung or pre-assembled.
Since they are resistant to warping, rot, shrinking or sagging, they will surely last long if taken good care of properly. With its durable finish, a steel door is easy to clean and maintain. It won't corrode or rust because of its high resistance to oxidation. When you order this type of door, the shipment is free for Canada and US customers.
Examples of stainless steel doors: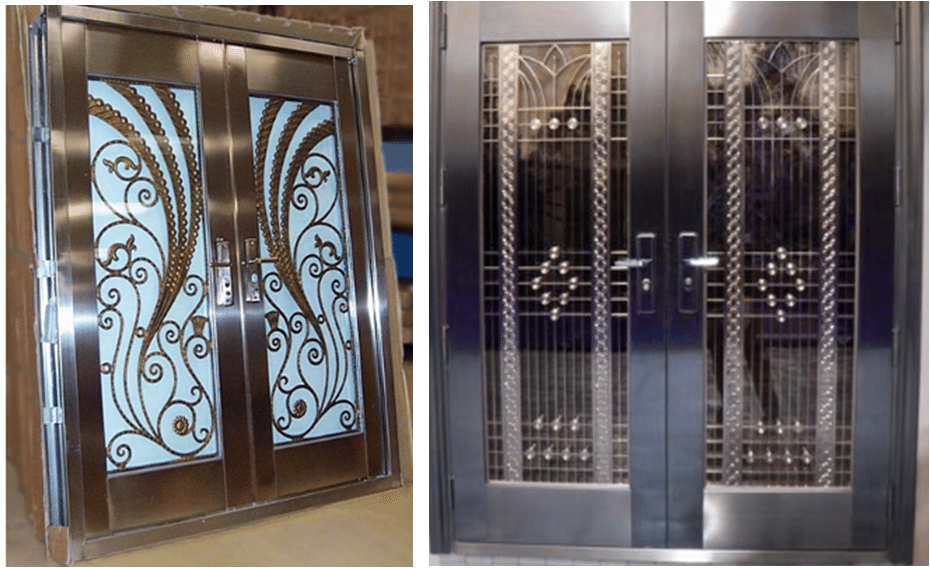 All wine room doors can be customized. They all come with weather stripping, commercial grade hinges, and various choices of handle set.
Have Your Door Built by a Knowledgeable Wine Cellar Company
What are you waiting for? Protect your precious vintage, prevent high energy consumption, and have a stunning entryway to your wine storage room. Order your door crafted by the skillful team of Wine Cellar Houston. Call them today!
Toll Free Phone: 866-646-7089