Wine Cellar Design
3D Drawing
Request
We will create a unique
design just for you!
Click Here


Fast Quote

or
Just a Question?
Have one of
our wine cellar
designers
contact you
Click Here
Master Builders in Houston Created a Lovely Custom Wine Cellar Design for a Residential Home in Laguna Beach California
HOUSTON'S BEST WINE
CELLARS BUILDERS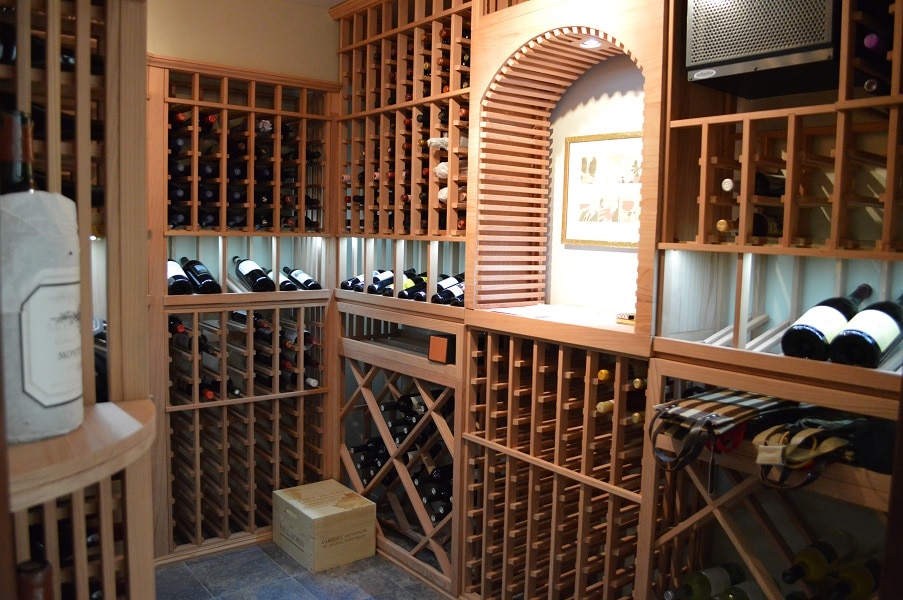 Architectural challenges are common in wine cellar construction. Working with a reliable company like Coastal Custom Wine Cellars will help build your dream wine cellar despite the difficulties that come in the way. Custom Wine Cellars Houston has partnered with them in building stunning wine rooms. In their recent project, they were able to create an elegant custom wine cellar design for a small, cluttered residential home storage area in Laguna Beach, California.
Houston Builders Created an Impressive Custom Wine cellar Design Created for a Small Storage Room in a Residential Home
In wine cellar construction, it is common for builders to face structural challenges. However, for experienced installers, these challenges will not stop them from building a beautiful and functional wine room for their clients.
Coastal Custom Wine Cellars, one of our trusted dealers in Houston, created a gorgeous custom wine cellar design for a residential home in Laguna Beach, California. They exceeded the client's expectations just like in most of the projects they have completed.
3-Dimensional Wine Cellar Design: a Crucial Step in Building Wine Rooms for Residential Home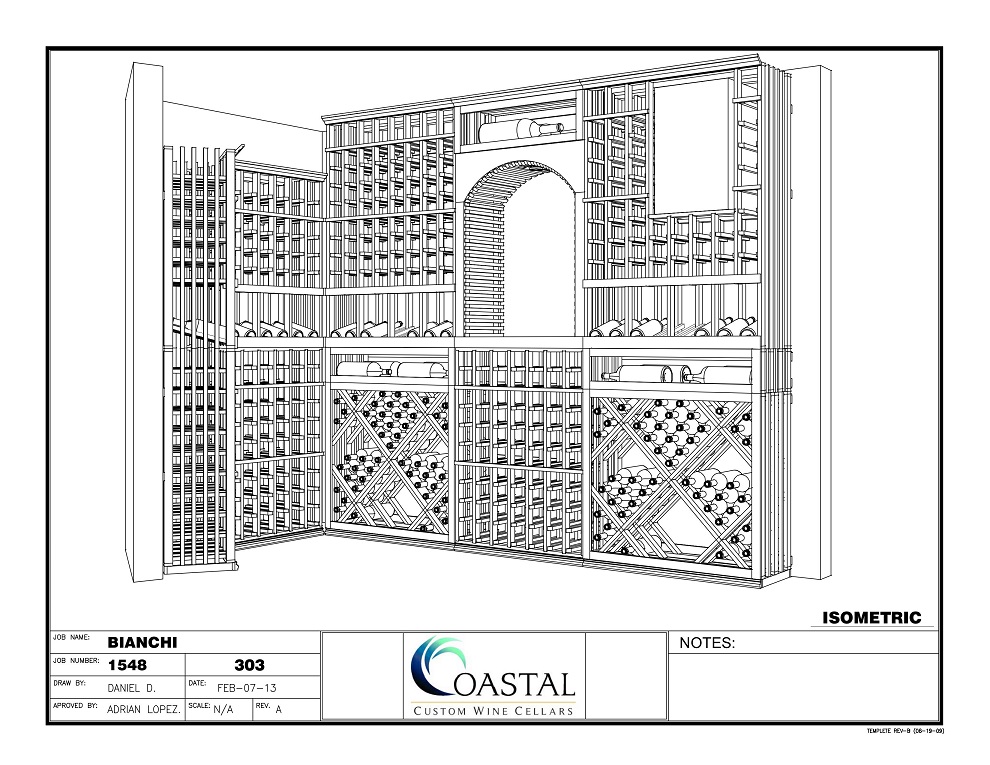 When you work with Coastal Custom Wine Cellars, they will provide you with CAD images for free. These 3D drawings play a significant role in providing the client a better visualization of the completed wine cellar. Before creating the design, the Coastal team made a careful assessment of the customer's functional and aesthetic needs.
The 3D design package comes with images that show the different elevations and dimension of the custom wine cellar for a Houston residential home, dimensions of the wine racks, bottle orientations, and racking capacities. After creating the drawings, they will be presented to the owner, who is given the opportunity to revise the design. After making modifications, Coastal will send the images back to the owner. The client must approve the design before starting the installation process.
In this project, the walls were labeled A, B, C, and D. You will see the dimension of each wall in one of the drawings.
Making Sure that the Custom Wine Cellar for a Residential Home Could Achieve Correct Storage Conditions
Wine requires a stable environment to age gracefully. Extreme changes in temperatures and humidity levels will damage your wines. This is the main reason adding a vapor barrier and wine room insulation is necessary for building refrigerated wine rooms.
Correct installation of these two essential elements will prevent moisture formation in custom wine cellars typically found in Houston residential homes. Too much moisture will trigger mold growth, affecting the sealing ability of the cork, the wine labels, and the integrity of your walls, ceiling, and wine racks.
After insulating the wine cellar and installing the necessary electrical outlets and wirings, the wine racks can be installed.
Construction Challenges in Houston Residential Home Did Not Stop Coastal Custom Wine Cellars from Creating Stylish Wine Racks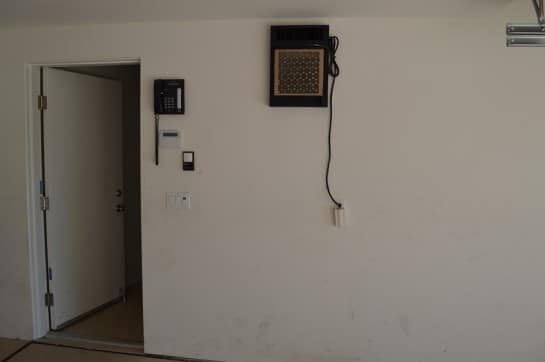 In this particular project, the original room was a cluttered storage area located adjacent to the garage. There were three climate-controlled wine cabinets and boxes in the room. Coastal Custom Wine Cellars removed all of them before the construction began. They had to take down the covering of the walls.
Another challenge for them was the limited space. They wanted to maximize the space so that more bottles could be stored in the wine cellar. They combined stylish racking styles to create an eye-catching wine display and storage area. The owner has various bottle sizes in his collection. He also has wooden cases.
To meet these storage requirements of the client, Coastal Custom Wine Cellars created a design with form and function in mind. They had worked with us in completing custom wine cellar conversion projects for residential homes in Houston with tastefully designed wine racks. Coastal Custom Wine Cellars installed wine racks on the three walls.
Left Wall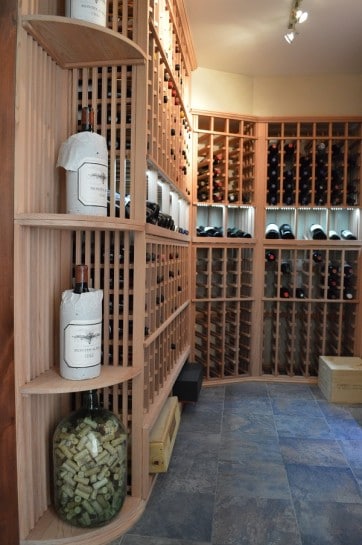 The left wall starts with a quarter round display rack. It provides an area for displaying a few bottles in the client's collection. Moreover, it is also a great place for displaying wine room accessories like decanters and wine glasses, or flower vases and trophies.
The top section of the left wall consists of individual wine racks with universal openings intended for storing most standard bottles, such as Pinots, Oregon, California Blue Chips, and champagne. When you are thinking of having a custom wine cellar built inside your residential Houston home, it's a good idea to ask for the universal option. If you're not careful, you may find that some of your collection may or may not fit into that actual opening
The Coastal team incorporated a high reveal display row in the middle of the entire racking. This custom wine cellar design created by Houston experts for a residential home in California highlights some of the client's favorite vintages. The bottles are stored at an angle to keep the cork in contact with the wine. This will prevent the cork from drying out.
The cork loses its elasticity and becomes brittle when it becomes dry, allowing an unwanted amount of oxygen to mix with the wine. This will result in oxidation, which gives the wine an off flavor. Single storage wooden wine racks were installed below the display row. The bottom section consists of wooden case storage.
Transition and Back Walls
Coastal Custom Wine Cellars incorporated another individual wine rack with a display row on the transition wall from left to right. The wine rack was constructed to follow the odd shape of the room. The same bottle configuration was used on the back wall.
Right Wall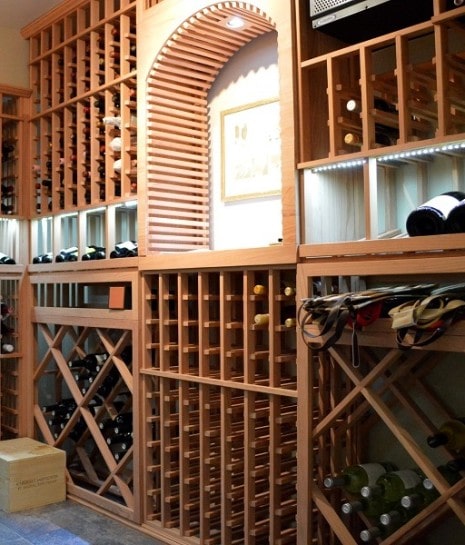 The right wall, which is the focal point of the wine cellar, you will see a lattice arch with a tabletop at the center. The tabletop is a functional feature in the wine room. It serves as an area for decanting and serving wines.
There is a whittle board that adds character to this custom wine cellar designed for a residential home by Houston specialists. The Coastal team installed a puck light above the arch to illuminate the bottles and other objects on the tabletop. Below the tabletop are individual wine racks.
The left and right sections of the back wall have the same racking styles: individual wine racks at the top, a high reveal display row in the middle, horizontal label forward display bins below it, and lattice style diamond bins at the bottom. The only difference is that there is an opening at the upper right sight side for the wine cooling unit.
Commercial Grade Cooling System for a Custom Wine Cellar in Houston Residential Home
The refrigeration system is the heart of a wine cellar. Without it, your wines will deteriorate. At Coastal Custom Wine Cellars, they use only commercial grade wine cooling units from trusted manufacturers.
In this particular project, they utilized a 3200 Vsi model by CellarPro. It is a self-contained system, easy to install, and does not require an HVAC technician for installation. The Coastal team mounted the unit to a rack opening on the right wall. The garage area serves as the exhaust room for the warm air.
Turn Your Residential Space into a Custom Wine Cellar Designed by a Houston Professional
Custom Wine Cellar Houston is a member of an elite and third-party verified group of wine cellar designers who holds the highest standards for every stage of wine cellar construction. They can overcome any structural challenges while meeting design and functionality goals when constructing your residential home wine cellars.
Need help on your next project? Contact us today at +1 (281)-809-7283!