Wine Cellar Design
3D Drawing
Request
We will create a unique
design just for you!
Click Here


Fast Quote

or
Just a Question?
Have one of
our wine cellar
designers
contact you
Click Here
Magnificent Custom Wine Cellar Design for an Old Home Office in Houston
HOUSTON'S BEST WINE
CELLARS BUILDERS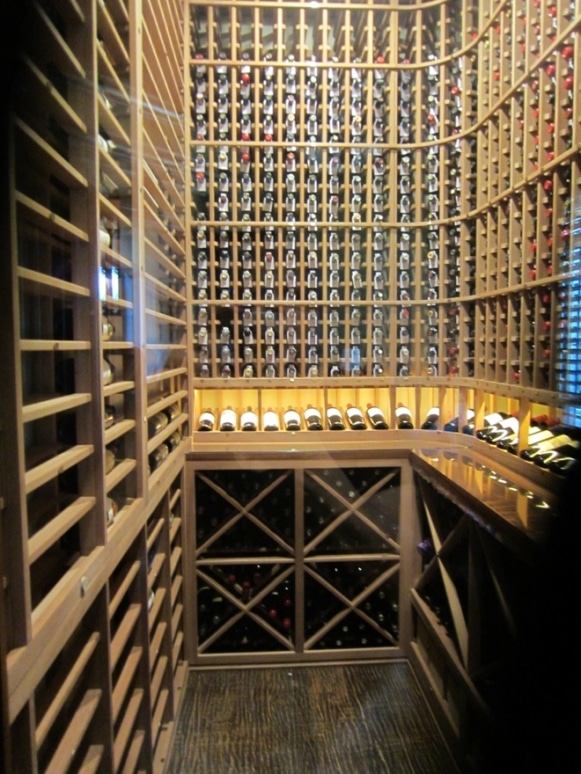 You have been wondering what to do with an unused space in your home. If you are a wine collector and have been storing your favorite vintages in shelves, cabinets, fridge, or counters in your kitchen, now is the time to invest in a wine room built by a professional. Learn how we worked with a highly-experienced builder to create an impressive custom wine cellar design for an old office in a Houston home.
How an Old Office Space was Transformed into a Dream Wine Room
If you are one of the homeowners who store and display their bottles of wine in your fridge, kitchen counter, or any area with poor conditions, we recommend that you invest in a climate-controlled wine room.
There is nothing more enjoyable than sipping your favorite glass of wine in your dream wine cellar. At Custom Wine Cellars Houston, we transform any space into an oasis for wine collectors.
Our client in Houston had an extra space, which he wanted to turn into a functional and attractive wine room, together with a remodeling project. He contacted us to seek help in his project. We worked with Wine Cellar Specialists, one of the most trusted builders in Texas.
Original Room
The original room was a home office with a built-in wooden desk with drawers at the bottom and glass on top. This was where the client does his paperwork.
There were also hanging wooden cabinets where the owner displayed his family photo frames, baseballs, and memorabilia. There was a door, which was a secret bookshelf, and a window that teased your gaze to the outdoors.
Spectacular Custom Wine Cellar Design by a Creative Team in Houston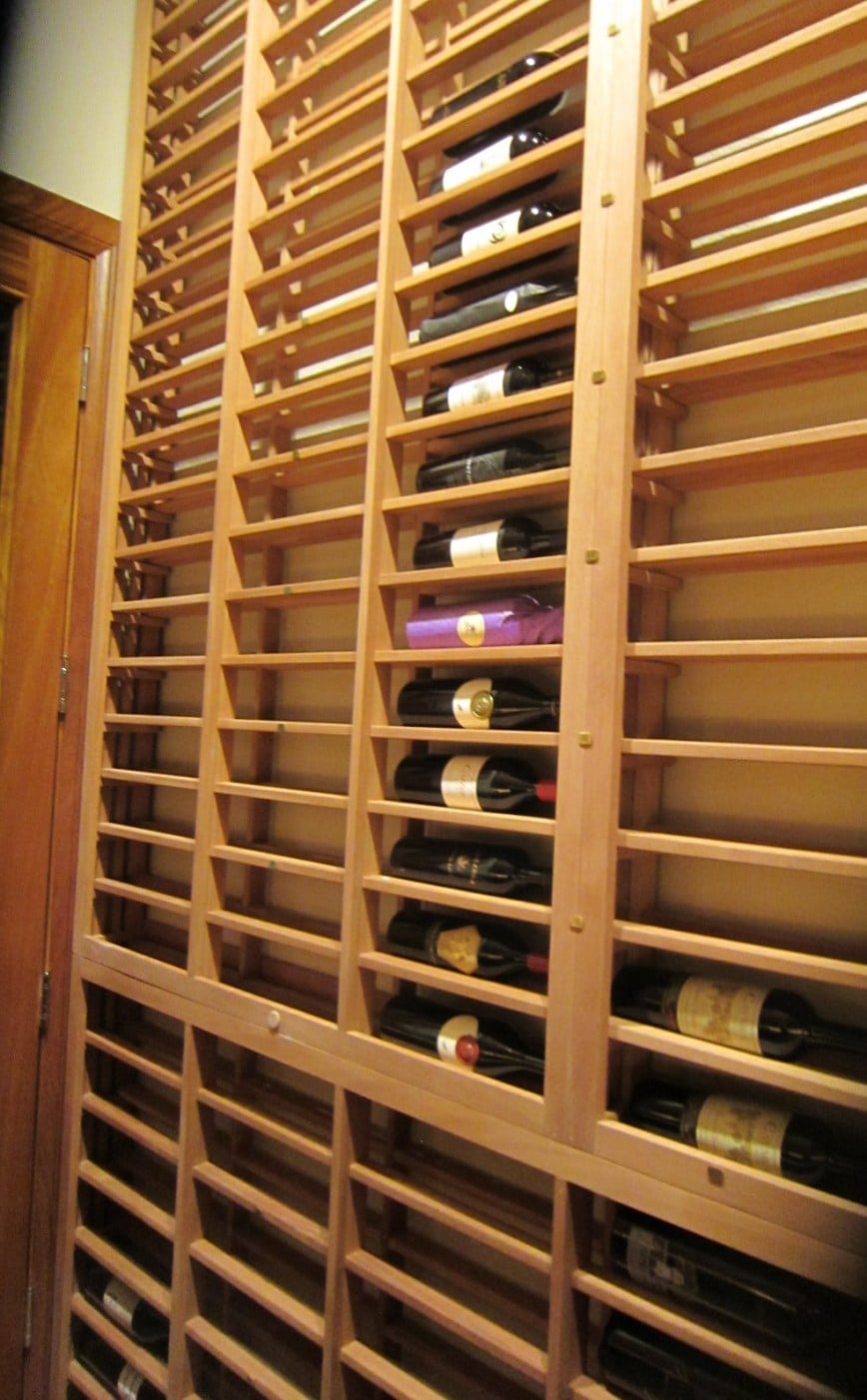 In every wooden wine racking project that we do, we offer a 3-dimensional design package, which consists of different elevations, style, dimensions, and bottle capacities of the racking. Each wall was labeled with a letter. In this project, there are four walls (Elevations A, B, C, and D). The drawings allowed the client to have a better visualization of his completed residential wine cellar.
We had to create a design that would suit the small space and meet the aesthetic and functional requirements of our client. After creating the CAD images, we showed them to the owner before starting the construction. After his approval, we began the installation of the wine room components.
Wine Rack Features
In order to be functional, safe, and stylish, every wine rack design must be created by a passionate and experienced wine cellar builder. Wine racks play a very important role in the overall appeal of your wine storage room. They can make or break your wine display.
Elevation A (Left Wall)
The farthest side of Elevation A consists of a door, leaving very little space for the wine racks. In order to maximize the capacity of the small room, Wine Cellar Specialists installed a label forward horizontal wine rack with a depth of 6 inches.
This type of bottle orientation stores the bottle with the labels facing out. We commonly incorporate this racking style in many of our residential wine cellar installation projects because it offers convenience in locating a specific type of wine.
You do not have to flip the bottle to see the name and description of the wine. The lower section was intended for storing champagne, magnums, and large format bottles. The top section was designed to fit standard 750ml bottles.
Elevation B (Back Wall)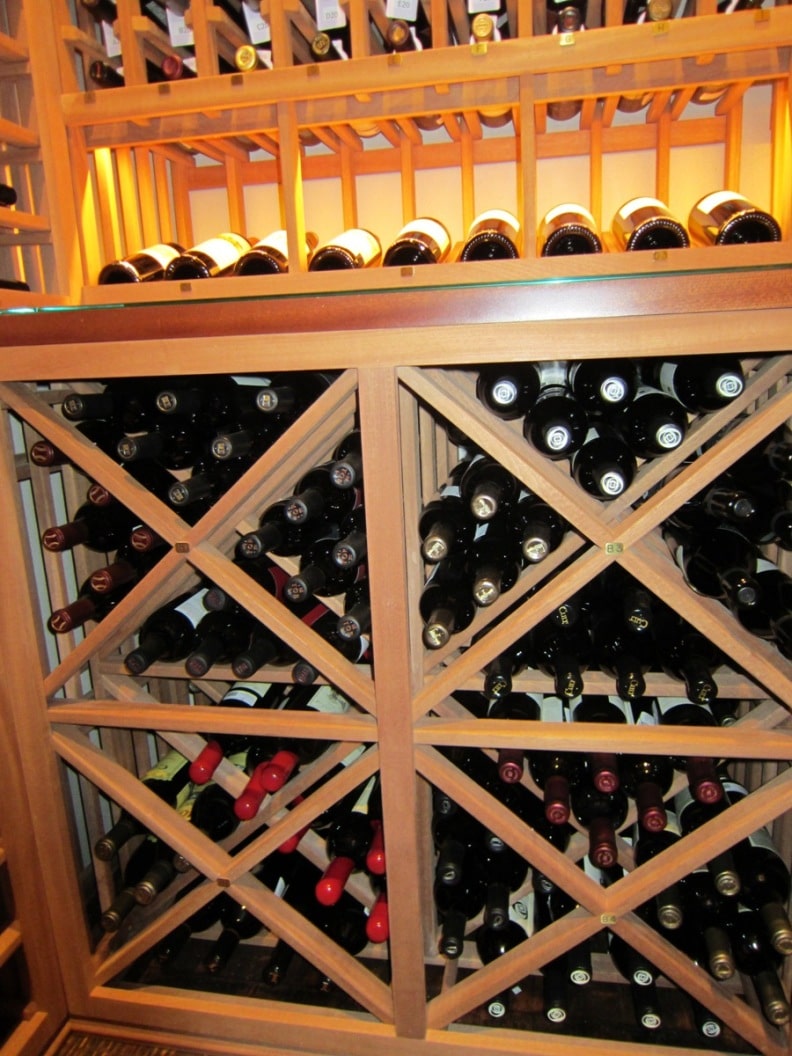 On the back wall, we installed a double deep racking, which consists of a tabletop and X bins at the bottom. The tabletop is a great feature in the wine cellar because it provides additional space for decanting and serving wine.
The lattice X bins allow the owner to store his wines in bulk and group the bottles according to size, style, or variety. The bottles are stored on top of each other. Compared to solid X bins, lattice X bins allow for better circulation of air around the bottles.
Above the tabletop are single deep wine racks. In the middle section, we incorporated a high reveal display row, which extends to the right wall. In this section, the bottles are stored at a 15-degree angle to keep the cork moist. Doing so will prevent the cork from losing its elasticity.
A cork that has dried out shrinks and becomes brittle, allowing an unwanted amount of oxygen to mix with the wine. This will result in oxidation, which has a negative effect on the wine's bouquet.
The high reveal display row also enhanced the overall appeal and functionality of the wine cellar. We added a light valance above the display row to highlight some of the favorite wines of our client.
We used LED lights to ensure that the wines would be protected from heat damage for many years to come.
Elevation C (Corners)
At Custom Wine Cellars Houston and Wine Cellar Specialists, we always want to create a smooth transition from one wall to another. We used true-radius curved corner wine rack with a display row, at the top section.
Elevation D (Right Wall)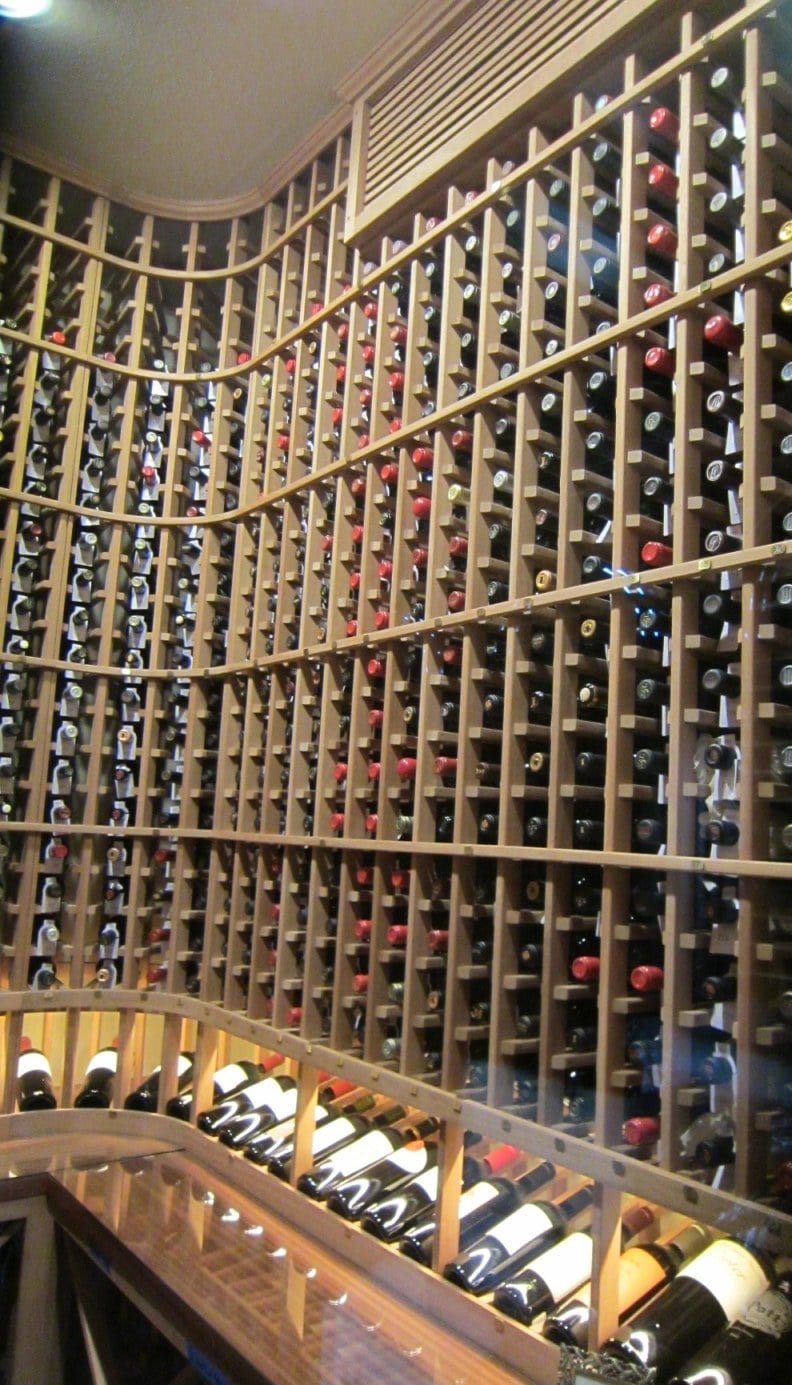 Just like the back wall, we used single deep individual wine storage racks at the top section, and added a double deep tabletop. We added triple deep wooden case storage and X bins at the bottom.
We added a grill cover and box at the top center of the right wall where we hid the wine cooling system evaporator, so no equipment is visible in the wine room.
Smart Choice of Wine Rack Material
The most common types of wood used in wine rack construction are Knotty Alder, Premium Mahogany, Sapele Mahogany, Malaysian Mahogany, and Redwood. In this project, we used Sapele Mahogany, a wood species that exhibits a brown tone. It has interlocked grain and a fine texture.
In addition to its aesthetic appeal, Sapele Mahogany can also withstand the humid conditions in wine cellars.
Gorgeous Wine Cellar Door
In creating a custom wine cellar design for our clients in Houston, we always make sure that the entryway is both functional and complements the wine racks and existing décor of the home.
To help the wine cooling system achieve the optimum conditions in a wine room, we equip our doors with sealing components and manufacture them from an exterior grade material.
In this project, we used the Barolo style door with a rectangular shape. We constructed the frame from African Mahogany and used insulated glass at the center. Insulation of glass will prevent condensation from forming in the wine cellar. Condensation will trigger mold to grow on the cork and wine labels. It can also grow in the walls and ceiling.
Work with a Professional Designer and Builder on Your Next Wine Room Project
Always keep in mind that you can make use of any space in your home and turn it into your dream wine room. In this project, Custom Wine Cellars Houston and Wine Cellar Specialists created a magnificent wine cellar design for an old office. If you need help in your next project, contact +1 972-454-0480!