These Residential Wine Cellars were Built with Elegant and Functional Doors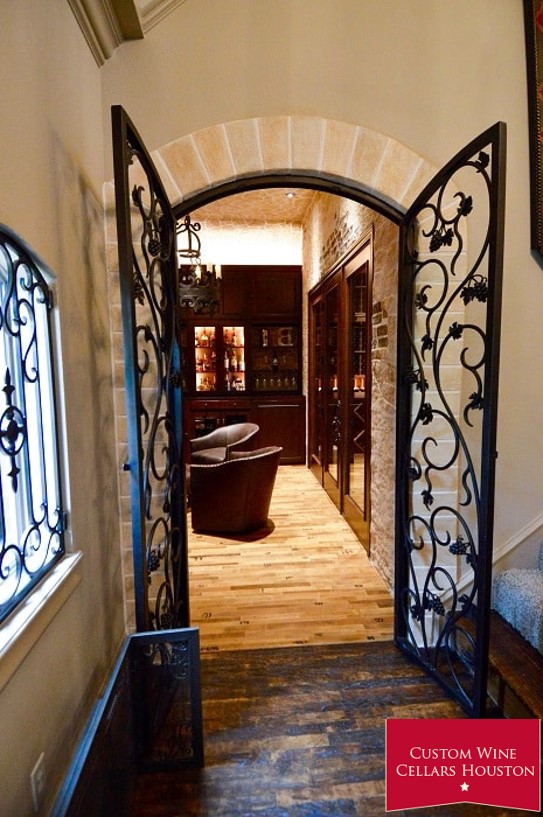 Wine Cellar Specialists is a team of Houston master builders specializing in designing residential wine cellars with elegant and functional wine cellar doors. With extensive experience in the construction industry, they have proven their creativity and reliability in transforming spaces into functional wine storage facilities. Read on to learn more about some of their completed projects.
Residential Wine Cellars with Stylish and Functional Doors
Residential wine cellars continue to be in demand among homeowners. A well-built wine storage room will protect your wines from harmful external factors. Moreover, it also adds aesthetic value to your home. Working with the right builder will ensure that all your requirements are met.
When designing and building wine rooms, the wine cellar door is one of the crucial components to look into. Its design should be well thought out to meet the needs of the client and complement the theme of the wine room and the existing décor of the home.
Wine Cellar Specialists, one of our partners in wine room construction, has built residential wine cellars with eye-catching doors. They have been manufacturing high-quality doors for many years.
They can customize the design for you. The different styles of doors they offer include solid wooden doors, seamless glass doors, Tuscan style doors, and Barolo style doors. Let us take a look at some of the projects they completed.
Residential Wine Cellars with Tuscan Doors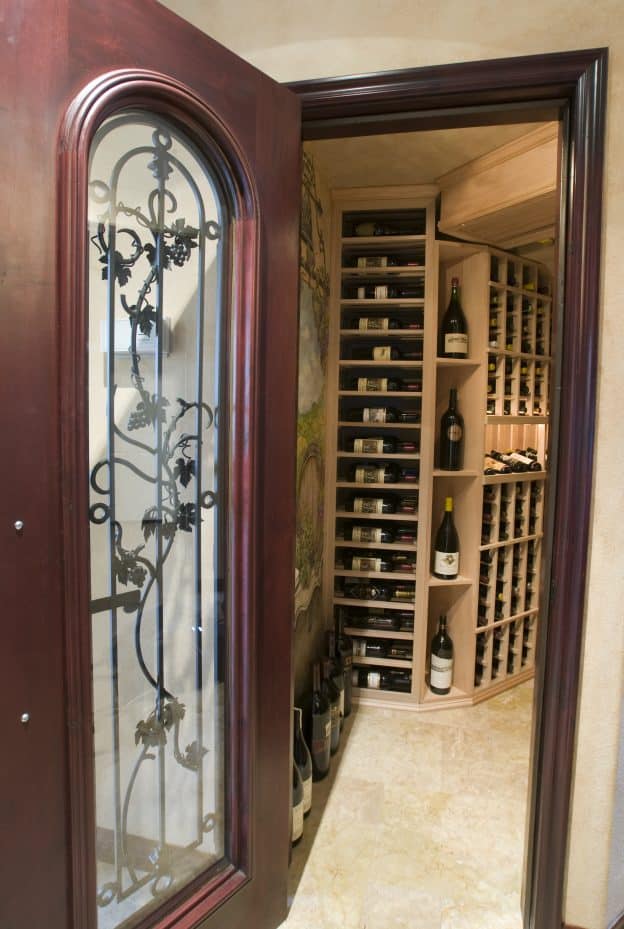 Tuscan doors are made with a wooden frame, and the center is glass with a hand-forged wrought iron. Wine Cellar Specialists have installed Tuscan doors in some of their wine room installation projects.
One of these residential wine cellars was installed under the stairs. The Tuscan door was customized. It has an arched glass and an operable grapevine wrought iron for ease in cleaning. The beautiful door complemented the traditional elements in the wine room, including the wood wine racks.
In another wine room, they built under the stairs, the Tuscan wine cellar door has a rectangular wooden frame custom-stained to match the kitchen cabinets just outside the home wine cellar. The door has an arched glass with an ornate iron design.
Residential Wine Cellars with Barolo Glass Doors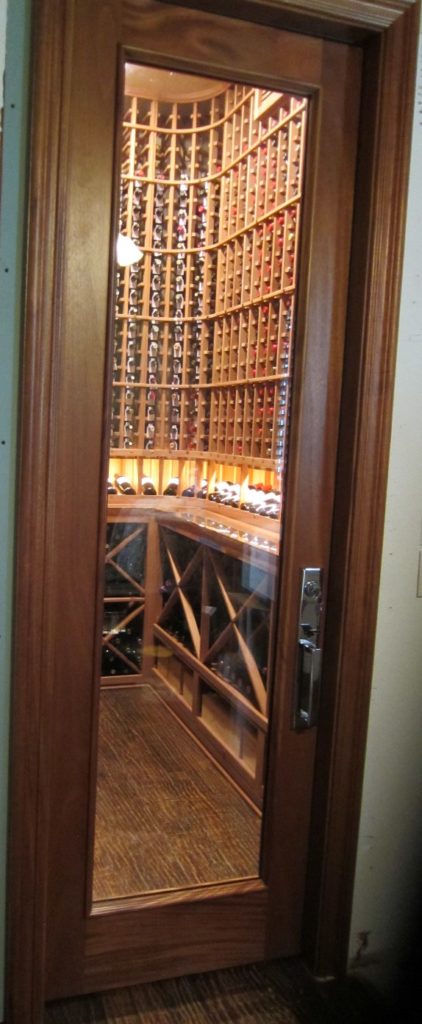 Another style of wine cellar door offered by Wine Cellar Specialists for residential wine cellars is the Barolo door. It looks simple yet elegant. It is one of the standard doors widely used in wine cellars. It is framed in wood (usually rectangular) with a glass panel at the center.
In one of their projects, the wooden frame of the Barolo-style glass door is made from African Mahogany, applied with lacquer and stain to achieve a lustrous finish. Wine Cellar Specialists used the Vantage style handle set and lock in Chrome polish.
In another project they completed, they installed a Barolo style wine cellar door constructed from Knotty Alder with a rustic stain, blending well with the wine racks made from the same wood species.
Proper Construction of Doors for Residential Wine Cellars
Installation of doors for refrigerated residential wine cellars requires technical requirements. The primary purpose of doors is to create an airtight seal in climate-controlled wine rooms. Working with the right builders like Custom Wine Cellars Houston and Wine Cellar Specialists will ensure that your door can serve its function, which is to prevent air leakage to and from your wine cellar.
Techniques Used for Wine Cellar Door Construction
Innovative technology helps us create superior quality doors for residential wine cellars. Our doors are made using the Laminated Veneer Lumber (LVL) technology. This process involves arranging thin pieces of wood to create multiple layers sealed together using adhesive materials.
It provides the doors with higher durability than the average wood laminate, making them resistant to shrinking, warping, and insect manifestation. LVL doors can withstand highly humid conditions and create a higher insulation value in refrigerated wine rooms.
The traditional technique in manufacturing doors is the Mortise and Tenon Joint. We also use this technique to strengthen doors. Our exterior-grade wooden doors are made from 3/4-inch thick wood for maximum durability.
Requirements for Glass Wine Cellar Doors
Installation of glass doors is more complicated than wooden doors. Doors with glass are made with thermally insulated dual-paned glass panels with ½-inch thickness. These panels are attached together with a very tiny space in between them to help prevent condensation build-up on the glass or around the door.
Poor insulation and incorrect installation of glass doors can result in costly wine storage problems. Excessive humidity levels can cause mold growth on the cork, which can contaminate the wine. Mold can also damage the wine labels and affect the structural integrity of your wine cellar.
When you work with us, you will have peace of mind because we have extensive knowledge in wine room construction and insulation.
Wine Cellar Door Sealing Components Needed in Building Sealed Residential Wine Cellars
We install all of our doors with sealing components like weather stripping. This sealing component seals all the gaps around the doors. An automatic door bottom also aids in keeping the air inside the refrigerated wine room.
When done correctly, door insulation will help the wine cooling system work efficiently. A lack of or poor insulation will result in temperature fluctuations, causing the wine refrigeration to work hard to achieve the ideal conditions in the wine room.
Work with Experts Builders of Residential Wine Cellars and Doors
Custom Wine Cellars Houston collaborates with Wine Cellar Specialists, a group of master builders known for its expertise in building tastefully designed residential wine cellars and installing high-quality insulated doors.
Do you need help with your project? Please do not hesitate to call us at (281)-809-7283.