Wine Cellar Design
3D Drawing
Request
We will create a unique
design just for you!
Click Here


Fast Quote

or
Just a Question?
Have one of
our wine cellar
designers
contact you
Click Here
Metal Wine Rack Systems for Building Modern Wine Cellars in Houston
HOUSTON'S BEST WINE
CELLARS BUILDERS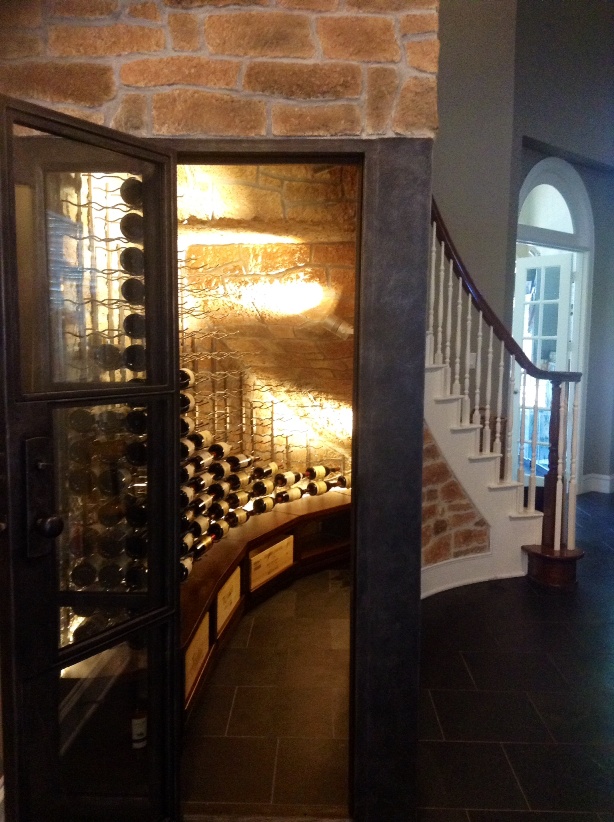 Choosing the right type of storage system can be a dilemma for some wine collectors. You must work with an expert to ensure that your wine racks suit your aesthetic, functional, and financial requirements. Custom Wine Cellars Houston, an experienced wine room builder for many years, offers high quality and modern metal wine racks for owners of residential and commercial spaces.
Metal Racks for Modern Home Wine Cellars in Houston
The visual appeal and material of your wine racks play a significant role in the overall appeal of your wine cellar. Thus, it is best to work with a master builder who can help you determine the most suitable wine storage system for your collection.
We, at Custom Wine Cellars Houston, have been providing innovative wine storage solutions for both residential and commercial applications. We always want our customers to have a racking system that will complement the existing theme of their home, restaurant, bar, hotel, or retail store.
We offer various kinds of metal wine racks to cater to the unique requirements of each of our clients. With our creative design team, we will build a contemporary custom wine cellar that will store and display your collection safely for many years to come.
Why Choose Metal Wine Racks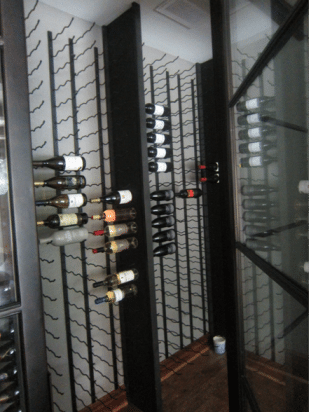 There is an increase in demand for wine rooms with a modern feel. Custom Wine Cellars Houston has been a partner of Wine Cellar Specialists in designing and building climate-controlled wine storage facilities using metal racks. There are many reasons metal is a favorite choice of wine cellar builders.
Luxurious Appeal and Ability to Match Any Décor
Metal wine racks add a luxurious appeal to wine rooms. Whatever the theme of your space is, this type of racking system will blend well. If your existing décor is made of wood, utilizing metal wine racks will still look great.
Depending on your aesthetic needs, you can choose between modular and custom wine racks. The modular units are pre-made and are available in various heights and widths. They are less expensive than custom wine racks.
However, customizing your racking will help you achieve a more personalized wine cellar, which can enhance the appearance of your home or business. You can add a personalized touch by incorporating your own design into the racking.
Additionally, pre-made metal wine racks will not fit perfectly in odd-shaped rooms like that under the staircase or in small walk-in closets. If you opt for custom wine racks, we will design your racking to fit the size and shape of your wine cellar, and you will be happier with how your display area will look.
Maximum Storage Capacity, Space-Savvy, and Flexible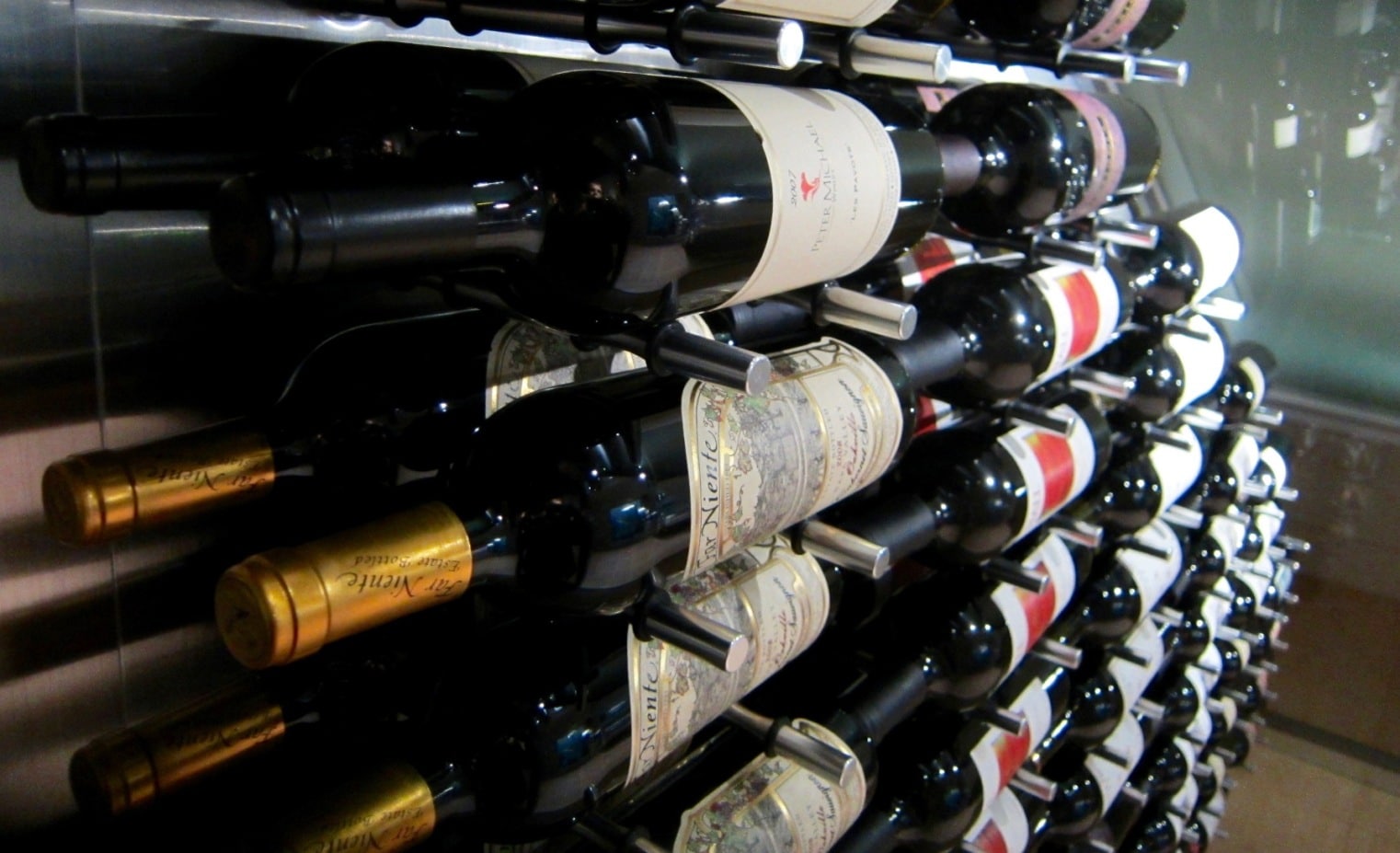 When you choose the type of wine rack for your collection, it should maximize the storage capacity of your space. Metal wine racks are perfect for small areas because they can easily fit in the corners of a room. You can also install them on the walls to eliminate the use of floor space.
When it comes to flexibility, there are various metal wine rack designs that we offer. There are racking styles ideal for residential and commercial applications.
Check out this small modern wine cellar built with gorgeous metal wine rods built into a marble wall!
Label-Forward Orientation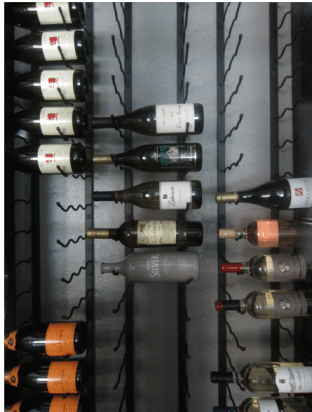 Imagine the time you will consume finding a specific bottle of vintage if the wine bottles are stored with the cap or cork facing out. Label forward metal racks will prevent your guests or customers from spending too much time waiting for their favorite vintage to be served.
As the name implies, the label-forward bottle orientation displays the bottles with the labels facing out. This means that you do not need to flip the bottle to see its brand, variety, style, and alcohol content of a specific wine. Doing so will disturb the wine's sediments, causing the liquid to have an unwanted taste and odor.
Additionally, management and inventory of your collection are much easier when the bottles are easy to locate.
Metal Racking Systems for Modern Wine Cellars in Houston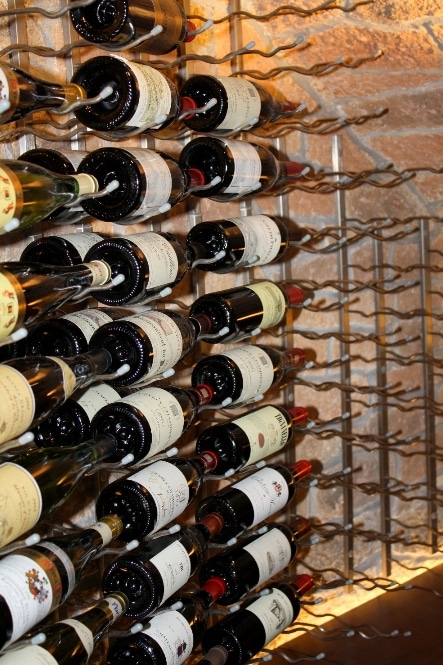 Custom Wine Cellars Houston offers various styles of metal wine racks. These stylish wine storage systems can enhance the beauty of a home wine cellar and drive more sales of a wine business.
VintageView Wine Racks
One of the most reliable manufacturers of metal wine racks is VintageView. They have been providing us with storage solutions for many years.
Their products are ideal for homeowners who want their wine cellar to have a modern and sleek appeal. We also recommend their metal wine racks for business owners who want to increase their wine sales with an attractive presentation of their products.
Evolution Series
The Evolution Series by VintageView consists of standalone wine racks, with engineered chrome plated metal rods and acrylic panels.
You can choose from various heights to suit the size and shape of your wine room. These units display the bottles horizontally, showing the labels for easy browsing.
Ultra PEG Wine Racks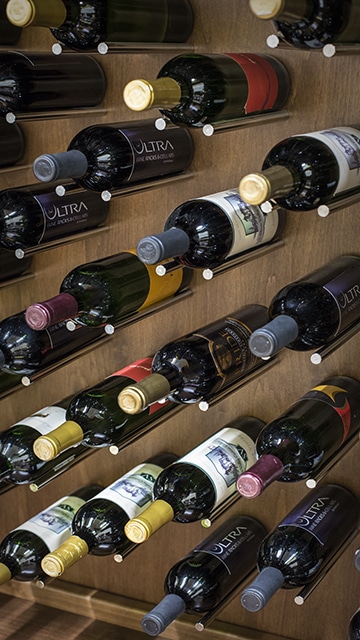 We also offer the Ultra PEG wine rack system, which can bring a boring wall to life. It is perfect for rooms where space is limited because it does not occupy floor space. It can also easily fit into the corners of your room.
This system makes use of stainless steel rods attached to a wooden backsplash. You may choose from our pre-made panels and custom backer boards. Two pegs, which are arranged in rows, can hold one bottle of wine with the neck facing out.
Another reason that makes the Ultra PEG series a favorite choice in building contemporary wine cellars is its versatility. If you started to collect a few bottles and want to expand it in the future, all you need to do is to add more pegs to accommodate additional bottles. You don't need to modify the whole racking, which can cause a significant expense and more time consumption.
Degré 12 Wine Racks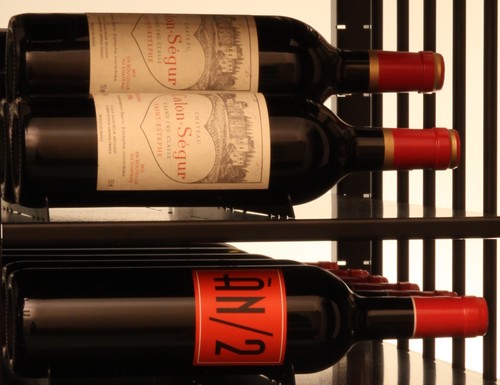 Custom Wine Cellars Houston also offers the Degré 12 metal wine racks, which are visually appealing, flexible, and available in different styles (Classic Series, Sliding Series, and Gravity Series).
Whether you use them for residential or commercial application, your wine display will impress guests and clients. Experienced craftsmen manufactured the Degré 12 racks with high-quality materials. Their installation does not require ripping into the walls. You can place them in the center or corner of a room.
A Modern Wine Cellar Can be Yours with the Help of a Specialist
A sleek wine storage system offers benefits for homes, and businesses that sell wine. Let Custom Wine Cellars Houston help you determine the right type of metal wine rack system for your needs. Contact us today at +1 (972) 454-0480.