Wine Cellar Design
3D Drawing
Request
We will create a unique
design just for you!
Click Here


Fast Quote

or
Just a Question?
Have one of
our wine cellar
designers
contact you
Click Here
Don't Let Space Constraints Stop You from Having a Beautiful and Efficient Wine Cellar
HOUSTON'S BEST WINE
CELLARS BUILDERS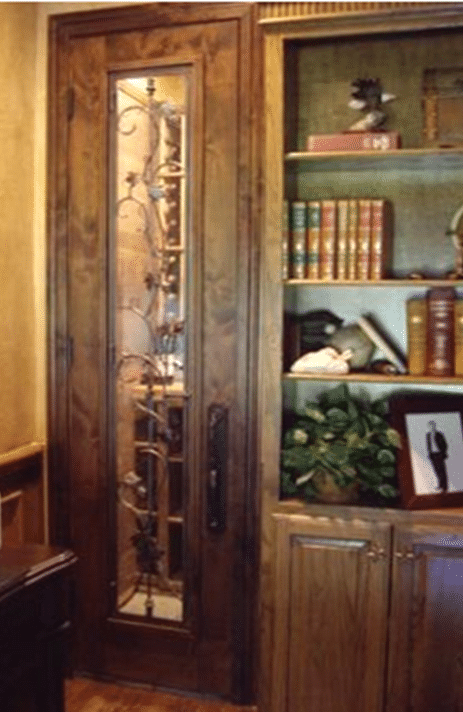 There is a temptation to think when converting a very limited space into a custom wine cellar that it is going to be easy but the opposite can be the case – smaller projects can often be more challenging for wine cellar builders. The wine racking must be designed to maximize the storage space. The right type of wine cellar refrigeration system and other wine cellar components such as wine racks, door, and lighting must be installed.
Just because you're doing a small project doesn't mean you should do it on the cheap. Space constraints should not stop you from having a custom wine cellar that can store your collection properly and attractively.
We at Custom Wine Cellars Houston recently finished a wine cellar conversion project in Texas. We were able to transform our client's small closet into a pleasing and practical wine storage and display area.
The closet used for the project was very small. It measures only about 4.6 feet deep and 4 feet wide. The room's height is more than 9 feet. Regardless of space constraints, a state-of-the-art custom wine cellar was created for the client.
Wine Racking – Maximizing Wine Storage Capacity with Aesthetics
We carefully designed the wine racking to maximize the storage capacity of the wine room while creating a visually appealing display of wines. The wine room is an L-shaped configuration. The wine racks were placed on the left and back wall.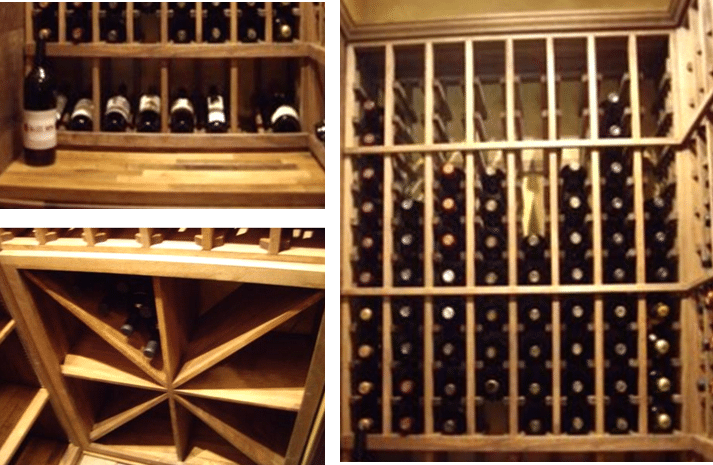 On the left sidewall, the top portion of the wine racking was designed to accommodate 750ml wine bottles individually. Below it is a high-reveal display row where bottles are displayed at a 15-degree angle. This bottle orientation allows easy viewing of the wine labels. The lowest portion of the wine racking was designed with diamond bins. This wine rack design added character to the wine room.
Just like the wine racks on the left side, the top section of the back wall consists of individual 750ml racking with a display row below it. The lower portion has a combination of double-deep storage column for magnum bottles and a 3-double-deep case storage.
A special feature of this Texas closet wine cellar is the wine barrel tabletop. The tabletop provides a space for wine decanting, tasting or additional storage space.
The wine racks were finished with a solid top. They were also constructed with toe kick, crown molding and base molding for structural integrity.
Wine Cellar Refrigeration System – Keeping the Ideal Storage Conditions in a Limited Space
Using a regular air conditioner will ruin your precious wines. This equipment is not designed for stabilizing the environment in your wine cellar. It can't keep the temperature between 55 to 65 degrees Fahrenheit nor the humidity level between 60 to 70 percent.
You investment will go to waste if optimal conditions are not kept constant in your wine cellar. Without a climate-controlled environment, wine will lose its quality. When this happens, you may have to spend again for a new set of wines.
Another problem that you can run into installing a wine cooling system is failing to take into account the size of your wine room. A cooling system of the right size and capacity must be installed in your wine cellar, or else the ideal conditions will not be met.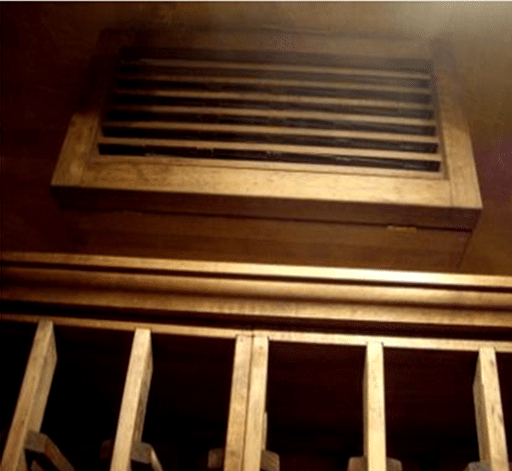 Installing a powerful refrigeration unit into a small wine closet will do no good to your wines. This will result in very low temperatures that can freeze and expand wine. When this happens, cork will be pushed out and allow unwanted oxygen to mix with wine.
Make sure that you choose a wine cellar refrigeration system best suited for the size of your wine room and the number of bottles you intend to store in your wine cellar. It is always wise to work with a reliable wine cellar company that can help you determine a cooling system ideal for your storage requirements.
In this project, Custom Wine Cellars Houston chose a split wine cooling system. Since the evaporator or air handler is the only equipment placed inside, this cooling option is perfect for small wine cellars. The unit was placed above the racking. We used a wood grill cover box so there is no visible equipment in the wine cellar.
Custom Wine Cellars Houston Can Handle Space Challenge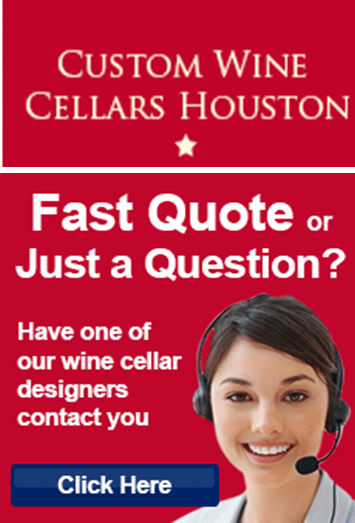 What will happen to wine if you store it in boxes, kitchen cabinets or any area where temperature and humidity are not stable? Wine will be damaged. A damaged wine has unpleasant taste and smell. It may become undrinkable due to poor storage. To protect your investment, your wines must be housed in a climate-controlled wine cellar.
If space constraints hinder you from building your own wine cellar at home, cast you worries away! Any small room can be converted by Custom Wine Cellars Houston into a stunning wine cellar. They have successfully completed small wine cellar conversions in and around Texas.