Wine Cellar Design
3D Drawing
Request
We will create a unique
design just for you!
Click Here


Fast Quote

or
Just a Question?
Have one of
our wine cellar
designers
contact you
Click Here
The Best Cooling Systems by Custom Wine Cellars Houston
HOUSTON'S BEST WINE
CELLARS BUILDERS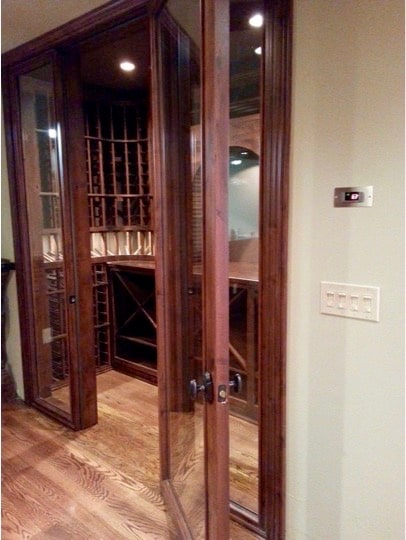 Your wine collection will be in danger if you are not ready to invest in a climate-controlled wine cellar. Before your investment goes to waste, you must hire a builder who has extensive experience in wine storage. At Custom Wine Cellars Houston, they offer high-quality cooling systems that suit every need.
How a Reliable Wine Cellar Cooling System Will Keep Wine Safe for Many Years
The main reason wine becomes spoiled is because of poor storage conditions. Wine is delicate. Thus, it requires a stable environment to age gracefully. It must be stored in a refrigerated wine cellar. Hiring an expert will help you determine the best wine cellar cooling system that suits your requirements.
Importance of a Stable Environment in Preserving the Quality of Wine
Wine is sensitive to various environmental conditions such as heat, odor, and vibration. For this reason, it is best to keep your favorite vintages in a room equipped with an efficient climate-control system.
Make sure that your chosen builder has extensive knowledge about the correct storage of wine. Air conditioners for the home are not designed to maintain the constant temperature and humidity levels required for the graceful aging of the wine.
The absence or wrong choice of refrigeration system for your wine room will cause the wine to deteriorate. It will result in excessive changes in temperature and humidity levels. When this happens, the desirable characteristics of wine will be altered. It will have a discoloration, unpleasant odors, and off flavors.
We Offer the Best Wine Cellar Cooling Systems from Trusted Brands in Houston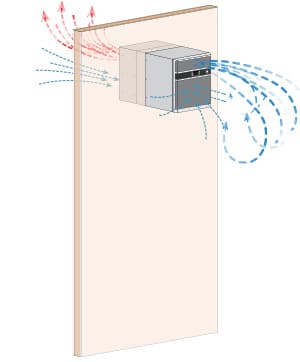 Your builder must install the ideal wine cellar cooling system to keep your wines at their best. At Custom Wine Cellars Houston, we offer high-grade wine cooling units both for residential and commercial applications.
Wine Guardian, WhisperKOOL, US Cellar Systems, and CellarPro are the most trusted manufacturers of cooling units in Houston. They supply us with different types and models of climate control systems.
Self Contained Systems
The self-contained system is installed through the wall. It requires an adjacent room that is well ventilated to allow the hot air coming from the equipment. The exhaust room can be your garage, basement, or mechanical room. It must be the same size as your wine cellar.
The self-contained system is an ideal solution for people who are on a tight budget. Its installation does not require an HVAC technician, which means you will save money on the labor. When it comes to efficiency, the self-contained refrigeration unit utilizes two fans for optimum cooling.
Ducted Split System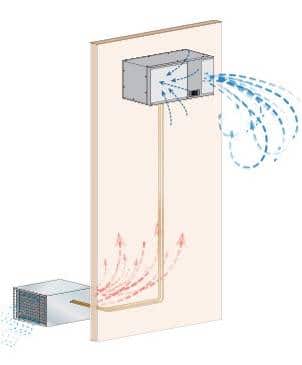 For small wine cellars, Custom Wine Cellars Houston recommends the ducted split wine cooling system. Unlike other cooling options, the two components of the ducted split refrigeration system (condenser and evaporator) are placed outside the wine cellar. This means that no equipment can be seen in the room and no noisy operation can be heard.
The condenser and evaporator can be installed separately or can be placed in one unit. Additionally, an exhaust room is not required.
Ductless Split System
Another type of wine cellar cooling system is the ductless split system. The evaporator is installed inside the room, and the condenser (the noisier component) is placed outdoors. The refrigeration unit operates quietly.
A venting room is not required for heat dissipation. The evaporator and condenser are connected by a line set, which consists of electrical wiring and copper tubing. An HVAC technician is needed.
Wine Guardian Cooling Systems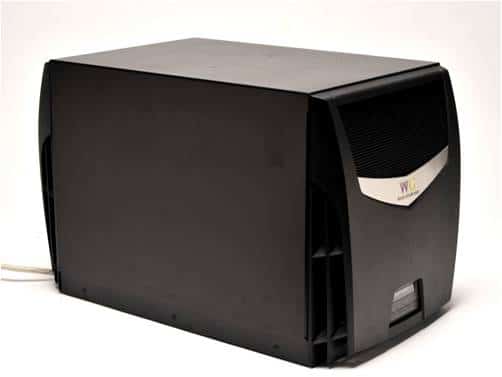 Wine Guardian is one of the most widely known manufacturers of commercial grade refrigeration systems. They have been our supplier for many years. All of their products are designed with functional and stylish features that make them ideal both for residential and commercial applications.
When it comes to installation, the Wine Guardian cooling systems are flexible. They are also certified by ETL to UL, CE, and Canadian standards.
TTW009 for rooms up to 850 cubic feet

TTW018 for rooms up to 1500 cubic feet
Learn more about the features and benefits of Wine Guardian climate-control systems. (linked)
WhisperKOOL Climate-Control Systems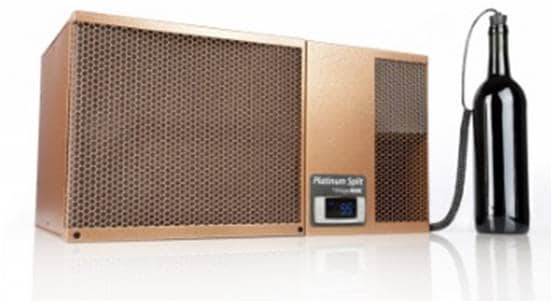 When it comes to providing high performance and high-quality cooling products, WhisperKOOL cannot be underestimated. Their wine cooling products are designed with features that will help achieve the ideal conditions needed by the wine to reach its maturation before it is ready for consumption. They are known for their quiet operation, installation flexibility, and elegance.
Models:
SC Series

CX Series

Extreme Series

Quantum Series 

Platinum Mini Split
Platinum Split

Ceiling Mount Series

Slimline Series 
Learn more about wine cellar cooling systems by WhisperKOOL.
US Cellar Systems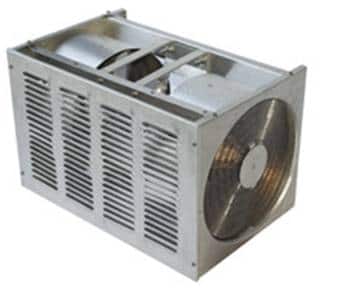 With a various range of refrigeration units and installation options, US Cellar Systems has been one of the leading manufacturers of wine cooling products. Their climate-control systems can be used both for residential and commercial applications.
The unit models are available in:
HS (High Static) Series

RM (Rack Mount) Series

LPQ (Low Profile Quiet) Series
VRM (Vertical Rack Mount)

DQ (Dual-air Quiet)

WM (Wall Mount)

CC (Cabinet Cooler) Series
Learn more about US Cellar Systems cooling products.
CellarPro Wine Cooling Units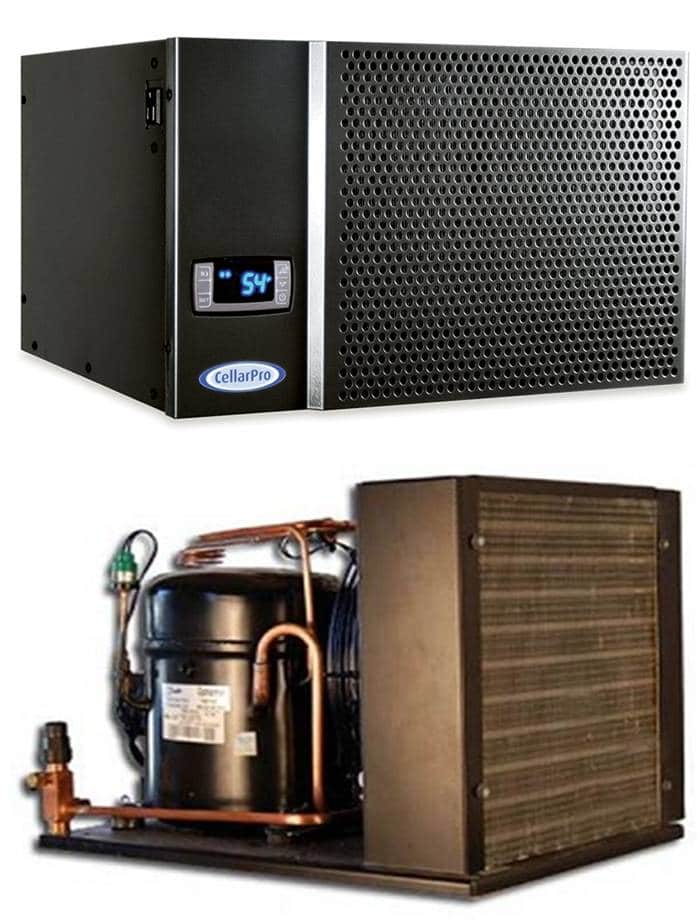 For homes or commercial establishments located in very cold areas, Custom Wine Cellars Houston recommends CellarPro climate-control systems. As one of our partners in wine room construction, CellarPro has proven the reliability and versatility of their products.
They have refrigerated units that are designed for wine cellars and wine cabinets. Since their products are all made in the United States of America, each unit has commercial-grade components, maximum efficiency, and functional features.
Models:
Learn more about CellarPro wine refrigeration systems.
Invest in the Best Wine Cellar Cooling System Manufactured by Custom Wine Cellars Houston
Wine is sensitive to external factors. It is best to keep wine safe in a refrigerated wine room built by a professional. At Custom Wine Cellars Houston, we care for our client's collection. We use only the most reliable wine cooling systems for both residential and commercial applications.
If you need help, contact us today at +1 972-454-0480